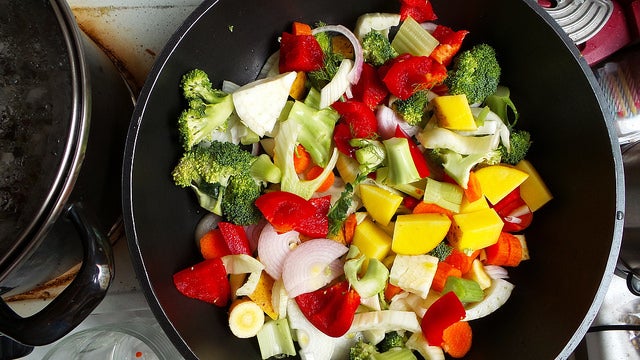 There has been an increase in demand for health food trends in 2019, with veganism leading the rise in demand for plant-based and dairy-free foods.
Supplements are also finding their way into everyday food and drink, with cannabidiol, better known as CBD, and turmeric leading the way. In this article, Verdict Foodservice identifies the hottest health food trends at restaurants this year.
Turmeric adds a golden touch
Turmeric has become a popular health food for 2019 with restaurant and café chains using the Indian spice to spruce up their menus.
Its proponents claim it offers anti-inflammatory properties, is a strong antioxidant that improves brain function, and fights Alzheimer's disease, heart disease and arthritis.
K UK-based restaurant and bar chain Natural Kitchen uses the spice in some of its food and drink products, including turmeric lattes and turmeric yoghurt.
Meanwhile, Irish smart water start-up EauLab focuses its product on health and wellbeing benefits for the human body, and it includes turmeric in its product to support the immune system.
CBD-infused food on a high
Research commissioned by The Grocer reveals that a third of consumers in the UK would buy CBD-infused food and drink, and the Cannabis Trades Association UK found that the number of cannabidiol consumers doubled from 125,000 in 2017 to 250,000 in 2018.
The UK's Medicines and Healthcare products Regulatory Agency (MHRA) classed CBD as medicine in 2016, and it can be used to treat people with psychotic symptoms like paranoia, anxiety and depression, as well as those that suffer from seizures.
However, CBD oil with a low percentage of the psychoactive component THC (less than 0.2%) is being increasingly used in the UK and US because of its health benefits for consumers.
International frozen dessert chain Yogoland serves a hemp matcha frozen yoghurt made from hemp plant containing 40% CBD oil. London-based Plant Hub  has many items on its menu that contain CBD-infused food, including granola energy bars, salted peanuts, banana bread and coconut-flavoured biscuits.
Plant-based protein is still popular
Plant-based diets have become increasingly popular in 2019 and with an increase in people turning to veganism, there is a demand for more plant-based alternatives at restaurants. As well as the benefits to human health and animal welfare, the amount of resources used to produce plant-based food is considerably less than that used for the production of milk and meat.
International vegan restaurant chain by Chloe offers vegan and vegetarian-friendly food using ingredients that it says have a positive impact on the mind, body and health.
US-based meat alternative company Beyond Meat has been one of the main companies to start producing meat-like plant-based burgers and distributing them to restaurants worldwide. Last year TGI Fridays launched the Beyond Burger to its menu's in 450 restaurants across the US, and earlier this year the restaurant chain added the 'bleeding' vegan burger to menus in the UK.
Dairy free still tastes great
The popularity of dairy-free options extends beyond veganism to people who choose them for medical reasons like lactose intolerance, want to be kinder to the environment or just prefer the choice
Innova Market Insights released a report in on dairy-free growing in popularity, with dairy alternative drinks accounting for 7% of global dairy launches in 2016, up from 6% in 2015, and global launches more than doubling over five years up to 2016. Other milk substitutes that are also being used are soya, almond and coconut milk.
In January UK pub chain Harvester launched an all-vegan menu with non-dairy deserts vegan rice pudding, 'vegan sundae best', blackcurrant mousse and creamy coconut and black cherry rice pudding.
Gluten-free with all the taste
According to a Datamonitor survey, 20% of consumers said that they avoid certain foods due to an allergy or intolerance most or all of the time.
Consumers choose to be gluten-free for a number of reasons, including if they are suffering from celiac disease, wheat allergies, autism, ADHD, multiple sclerosis and irritable bowel syndrome.
Italian restaurant Ardiciocca based in Fulham in the UK produces gluten-free, dairy-free and sugar-free products for its customers. Indian restaurant Dishroom offers gluten-free grilled meat, salads, vegetable sides and curries, with options to change meals containing gluten to suit coeliac diets.
Burger chain Honest Burgers also caters to gluten-free consumers, giving the option of gluten-free burger buns and gluten-free bread on its menu.