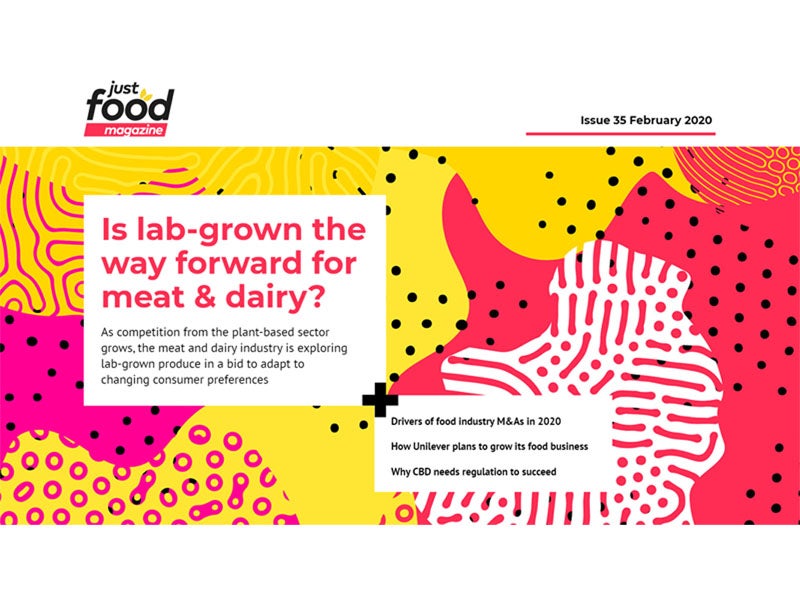 It's a new year and a new era for Inside Food as we become just-food magazine! Readers with a keen eye will have already noticed that we've teamed up with our colleagues at leading food industry website just-food.com to create an even better magazine for you – packed with business insights, market analyses and views from industry insiders.
Just-food is available on all devices. Read it here for free on your computer, tablet or smartphone.
As well as our predictions for the coming year, in this issue, we shed some light on the developments of cultivated meat, dairy and seafood in the US, investigating whether these products have the potential to go mainstream.
There's no crystal ball needed to identify climate change as the foremost sustainability issue in the future. We take a look at how climate concerns will not only top the agenda in 2020, but also pervade many of concern.
Following a warning from the FDA, we look into the uncertainty around CBD products in the US; and how regulations could impact the CBD food market.
We talk to the president of Unilever's foods and refreshment division, about innovation, M&A and 'purpose'. We also speak to the CEO of HKScan about the Finland-based meat group's new growth strategy.
In this issue
10 food trends for 2020
From the plant-based revolution to sustainability and consumer confidence, Stuart Kelly, global head of commercial at Lloyd's Register, provides his predictions for major trends influencing the food industry in 2020.
Climate change set to define sustainability agenda in 2020
Identifying climate change as the foremost sustainability issue food companies will face in the coming year is a relatively safe prediction. Ben Cooper looks at how climate concerns will not only top the sustainability agenda in 2020 but pervade many other areas of concern.
Drivers of food M&As in 2020
M&A activity in the packaged food sector was relatively subdued in 2019 due to country-specific factors along with global issues affecting all markets, themes that could continue to weigh on deals in 2020. Simon Harvey reports on the potential drivers behind deal activity in the coming year.
HKScan CEO Tero Hemmilä on turnaround and growth
Finland-based meat group HKScan is looking to bounce back after pressure on sales and profits. CEO Tero Hemmilä tells Dean Best about HKScan's turnaround plan and its new strategy to grow.
How 'cultivated' meat and dairy might succeed
The development of 'cultivated' meat, dairy and seafood is gathering steam in the US – as is Big Food's interest in the emerging sector. Victor Martino investigates whether cultivated meat and dairy could go mainstream.
The US CBD products business needs a sheriff
Victor Martino weighs up the uncertainty surrounding CBD products in the US and looks at the category's prospects for the future after a warning from the regulator, the FDA.
From plant-based to purpose: Unilever's growth plans
Unilever's food operations, though global and with some strong brands, is a low-growth business – but that doesn't stop the FMCG giant believing it can improve performance. Dean Best hears from Hanneke Faber, the president of Unilever's foods and refreshment division, about innovation, M&A and purpose.
Next issue preview
The CBD market has grown steadily over the last year and is considered by many (including us) to be one of the key trends of the year in the food sector. But what guidelines, if any, are in place? In the next issue, we look at the potential impact European regulations could have on a nascent CBD food market.
We also take a look at the novel food sector and consider whether Britain should change its approach post-Brexit. Plus we speak to the outgoing CEO of Quorn Foods about their time at the helm of the company.
Subscribe to be notified when the next issue of just-food is available.
Visit our archive to read past issues for free.