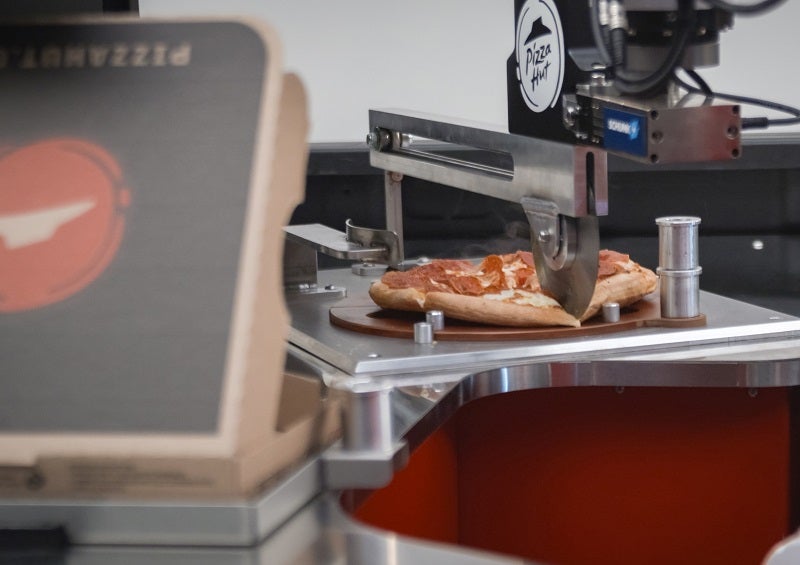 According to global data company the NPD Group, British consumers are expected to spend 22% more on takeaway deliveries by the end of 2020, creating a market worth £5.8bn annually.
Many have attributed this success to aggregator apps such as Deliveroo and Just Eat , which are built on catering to a more switched on, convenience-obsessed consumer market. However, with technology consistently evolving and restaurants continually looking to boost their profits through delivery, these gains could be just the beginning.
"Restaurants are facing reduced consumer confidence in spending money and having to deal with the challenge of a consumer that is getting less and less tolerant to waiting times," says Jurgen Ketel, UK managing director at restaurant and customer experience technology business Givex . "I think that is exactly where technology can help."
From food delivery robots to logistical solutions helping to solve restaurants' most common takeaway pratfalls, here are some of the major tech trends impacting the takeaway delivery market, now and in the future.
Apps eating up the delivery market
Image: Deliveroo
Smartphone proliferation amongst consumers is having a clear impact on food delivery. Apps like Deliveroo, Uber Eats and GrubHub provide a single portal offering consumers a wide range of options.
Restaurants wanting to increase their margins can benefit from these apps' substantial marketing power. However, Ketel predicts that in the future, larger restaurant chains will be forced to invest in their own delivery apps to remain competitive.
"If [restaurants] target their own loyal customers with online ordering sites then they can protect their margins again," he says. "They don't have to pay the fees that they have that they are doing now to Deliveroo and Just Eat."
Pimp my (delivery) ride
Image: Toyota
A number of start-ups and established tech companies are working on methods to boost the 'last mile' delivery process for takeaway food. Food delivery giants are already using GPS to track fleets, allowing them to monitor driver performance and identify whether they are pursuing fuel-efficient routes. Meanwhile, customers are able to follow their food from restaurant to doorstep.
Then there are new innovations to delivery vehicles themselves. In October, Dominos and Ford began testing self-driving pizza delivery vehicles in Las Vegas, US. Elsewhere, Pizza Hut and Toyota have partnered to create a next-generation prototype vehicle fitted with an on-board kitchen, allowing food to be cooked while the car is enroute.
Meanwhile, London start-up ScootFleet manufactures delivery scooters featuring an illuminated 'backbox', allowing delivery drivers to advertise partner brands on-the-go.
R2-Deliveroo: automated delivery drones
Starship .jpg" alt="Takeaway trends 2019″ width="800″ height="533″ />
Image: Starship Technologies
In the future, more food delivery companies could enlist robots to do the hard work for them. In 2016, Just Eat teamed up with Starship Technologies to trial new self-driving, camera and sensor-laden robots in what it claimed was a first for the food delivery market. Starship has since been unleashing fleets of these machines to deliver donuts and coffee to workers in Silicon Valley and universities in the US.
Taking things skyward, reports in October 2018 alleged that Uber could be launching new drones to enact food deliveries as soon as 2021. This would be far from the first instance of drone-based food delivery; in 2017, Iceland launched the world's first drone delivery service – a collaboration between the country's online marketplace AHA and Israeli tech firm Flytrex.
More mediums for snappier ordering
Image: Amazon
Technology is also making ordering food in the first place much more convenient for customers. Dominos has already taken major steps to make ordering more accessible and interesting for consumers. Ordering pizza is as simple as texting the company a pizza emoji, or tapping on a 'zero clicks' app that counts down from ten before confirming the order for delivery.
Under Dominos 'Anyware' scheme, it is now possible to order pizza from a variety of sources, including via smartwatch, smart TV, or virtual assistants such as Google Home and Alexa. The company's own-brand ordering assistant Dom has been used to process more than half a million orders.
Point of sale integration
Although restaurants may want to hop on the Deliveroo train to boost revenues, this will mean are required to deal with extra incoming orders at any one time. Technology which combines data streams into one cohesive platform are becoming increasingly important.
Just Eat recently acquired restaurant software supplier Flyt , which provides software enabling restaurants to integrate their point of sales (POS) systems with third-party services. Having already collaborated with more than 3,000 restaurants, Flyt will be able to reduce the need for manual processes, as well as driver wait times, across a wider client set.
"All the data around online ordering is going directly into the POS, so the whole process will be much more efficient as all the data is in one place," says Ketel.
Making in-store collection easier
eatsa .png" alt="" width="770″ height="400″ />
Image: eatsa
Another issue is that restaurants may not have optimised their venues for in-store order collection, leading to confusion when the time comes to match delivery bags with the right customer/delivery driver.
Restaurant tech provider eatsa recently introduced the Spotlight Pickup System across fast-casual restaurants in San Francisco, Seattle and Chicago, US. The system consists of an array of automated shelf surfaces called 'Spots', which can be connected to delivery services (e.g. Deliveroo) and flash up the customers' name automatically when an order comes in. Upon arriving at a restaurant, customers or delivery drivers check a digital board to track the progress of an order, before being directed to the correct 'Spot' for pickup.
"Third-party delivery is often the biggest growth opportunity for restaurant operators, but with the lack of organisation around how to best manage customers and delivery personnel who are taking food to go, it's frequently fraught with confusion and delays for customers and chaos for operators," said Tim Young, CEO of eatsa, in a press release. "Our Spotlight Pickup System alleviates this problem with a combination of automation and personalisation."