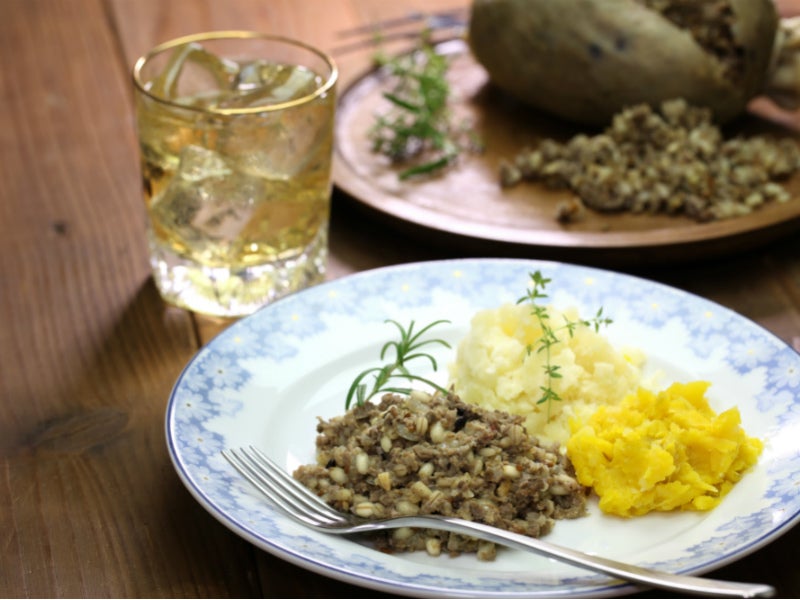 The 25th of January is fast approaching and Burns Night with it. The popularity of Burns Night is spreading to England and Wales, with demand for haggis increasing by 700% below the border last year, according to Tesco.
This celebration of Scotland's national poet is famously meaty; the haggis is central to proceedings, and is infamously composed of sheep's minced heart, liver and lungs traditionally cooked within the animal's stomach. As you might expect, this traditional savory pudding is not exactly in line with other modern trends like Veganuary or even just cutting back on red meat.
Neeps and tatties are relatively easy to keep vegan (just don't use butter), and yes, neat scotch whisky is also vegan. The vegan haggis, meanwhile is the target of much ire among meat-fanciers online. In 2019, Douglas Scott, chief executive of the Scottish Federation of Meat claimed, "[Robert Burns] gives the impression that it's going to give you power and strength. That is not the impression you get from the vegan haggis and I think he would be scoffing at it."
Perhaps he would. Perhaps he would be convinced by vegans' moral or environmental arguments like he was convinced by socialist arguments at the time? What historical figures would say in regards to modern issues and trends is a complex issue, with people tending to retrofit their ideologies and opinions onto people they like (like George Orwell or Robert Burns), and the converse for those don't like (like Hitler or Stalin). This tendency, often based in narratives of culture and identity, pulls at the heart strings, not the rational mind. Does the potential for historical figures, who were very much products of their time, scoffing at modern developments really amount to a solid argument against those developments?
It's perhaps worth noting that slavery and imperialism have been naturalised norms for thousands of years, but now polite society balks at those notions. History is full of characters who imparted great works of literature while holding views that we eventually moved on from, and perhaps we should agree that assigning modern popular opinions to the 'wise men' of the past is a cynical appeal to nostalgia.
Food's relationship to culture and tradition is a complex one. Dishes may be traditional, but traditions and ingredients change all the time. Behind traditions are myths, and the main myth is that human traditions have always been consistent and eternal. Consider neeps and tatties; neeps (swedes or rutabagas) are a hybrid vegetable of turnips and cabbages from Sweden, where they were discovered in the 17th century, and it would take until the latter half of the 18th century to arrive in Scotland. Potatoes, meanwhile, originated in Peru and only arrived in Europe near the end of the 16th Century. Both of these vegetables are traditional Scottish fare nonetheless. When it comes to that dram of traditional scotch whisky, that too is a product of technologies from different parts of the world. Distillation technology was passed from ancient Greeks to Arabs to medieval Latins. Those who distilled alcohol from wine in Majorca would pass that knowledge through the monasteries until it ended up in Scotland's aquavitae in the 15th century before eventually being used to make whisky.
The current cultural situation is interesting in its own right. Last year, there was a boom in vegan and vegetarian haggis of 120% in 2018-2019, and the popularity of the vegan trend appears to be going strong in 2020.  Examples of Veganuary's impact include Subway's meatless meatball marinara, Greggs' vegan steak bake, Pizza Hut's Pepperphoni Pizza and Tesco's expansion of its Plant Chef range. In 2019, Tesco Scottish food buyer James Lamont said, "Veggie haggis is a delicious meal in its own right not too dissimilar to a nutroast and we think vegetarians and vegans are buying them as centrepieces for roast dinners."
People's attitudes and habits are evolving and consumers are now more able than before to make a tradition more inclusive. If modern practitioners of a tradition aim to be inclusive rather than exclusive, a vegan haggis for non-meat-eaters on Burns Night is a nice way to go about it. It may even create a new tradition that will seem eternal and obvious in a century or so.