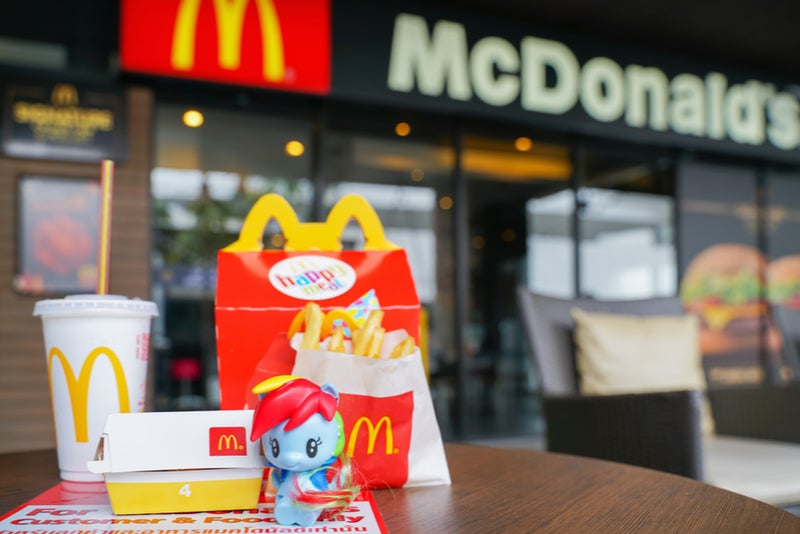 A petition in the UK to stop fast food restaurants from giving away plastic toys as part of meals targeted at children has attracted 325,000 signatories, prompting the government's environment minister to sit up and take notice.
The petition was started by a British mother and her two school-age daughters who criticised fast food companies for giving away toys that they said were only used briefly. Aged 9 and 7, the sisters explained they had learned about plastic pollution in school. They proposed that rather than making plastic toys that can be recycled, companies should invest in toys manufactured from materials other than plastic.
Calls to stop toys in kid's meal deals
Restaurant chain operator McDonald's said in a statement the company was planning to reduce the number of 'hard plastic' toys given away, but it added this was not indicative of a new commitment to reduce plastics in Happy Meal toys. A six-month promotional period in the UK is expected to provide different options for customers, including a mixture of board games, books and soft toys. Last year, McDonald's began exploring ways to make its toys from a single type of plastic to allow it to more easily be recycled.
Burger King, which offers plastic toys in its King Junior meals, is facing a similar situation. The company said it is trialling the removal of toys from its King Junior meals in some of its restaurants in the UK Midlands.
"We are also working on the development of more sustainable packaging and alternative toy solutions as we still very much want our younger customers to enjoy their King Juniors," a company spokesman said. Burger King will test the new toys and packaging in October 2019 and aims to launch them next year.
The UK is clamping down on single-use plastic and a ban will come into force next year. Companies such as McDonald's and Burger King are being forced to accelerate the removal of single-use plastics by legislation.
Many cafes, bars and restaurants have already switched to alternatives made from paper. The move is expected to finally end the estimated annual use of 4.7 billion plastic straws, 316 million plastic stirrers and 1.8 billion plastic-stemmed cotton buds.
The UK government has confirmed that the sale of plastic straws, drink stirrers and cotton buds with plastic sticks will be banned in England from April 2020. The only exceptions to the new regulations will be for people with a medical need or disability, for whom the plastic products will be available upon request.
A decision on the so-called "latte levy" charge for single use coffee cups has yet to be made. A deposit-return scheme for drinks containers or a tax on single-use plastic with less than 30% recycled content is also being contemplated.
Should the UK remain a member of the European Union, more single-use items, including cutlery and plates, will be banned by 2021, under measures agreed by the European Parliament.