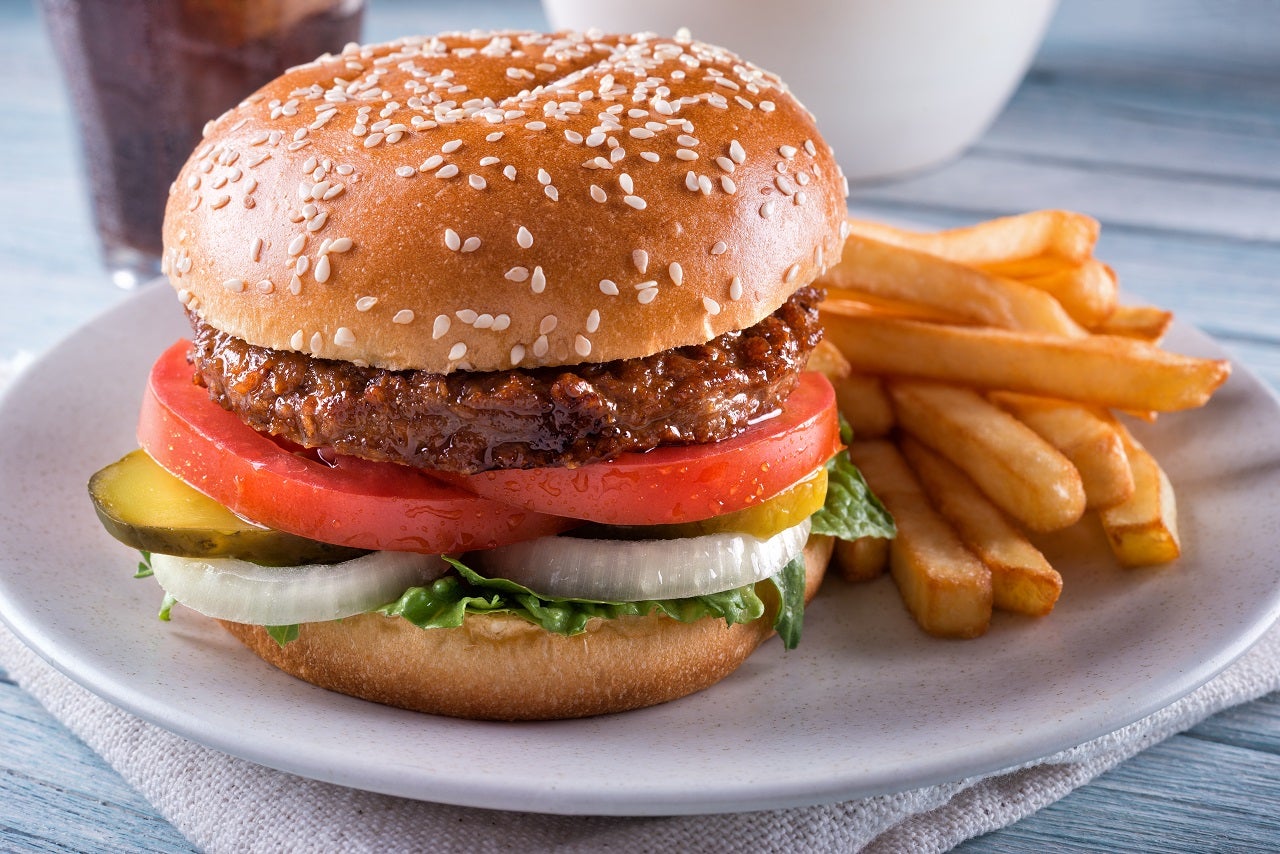 Plant-based meat substitutes producer Beyond Meat is to launch new vegan burgers with McDonald's and Nando's in the UK. This will not be the first time both foodservice outlets trial vegan alternatives to their popular menus, however, it will be hoped they become permanent additions beyond limited edition trial runs. For Beyond Meat, this move will enhance its foodservice presence beyond its retail offerings that are already stocked in hundreds of stores across the UK.
The new vegan burger has yet to be officially announced, but Vegan Food UK, one of the largest and most influential plant-based food groups has shared images of the innovation from a McDonald's survey. It claims the vegan burger will feature a Beyond Meat patty in a sesame bun with tomato, lettuce, pickles, onions, vegan mayo, ketchup, mustard, and a 'slice of vegan cheese'.
This is not the first time McDonald's has partnered with Beyond Meat. It trialled a 'PLT' veggie burger in Canada last year, containing "plant, lettuce, and tomato. A play on words for the popular BLT (bacon, lettuce, tomato), the veggie burger was trialled at over 50 locations across Ontario province in Canada earlier this year.
For Nando's, the veggie burger marks the latest attempt to update its menu with plant-based foods. The restaurant is famous for its signature flame-grilled peri-peri style chicken but has made consistent efforts to expand its plant-based offerings. Since 2017, Nando's has offered the Supergreen Burger and Sweet Potato & Butternut Burger as replacements to its popular veggie patty. Both are vegan options with the removal of mayonnaise and feature a range of plant only ingredients like broccoli, kale, and edamame beans.
According to GlobalData's 2019 Q3 UK Consumer Survey, 35% of consumers say 'vegan' concepts in food and drink are somewhat/very appealing. This sentiment rises to 57% amongst Millennials, suggesting plant-based food has significant appeal of its own beyond those who adhere to vegan diets. The outbreak of Covid-19 has forced food security to become a significant issue, exacerbated by fears over animal welfare and potentially zoonotic diseases. In comparison, plant-based foods are often considered to be of high quality due to perceptions of better taste, higher nutritional value, and sustainability – and it is this sentiment that is driving brands to better adapt towards a more extensive plant-based offering.