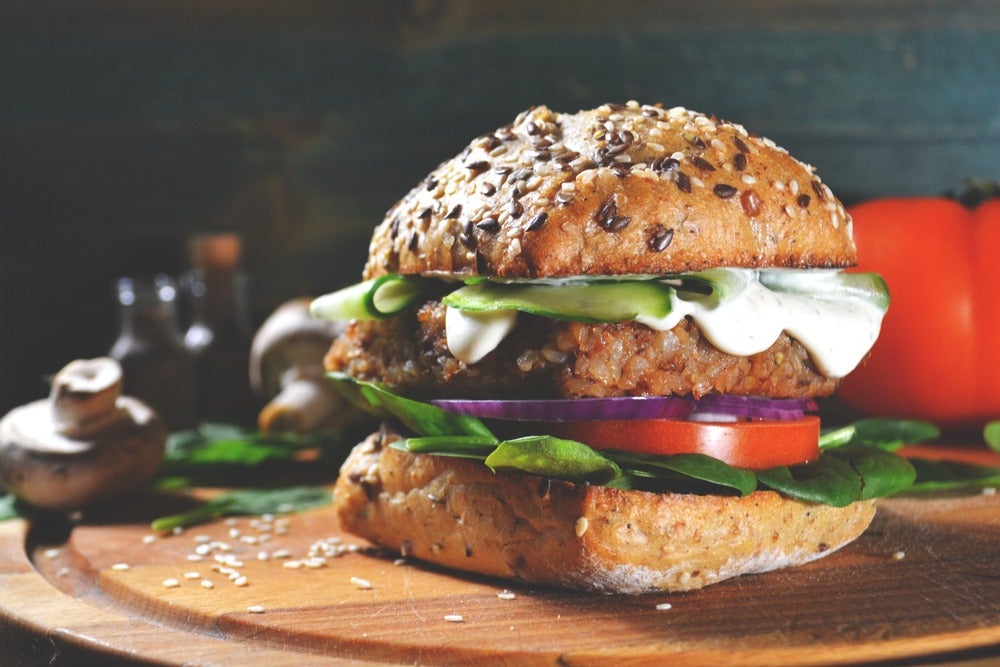 It is more than a little ironic that just as it appears that food manufacturers have achieved the Holy Grail of making a plant-based burger that delivers the taste and more importantly the texture of meat, they may now be forbidden to reference the very meat product they are mimicking in its name.
Veggie food labelling
This may come to pass as a result of a decision by the EU on 1 April that: "Names are currently used for meat products and meat preparations shall be reserved exclusively for products containing meat. These designations include, for example, steak, sausage, escalope, burger and hamburger."
It isn't known what snappy alternatives the plant-based food industry will come up with – suggestions currently floating around include "Veggie Discs" which doesn't have quite the same pulling power as the "Impossible burger" – a soy-based burger – sorry disc – which bleeds like a real burger and has converted many meat eaters including Burger King, which is to use the product as a Veggie Whopper.
Nestlé and Sweet Earth
Potentially under threat is Nestlé 's much anticipated Incredible Burger from Garden Gourmet (to be launched in Austria, Belgium, Denmark, Finland, Germany, the Netherlands, Norway and Sweden in April). Another casualty may be the introduction by Sweet Earth – the US-based vegetarian business Nestlé acquired in 2017 – of its meat-free Awesome Burger in the autumn if the meat industry is successful in presenting a similar petition to the US Department of Agriculture.
Some observers have speculated that the decision has been orchestrated by a panicking meat industry fearful at the trend towards plant-based meat alternatives, which is particularly prevalent amongst millennials and Generation Z consumers.
These groups are driven by a combination of factors to migrate to plant-eating, including health and a concern for the environment, trends which are only expected to become more prominent in the years to come, with consequent pressure on meat demand.
Rumours of a labelling change may have been fuelled by the fact that the EU appears to be following the lead of France which has prohibited any product that is largely based on non-animal ingredients from being labelled as a traditional animal product.
Given the renowned French love affair with meat, it is easy to see how the idea has gained currency.
Others are not so sure that even if it is all a conspiracy by the meat industry that the move is necessarily a bad thing for the plant food industry.
The expectation is that in response to the prohibitions on using designated meat names in their labelling, food manufacturers will cease directing their efforts towards finding replacements for meat that taste like meat and instead concentrate their efforts on making vegetables and vegetable dishes more exciting and appealing.
EU and the ECJ
Moreover, it is not as if the EU decision comes out of nowhere. In 2017 the European Court of Justice ruled that dairy terms could only be used while marketing designated animal products; purely plant-based products could not be marketed as milk, cream, butter, cheese or yoghurt. It is a logical move to extend this protection to meat products.
Adding further fuel to the fire is the announcement of research published by The World Resources Institute's Better Buying Lab which revealed that packaging which features terms such as 'vegan,' 'meat-free', 'vegetarian', as well as health-related language such as 'low-fat', have low appeal for consumers and may actively prevent them trying the product in question.
To counter this, the suggestion is to use attractive language descriptors on the front of the packaging and shift the vegan/vegetarian descriptors to the back of the pack. It is, however, difficult to see how anyone will be able to make a Veggie Disc or Soya Slice sound something to get those taste buds excited.