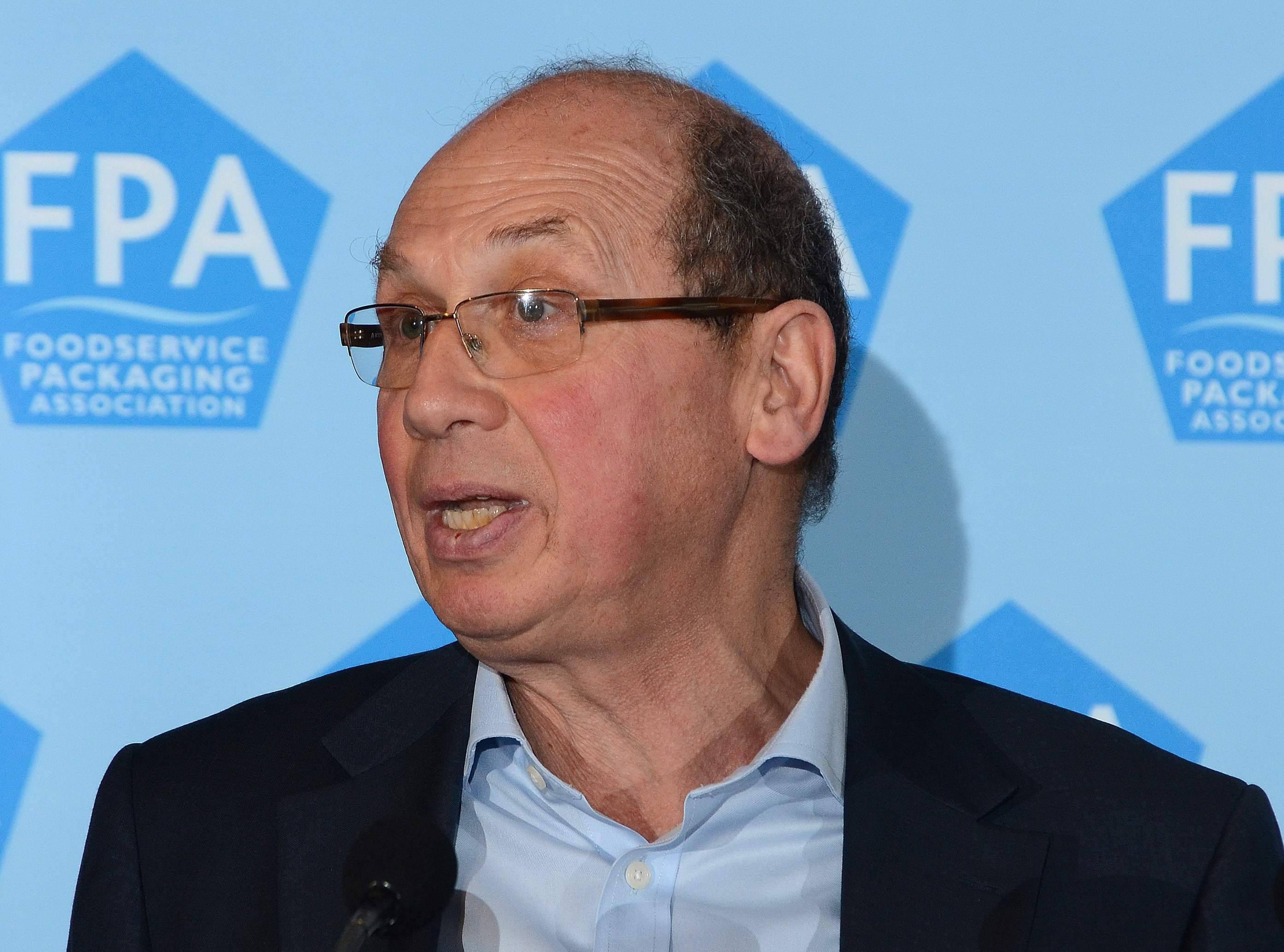 Caterers and suppliers concerned about the environment are starting to swing into action with initiatives designed to cut the amount of plastic we use then throw away. David Foad reports.
The use of plastic in the foodservice supply chain offers a lesson in the way that strengths can also be weaknesses. All it requires is to look at them from a different point of view.
From one angle, plastics offer lightness, strength and durability, features that can cut the risk of damage to goods, reduce transport costs and improve product shelf life.
Plastic containers can also be sealed airtight to eliminate contamination, and because plastic is a dynamic material it is easily designed into a wide variety of shapes and sizes.
Seen in this context, it is little surprise plastic has become such a popular packaging material for food and drink manufacturers and for catering operators.
As the recent Blue Planet II TV series showed, however, all of these advantages have a downside once the plastic has served its initial purpose and is simply tossed away.
It goes from being a useful container to a piece of waste, and its durability becomes a liability. Plastic bags, for example, are estimated to take anything from 100 to 1,000 years to decompose, while plastic bottles can take 450 years or more.
And the interesting shapes and sizes of plastic containers mean they can become traps for unwary creatures that explore them, often drawn by the remains of food inside.
This brings us to the point we've reached today, where we have grabbed the advantages of plastic for years but are now becoming very aware of the perils it presents to the environment.
Waste packaging
Waste packaging is now seen as a global problem that is of mounting concern to consumers, and businesses are starting to acknowledge this and look at the role they can play in mitigating it.
Gabriella Bittante, policy manager of the British Hospitality Association (BHA) says it is easy to see how we have reached this point.
"With more people eating and drinking on the go, and lunch 'hours' reduced to a mere 34 minutes on average, to-go options for busy workers and commuters are increasingly popular, and a necessary source of income for caterers, whose customer base has increasingly fewer minutes to sit and enjoy their meals.
"In our fast-paced modern society, single-use food packaging is an endemic problem, from meal boxes, pizza boxes and coffee cups, to plastic cutlery and plastic straws."
But the convenience of these non-degradable disposable items should not trump the environmental problems they create, she says, and the companies that are responding to growing consumer concern are 'reaping the benefits'.
And she points out some of the actions firms are taking to meet both customer anxiety and their own sense of responsibility on the issue
"Choosing sustainable alternatives, ensuring proper recycling practices are in place, and working with your supply chain to move towards environmentally friendly packaging materials are all ways businesses can contribute to reducing the impact of packaging waste.
"Some companies have chosen to move towards using dedicated eco-friendly containers and packaging products, including renewable compostable cups, napkins and takeaway containers, using plant based materials.
"Options like compostable board cups and straws that break down into compost piles mean that less ends up in landfill, reducing the ecological impact of packaging on the environment."
Innovation, innovation, innovation
And there are already encouraging examples of innovation among operators and suppliers.
Contractor CH&Co recently replaced all meal containers and packaging with Vegware, a compostable alternative to catering disposables, at client site ZSL London Zoo.
It also introduced wine in a can to provide a recyclable, glass-free wine option for event catering on the site.
The moves came in response to ZSL's ambition to be 'plastic free' by the end of the year.
B&I specialist caterer Talkington Bates, meanwhile, has taken the decision to replace with canned water all bottled water on sale in the staff restaurants it operates.
It is also providing various glass alternatives and supporting a water refill initiative as well.
Paul Bates, joint managing director, says: "After speaking with our clients we have received overwhelming support and positive feedback in our quest to remove all plastic water bottles and as much other plastic goods as possible from our sites.
"The idea that plastic bottles could outweigh fish in our oceans by 2050 is absolutely shocking and, as an industry, we must join forces to do all we can to cut the use of plastic from the catering environment."
Another contractor, Bartlett Mitchell aims to greatly reduce the impact of lunchtime packaging waste with its new range of 'Food to Go' sandwiches, wraps, salads, snacks and desserts.
Lin Dickens, marketing director, says: "As a responsible business, it is important to us to reduce our environmental impacts; a large part of this is to do what we can to reduce what goes to landfill.
"Clients and customers are becoming far more knowledgeable about these issues too so its really important to take action where we can.
"We were planning to launch a new grab and go range so it gave us a great opportunity to review all of our packaging. It was a pretty big project but we are pleased with the results."
She said the materials were not difficult to source and there was no additional cost involved by choosing to use them.
"We worked with our supplier to decide what we wanted from the packaging and how it would fit with clients' waste streams and activity.
"They then presented us with a range of costed options to choose from, including where they were made, so that we could consider the carbon footprint of the production process in our decision-making criteria."
She admits, though, that what Bartlett Mitchell has done so far only tackles the start of the recycling process.
"This is currently a big project we are working on with clients to make sure everything is recycled. We are also working with them to ensure that they are aware of using the right waste streams.
"The programme includes an initiative to educate customers about recycling the used packaging into the right places. We are also working with clients to run training sessions for their cleaning teams as part of our green roadshows."
Next up for the B&I operator will be the recycling of all disposable and single-use cups.
She adds that the catering industry needs to engage much more with the plastics issue.
"Yes, we can do much more as an industry to help ensure packaging is managed responsibly and efficiently post consumer-use. That involves everyone – Government, industry, client and customers – we all have some degree of responsibility."
Plastic straws are a big focus
Plastic straws have become a particular focus of concern, and catering operators in the High Street sector including pub chain JD Wetherspoon and restaurant brands Pizza Express and TGI Fridays have all just announced they are switching right away to biodegradable alternatives.
And the thorny issue of paper coffee cups has also exercised minds, because while many of them are theoretically recyclable, in practice they are thrown away because they need special facilities as a result of the lamination that makes them waterproof.
Parliament's environmental audit committee recently heard that in the UK 2.5bn disposable coffee cups are thrown away each year.
Supplier Huhtamaki has now teamed up with Gosport Borough Council to launch a new recycling initiative for these cups. The first of its kind in the UK, it went live in February.
It provides dedicated cup recycling bins at strategic sites across Gosport including the ferry port (used by commuters as well as tourists) and council-owned premises such as the town hall and the leisure centre, with plans to extend collection points to main high street locations, local offices and transport providers in the future.
Cups and lids will be recycled into products such as garden furniture, park benches and flower tubs that could be used in and around the town.
Not so fast, says FPA
Foodservice Packaging Association (PA) executive director Martin Kersh says that with all the current media debate about plastics coffee cups and water bottles, it's not surprising that many operators are reviewing their supply of packaging.
"But we are advising caution when it comes to switching materials and urging caterers to talk to their suppliers about the various options that are available.
"The FPA is working hard with Government and its various departments and committees to seek the channeling of potential taxes and charges through the system used to tax packaging, the Packaging Recovery Note system.
"We are urging reform of this system to fund increased collection and recycling of packaging, including foodservice packaging, particularly when on the go.
"We believe this will be faster and more effective than levying new taxes and most importantly will ensure all funds raised are used to increase recycling rather than disappearing into the Exchequer.
"It is, we believe, far better to drive the circular economy through recovery and recycling.
"Of course, we absolutely agree with the Government on the need to reduce litter – be it in oceans or on land – and we are committed to find solutions to help achieve this.
"But at the same time we must not lose sight of why plastics and packaging are used in the first place.
"Packaging preserves and protects contents and ensures they arrive at the point of consumption in optimal condition. Plastic is used as a packaging solution because it performs well, often with a lower carbon footprint to alternatives and is lightweight, hygienic and recyclable.
"Packaging's role in keeping food waste down is also important – the catering industry has worked hard to reduce food waste and needs to be mindful of the unintended consequence of knee-jerk reactions with regard to plastic.
"Most plastics in circulation in the catering industry are not single use, they can be recycled multiple times and used to reduce the need for virgin material by being recycled.
"By making careful choices, operators can make changes that contribute positively to the circular economy and avoid replacing one material with others that add to the problem.
"We strongly advise consulting your waste contractor and discussing with them the materials they collect and can ensure are reprocessed and are dealt with in the way intended.
"Education is also an important factor – you need to let your customers and staff know what they should do to support your collection system and what they need to do with their used packaging – such as not using a used paper cup as a mini bin.
"It's a big topic and there is much in the way of 'media myth' out there so please take time to research your options."