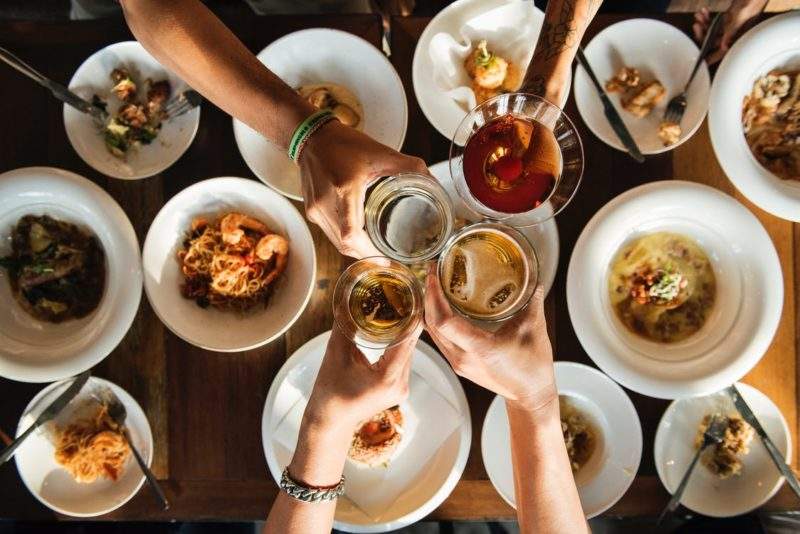 From the food to the décor, visuals are essential in the restaurant industry. The saying 'you eat with your eyes' couldn't be more appropriate for some of the most Instagrammable restaurants worldwide.
England, Australia, Italy and the US all feature stunningly-designed establishments serving stunning dishes, where diners just can't help but take a picture before enjoying their meal. Here are seven of the most appealing fine dining and casual eateries in the world.
Bob Bob Ricard
The elegant London-based Bob Bob Ricard (BBR) is well-known for the 'Press for champagne' buzzers situated on diners' tables and fine dining in a quirky atmosphere. Unconventional in its décor, BBR features multiple dining rooms. Its royal blue booths with gold-gilt edges in the blue room take inspiration from the Orient Express and Golden Age of Travel. The red and gold room "features distinctive backgammon motifs and oriental patterns", whereas BBR's private dining room is modelled like the Royal Dining Carriage, seating up to 16 diners. The English and Russian cuisine is overseen by two Michelin starred chef Eric Chavot and Instagram-happy guests will be more than willing to snap unique menu items like lobster and champagne veloute, truffled potato and mushroom vareniki and Eton mess 'en perle', which is a tennis balled-sized sphere doused in cream and hot chocolate sauce.
Tattu
Chinese-inspired Tattu mixes tradition with modernity, both in its cooking methods and décor. The main visual attraction within its Manchester, UK, location is the large pink cherry blossom tree that dominates the two-floor establishment, making it one of the best restaurants for Instagram.
The restaurant says: "Tattu's award-winning approach to interior design ensures that each restaurant is entirely unique in its aesthetic. Each restaurant is carefully designed to take guests on a sensory journey from the traditional East to the modern West. Through a painstaking attention to detail, we ensure every single element has a purpose and a connection with the identity of each restaurant.
"We have sourced the most beautiful natural materials from all over the world and commissioned artwork from talented artists to help tell our stories, while always paying tribute to the character of the cities we have opened our doors in."
Gucci Osteria
Gucci is widely known as a fashion brand; however, the luxurious company opened its own fine dining restaurant in January this year called Gucci Osteria in Florence, Italy. The restaurant seats 50 guests in dining chairs and booths adorned in green velvet and the gold-scripted walls feature Renaissance-style carved stone tablets. This restaurant is the height of extravagance situated in the Gucci Garden complex, which also features an exhibition area and retail store.
Three Michelin starred chef Massimo Bottura runs the restaurant. Its menu is partially inspired by Bottura's world travels and includes items like his signature 'Emilia' burger, Peruvian-inspired tostadas, Parmigiano-Reggiano tortellini, tacos and pork belly buns. The menu also features high-end interpretations of hot dogs and mousse of Pina Colada as a dessert item.
Catch LA
Catch LA is one of the most Instagrammed restaurants in the US, according to the social media platform's yearly review of popular eateries. The seafood restaurant's entrance is an Instagram-worthy feature all by itself, showcasing a sea of flowers on each side, as well as the ceiling, before entering into the elevated, open-air dining room. The restaurant also contains an open kitchen and offers views of downtown Los Angeles and the Hollywood Hills, with a 340-seat retractable rooftop dining area.
Coppa Club
Coppa Club has numerous locations around London, however its Tower Bridge establishment tops the others as the most Instagrammable. Tower Bridge's 'paradise pods' are the main attraction, showcasing a Tulum, Mexico themed terrace, designed with palm leaves, cacti and bright colours. As the winter months approach, the pods will be replaced by 'igloos' which require booking months in advance. These igloos are made from timber beams and Perspex and have sliding doors. They are also heated and contain blankets, as well as a button to call a waiter over. Views include Tower Bridge to one side and the Shard to the other, with Christmas light displays on show.
Sky Garden
Situated in London's highest public garden are two eateries, Fenchurch Restaurant and Darwin Brasserie. Both establishments allow guests to dine with a view, as the British contemporary, rooftop restaurant features west-facing views of London and Darwin overlooks the River Thames. The planting within Sky Garden has been designed by award-winning landscape architect Gillespies, featuring a series of plant-filled terraces, each with their own theme. Every aspect of the Sky Garden, including its two bars, make for Instagram-worthy posts.
Hacienda
Located in Sydney, Australia, Hacienda is a Latin and American inspired restaurant-bar lounge. The interior is inspired by Cuban architecture and Miami hotels of the 1950s, with a view of the Pullman Quay Grand Sydney Harbour to match. Fake vines, hanging garlands and orb lighting also add to the aesthetic appeal.