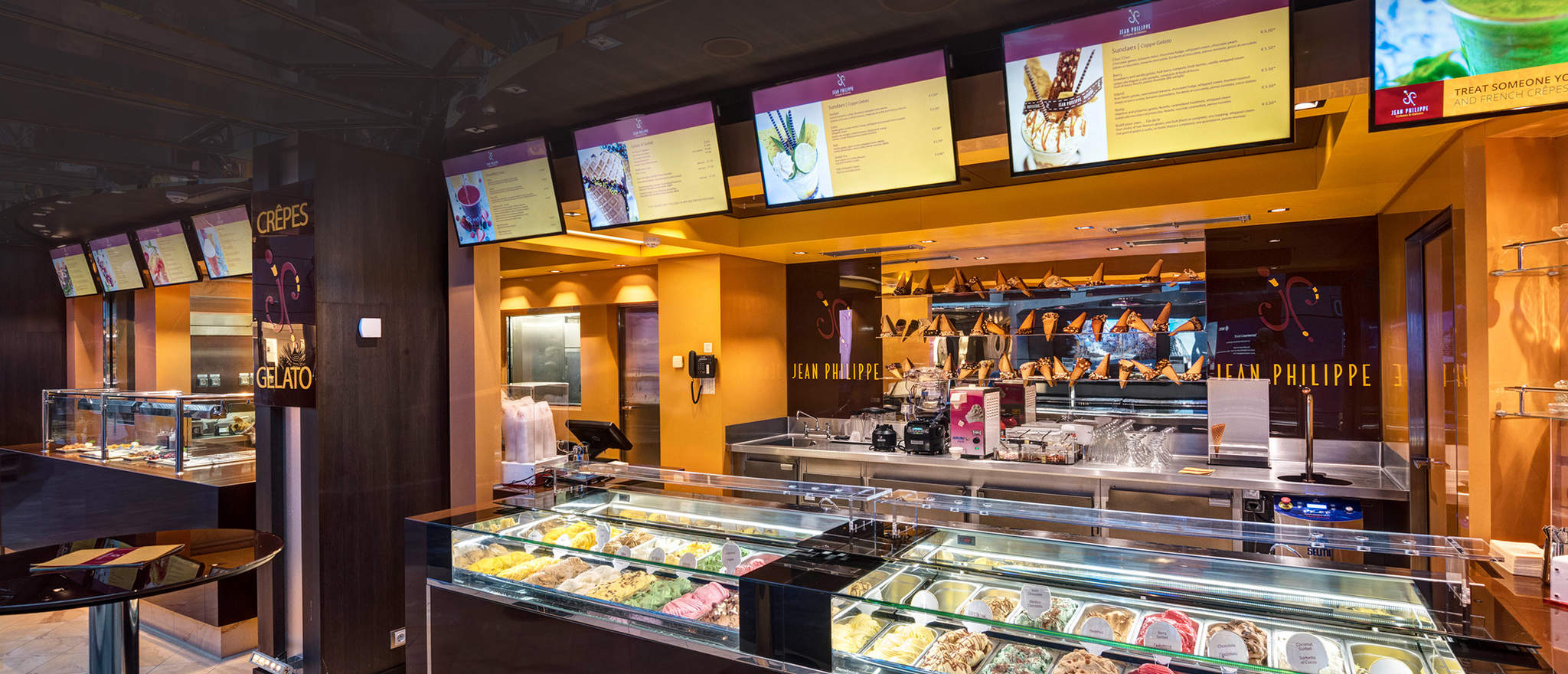 What happens when a world-class chef is asked to create his unique chocolate and patisserie range on board one of the most advanced ships in the world? Frances Marcellin finds out how patisserie champion Jean-Philippe Maury brought his culinary vision to the MSC Meraviglia
Cruise appeal has been increasing steadily over the last decade, and business is booming for the industry. A total of $6.8bn has been invested in new vessels in 2017, which increases global capacity for a further 30,000 passengers.
As passengers' expectations have increased, cruise companies have responded by creating ships which are holiday destinations in their own right. With the Cruise Lines International Association (CLIA) confirming that nearly half of non-cruisers expressed interest in taking an ocean cruise in 2017, the demand for hotel-standard accommodation, fast internet connectivity and high-quality cuisine at sea is rising, and the competition is fierce.
A NEW GENERATION OF WORLD-CLASS CRUISING
With its newest vessel, the MSC Meraviglia, MSC Cruises is paying close attention to passenger expectations, offering the latest in on-board digital technology, a specifically designed Cirque du Soleil show, and a luxury chocolate range developed in partnership with one of the world's best pastry chefs, Jean-Philippe Maury.
Partnerships with famous chefs continue to have significant leverage in the cruise industry. For the Meraviglia, winner of several pastry awards Jean-Philippe Maury and MSC Cruises have created the Jean-Philippe Chocolat & Café and Jean-Philippe Crêpes & Gelato on the glitzy main thoroughfare of deck six.
The beating heart of the ship, this grand avenue-like walkway is topped by the world's largest LED sky screen at sea, which projects moving images in different forms, including verdant dinosaur worlds and a journey through space.
With an eclectic mixture of restaurants and bars lining the balcony above – from sushi to a British gastro pub – this central high street is where conviviality peaks, especially on a Friday night where it transforms into a street party.
Yet it is also where the Meraviglia's distinctly Mediterranean daytime café culture is nurtured.
THE ART OF JEAN-PHILIPPE MAURY'S CHOCOLAT & CAFÉ
The aroma of coffee wafts around the shiny autumnal hues of the Chocolat & Café store while the coffee beans roast behind the counter. Colourful displays of French macarons, handmade chocolates, deserts and souvenir confectionary bars – some featuring diagrams of the entire ship – catch the eye at every turn. Across the road, passengers can buy Maury's fresh crêpes and handmade sorbets and ice cream.
"This is the first time that the production has been 'on display' to guests, they can see the expert and intricate craftsmanship that only usually goes on behind the scenes."
As part of a partnership that started and flourished on the MSC Divina, MSC Cruises executive chairman Pierfrancesco Vago asked Maury to create a new and totally unique chocolate concept.
Famous for his record-breaking chocolate fountain at the Bellagio Hotel in Las Vegas (an AAA Five Diamond Resort), which is officially the largest in the world, Maury decided that he wanted the guests to see that everything served is made fresh on board. As a result, chocolate making is carried out in front of guests, in the patisserie's open kitchen.
"This is the first time that the production in one of my stores has been 'on display' to guests," says Maury. "They can see the expert and intricate craftsmanship that only usually goes on behind the scenes."
So far Maury has been pleased by the way the passengers have reacted to the public chocolate-making in the patisserie.
"Lots of people stop and watch the team as they make some of the tempting treats," he says. "They ask a lot of questions to better understand about chocolate quality and craftsman techniques – we are really spreading the word of chocolate production and I hope guests leave feeling inspired and full of knowledge."
Maury says that fresh ingredients, detailed recipes and well-trained chefs (of which there are ten) are factors to the success of the venture, but careful planning and well-calculated organisation has also been an important part of bringing Maury's vision to life on the MSC Meraviglia.
SPATIAL CHALLENGES AND INGREDIENT SOLUTIONS AT SEA
In Las Vegas, Maury is used to working in a 6,000 square-foot kitchen and with 110 people on his production team, but the operation on the MSC Meraviglia has been designed to work within the constraints of the ship.
"Of course, on the ship we are working with a different set-up and space, but we are still able to offer guests the same quality, flavour and variety of products," he explains. "This was a must for me."
In terms of kitchen design, Maury says that they had to plan the space carefully so that a world-class standard could be achieved in a relatively small space.
"We had to be very creative in order to pack in the huge amount of technical and specialist equipment that we have on board," he explains, "while leaving enough space to allow for a comfortable operative operation on a small footprint."
Another issue the team has had to overcome is how to measure ingredients accurately for the enormous variety of freshly-made products that are sold on board.
"As you can imagine we are at sea and the ship moves, so this can be challenging for weighing out ingredients and can create errors in the scale readings," he says. "To fix the problem we changed our production schedule to complete all the weighing of ingredients while the ship is docked."
Many of Jean-Philippe's signature recipes also had to be converted so that scales were no longer relied upon. "Instead of relying on weight, we measure by volume," he adds.
COFFEE SHOP TECH FOR PASSENGER ENGAGEMENT
In a bid to further encourage passengers to engage with Maury's chocolate-making world, iPad stations allow them to create personalised souvenir chocol​​​​​​​ate bars by selecting various chocolate flavour options, sweet fillings and decorations.
"iPad stations allow customers to create personalised souvenir chocol​​​​​​​ate bars by selecting various chocolate flavour options, sweet fillings and decorations."
Designed to entertain guests and enhance their shopping and café experience, the idea was inspired by Maury's newest venture in San Diego, known as iDessert. Here, customers can make their own deserts using the software on the store's pre-programmed tablets.
"This aspect of the shop has been very well received by the passengers, especially those wishing to take a gift back home after their cruise," says Maury. "The high level of quality and outstanding array of choice can't be beaten – guests often just pick what they fancy at the time, but there are some who try and work their way through everything."
With another MSC Meraviglia-class ship coming in 2019 and the MSC Seaside – the largest cruise ship ever to be constructed by Fincantieri – entering service in December 2017, MSC Cruises' new fleet development is on target.
As the Chocolat & Café and Crêpes & Gelato stores have been so successful to date, will Maury be bringing the art of chocolate to the future fleet, too?
"We are currently talking about the option to keep developing our partnership," he says – a promising prospect for future generations of passengers with a sweet tooth.