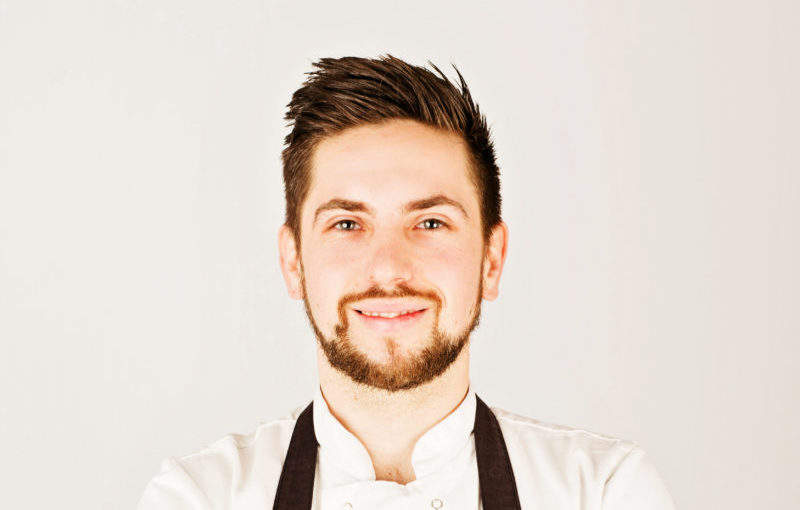 Care sector caterers are being offered inspiration for their menus in the year ahead with the launch of a new guide plus taste trend predictions for 2018.
Two leading care sector chefs have got together to launch The Care Collection, a selection of recipes they have created to help caterers in the sector deliver on taste and performance.
Matt Dodge is executive chef at Chelsea Court Place, a private care home run by Innovative Aged Care, and a brand ambassador for supplier Kerrymaid. Richard Troman is Kerrymaid's development chef.
Dodge says: "The portfolio is not only functional and versatile, but also reduces waste, helping you come in on budget whilst delivering a great tasting menu.
"Older people have unique nutrition needs and it can often become difficult to achieve in care home environments where monitoring the daily intake of individuals can be difficult.
"Due to the decline in appetite among older people, smaller meal portions are often better with the option of second helpings and additional, substantial snacks throughout the day.
"A big plate piled with food can seem overwhelming when presented and may also diminish the appetite.
"Cutting food into smaller pieces may also help individuals, especially if they are struggling with cutlery – the meals won't take as long to eat, so they won't go cold and they won't feel like they are losing their dignity by being slow or having to be fed.
"Presentation of the food is another good way of stimulating appetite, and it's important to think about colours on the plate – a white plate full of beige food won't look as appetising as a plate full of rich colours – bright greens, red, purple and orange of fresh seasonal produce will be much more tempting.
"At Chelsea Court Place, we use red and blue plates as studies have shown that this helps individuals with dementia identify between the different foods on the plate.
"In addition to the basic enjoyment of eating good quality, nutritious food, taste is a very powerful sense which has the ability to trigger memories of life experiences, stimulate happiness and comfort, all of which are pertinent in people afflicted by Alzheimer's disease and dementia.
"Understanding likes and dislikes and favourite meals of residents can help shape the menu.
"And finally, it is also important to look for signs of problems with swallowing which can happen to those with dementia or who have been sick.
"Indicators of problems swallowing [dysphagia] include grimacing when eating, repeated clearing of the throat, coughing or large movements of the jaw when eating."
Dodge and Troman have helped Kerrymaid come up with its top trend predictions for the care sector in 2018, and here they are:
Vegetables are the best medicine
• Adding more veg to recipes bumps up vitamin D intake, which elderly residents often lack, potentially leading to a range of diverse health concerns. So dishes that incorporate veg such as bakes and cobblers are going to be key additions to menus.
Reducing waste
• With an estimated 20% of all food purchased thrown away nationwide, tackling food waste is moving up the agenda across foodservice. For care home caterers working to ever tightening budgets, cutting food will make a huge impact on overheads. Reducing portion sizes and looking at ways to use the whole vegetable or cut of meat will also help reduce waste. Nose to tail and root to leaf will become a major part of cooking for residents.
How do you like your eggs in the morning?
• A vital source of protein, elderly residents can now have their eggs any way they like, including sunny side up and soft boiled as the presence of salmonella which posed a high risk to the elderly has been significantly reduced. As long as eggs purchased have the British Lion stamp residents can safely eat lightly cooked eggs. For residents who need a little extra encouragement to eat or those living with dementia being able to have a breakfast reminiscent of their home or childhood will really help. Serve your soldiers with Kerrymaid Buttery for a simple to prepare, but tasty meal.
More than just food
• For many care home residents meal times are a highlight of the day, offering a social environment and company, meaning that meal times are about much more than nutrition. As the breakfast and brunch occasion takes off in the out-of-home market, care caterers will look to replicate elements of this in their dining rooms. Offered on a monthly basis, brunch will give caterers an opportunity to trial new dishes. Whilst offering the meal at a slightly later time than breakfast may also encourage residents who usually dine in their room to come out and eat with other residents, as it will give them and their carers more time to get ready on the morning.
Vegetarianism is ageing
• A decade ago it would have been rare to find a care home that needed to cater for strict vegetarians, but as we enter 2018 it's becoming an ever more popular life choice meaning that caters also need to consider a tasty veggie meals when creating menus. Additionally, CSR policies mean that care homes also have to consider their environmental impact and that often means reducing meat consumption.
Related feature in the latest issue of Cost Sector Catering
https://secure.viewer.zmags.com/publication/41110023#/41110023/60