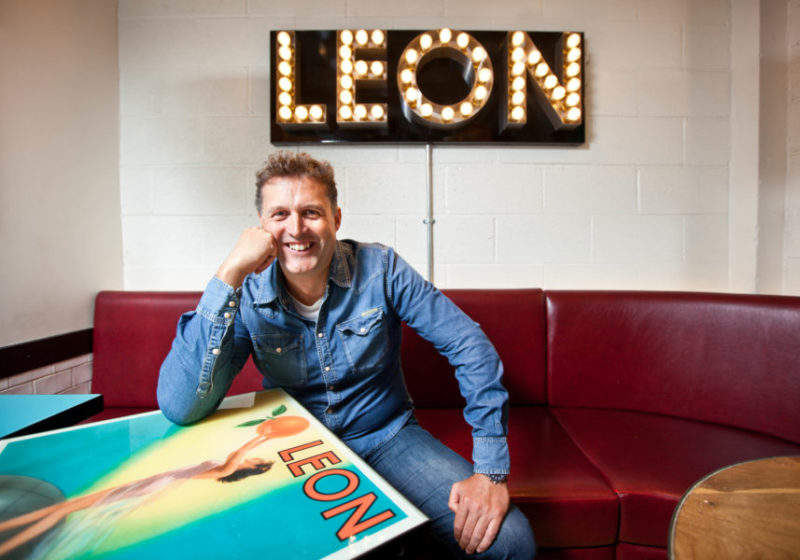 The words 'healthy' and 'fast food' don't tend to go together, however fast casual chain Leon is aiming to change our perception of food-on-the-go with a global expansion plan. CEO John Vincent talks about upholding the naturally fast food trend and shares his international growth goals with us.
What's your background and how did you get into the restaurant industry?
Going back to my university days, I used to have an entertainment business doing sound, lighting, dance events, raves and gigs. I then joined Procter and Gamble (P&G) as my first graduate job in sales and then went into marketing and then after four years of being at P&G I joined Bain&Co for seven years, which was like a hard-core management and business consulting company where we advised businesses and boards from all sorts of different industries, one of which happened to be Burger King. We also provided services for whiskey, drugs, pharmaceutical and engineering businesses and private equity companies. That became my business school if you like. I learnt so much there but I always knew that I wanted to create a business where I really loved the energy. I wanted to create a business that had a really big, positive impact on my life and on others and on the world. And with Henry (co-founder), we knew we wanted to create a lifestyle that's great, that's healthy and based on wellbeing. We wanted to look at reinventing fast food.
Why have you chosen to open restaurants in the current locations so far? And what has determined where subsequent restaurants have been established?
We always wanted to open in London because that's where the people are and that's where the competition is most intense. We thought it was an amazing schooling for us to be able to learn and work in one of the most intense restaurant industries in the world and we hope, touch wood, that this will benefit us in terms of our international business.
How are the international restaurants doing overall? Which countries are the most successful, which the least?
The international restaurants are relatively new. We've got two sites in Schiphol and two in Utrecht as well as the restaurant we've just opened in Oslo. It's hard to compare them as they're in very different locations. We also open our first US restaurant in Washington D.C. later this summer so we're really excited to begin our American adventure too.
What are your overall expansion plans?
Our overall expansion plans are to grow steadily in the UK and to really go for it in the States once we are established over there.
Could your overseas operations become larger than UK operations, or vice versa?
Our overseas operations could become larger than our UK. I would imagine that we will open maybe ten a year in the UK and probably within two years we'll be opening ten a year internationally as well. But in the long run, if we do our job right, the critical mass of the company will be America. That's the plan, anyway.
How do you stand out from your competition?
There are people that do fast casual and there are people that do grab and go, but there's no one truly doing naturally fast food, with a fast food format, with a fast food feel, so that makes us stand out from our competition. Plus I hope that we put a bit more love and authenticity into our ingredients.
How does the concept/brand stay relevant in the marketplace?
We stay relevant by ironically just being true to what we've always done, which is naturally fast food, making sure that good food tastes great. It's remarkably good for you, it's affordable and you feel great after you eat it. We stay relevant by staying consistent.
What are the opportunities and challenges for your business?
The growth opportunities, internationally, are incredible. The challenges we face are the fact that costs are going up on every line item. Wages have also gone up in the UK because of living wage, as well as local property taxes and property costs. There's even an upward pressure on CAPEX because there's not the workforce available on the building side either, so we've got big cost increases to contend with as an industry.
What's the next big thing for the casual dining sector?
The next big thing for the casual dining sector, I think, is technology. There's obviously people that are going to try iPad ordering, app ordering etc., so the big question I think is, to what extent do people want to dehumanise the casual dining experience for cost reasons? Which operators want to maintain a sense of humanity?