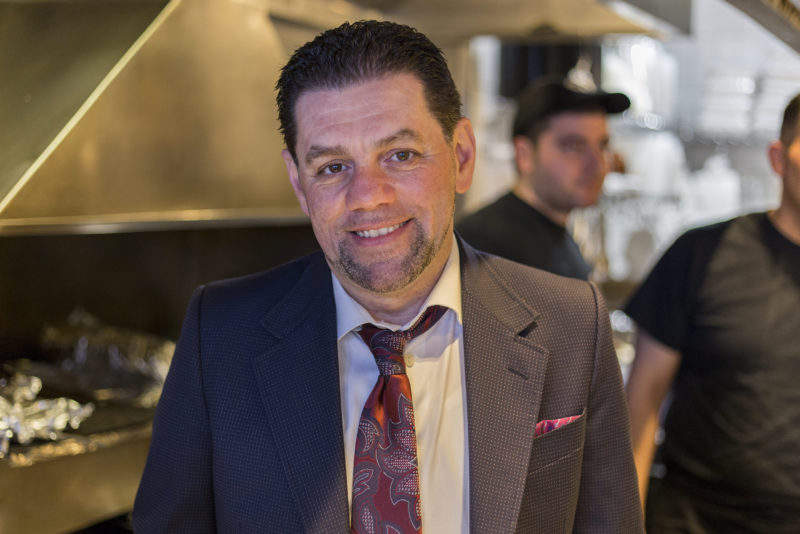 Paramount Lebanese Kitchen founder Mr Fakih discusses the challenges that come with repeatedly scaling up a business and staying relevant in a competitive marketplace.
What's your background and how did you get into the restaurant industry?
I actually started in the restaurant industry by mistake. We had some guests coming to our home and my wife wanted to offer them something Middle Eastern, so she sent me to buy a kilo of baklava, from what she called this 'famous' Middle Eastern bakery. It was really far from home and I had to drive to this place that was hidden. It wasn't really a clean place and I wasn't very excited or inspired by the experience when I got there. When I went to ask for my kilo of baklava, the guy there asked me to lend him some money. I said to him, 'why would I lend you money? I don't know you' and he said 'I've heard about you, you build multi-million dollar homes'. So, I handed him my card and said to him that I just wanted a kilo of baklava. But, what I understood from his story was that there were 35 families relying on his business and some of them would be deported because they arrived in Canada with a skills visa based on the business. I didn't know the man, and $250,000 was a lot of money for a kilo of baklava!
But when I was driving home I started thinking that I am an immigrant, and when I was a newcomer to Canada, I had a lot of people helping me with opportunities and things, so maybe there was a reason for me being there and a way to help this person. A couple of hours later, I got a call from a real estate agent who had found a buyer for one of the houses I was building, but the house wasn't ready. At the time, there was a great boom in the construction industry, so I thanked him for the call and told him I'd take my chances later, unless the buyer he had found was willing to sweeten the deal a little bit. So, he came back to me and told me the guy would give me $300,000 more than the asking price. I told him I would think about it and when I got home, I talked to my wife about the very expensive trip for baklava and the idea of this guy asking for money. She told me maybe it was meant to be. That one guy needed $250,000 to keep his doors open and his employees in work, the other guy providing the bulk of it through buying the house. Maybe it's a sign.
Instead of the guy from the restaurant calling me, I actually called him that night and asked him if he still wanted the loan. As soon as I transferred the money, Revenue Canada froze his account because he was not up-to-date in paying his taxes, so he called me and said he'd lost my money. I went back to the bakery and I saw the staff there were devastated, they didn't know what to do. Some of them were actually crying. At that moment, I realised that when I went to buy that kilo of baklava, I actually walked into a much bigger reason to be there.
I said to the guy that I would like to take a shot at it if he could support me, but he said he couldn't do that because he owed money and it would get personal, so I let him leave. I knew nothing about food, I didn't even know how to fry an egg properly at that time, so I asked him to let his two sons stay in the business and I did customer service. I brought in a consultant to handle the numbers side of things and I met with the bank and Revenue Canada and convinced them to give me the time and the space to try and salvage the business and turn it around. They worked with me and we did.
How has the business changed since it opened its first site?
We started with one outlet in 2007, today we have over 70 restaurants worldwide, with over 2,000 employees, but it took time to build. My philosophy in business is always to build a base. It took us the first three years, with only one location, and we didn't decide to open a second restaurant until the first one was packed all times, all day. When we opened our second restaurant, it was a catastrophe. I realised I had a successful system for one restaurant, but I didn't have a scalable system for more than one. I always say to people, if something works once, it's a hobby. If you can repeat it, it's a business.
So, even though the second restaurant was losing money at that time, I was still looking at the right way to recreate and scale-up what we had with the first restaurant. Working with a consultant, we developed an employee training programme and got our ideas down on paper. We opened a third restaurant and from day one, it was packed, busy morning to night. For the first seven years of extending Paramount, we operated from only four restaurants. After year seven, and a lot of learning, we decided to put our model out for franchising, and it's just grown and grown from there. So, things have changed a lot since those early days, but, I still work 21 hours a day. The only thing that hurts is my jaw, because I'm smiling all the time while looking for new opportunities.
Why have you chosen to open restaurants in the current locations so far? And what has determined where subsequent restaurants have been established?
Our process for choosing new locations is based on numbers and experience. The numbers are important, but true wisdom comes from experience. Our local partners help us, but before we get to that stage, we will do a lot of research into a potential location, in terms of surveying the market. We want to find out who our customers are, what their backgrounds are, what they like to eat, and, most importantly, what they do for a living, what their average income is. That's how we decide where to open.
How are the international restaurants doing overall? Which countries are the most successful, which are the least?
It's all about unit economics. We started in Canada, which is not an easy market in general. The UK has good unit economics. Pakistan has amazing unit economics and New York has amazing unit economics too. I think the UK has the potential to probably become our second most successful territory due to the demographic of the UK, and the tourism, a big percentage of it comes from the Middle Eastern countries. A lot of the money spent here comes from people who are interested in fresh food, interested in Halal and are interested specifically in food from the Middle East.
Could your overseas operations become larger than UK operations, or vice versa?
Our expansion started in Canada and the decision we took at the time was to locate ourselves in Lebanon for the Arabic countries, in the UK as a centre for Europe, in Pakistan for all the countries in that region, and in Canada for North America. Canada can probably take up to 100 locations, its population is about 33 million people.
Here in London, you have 12 million people living and 20 million to 30 million visiting, so I don't think we'll settle before 50 locations in London and the surrounding area. In terms of the UK as a whole, my dreams are really big. I think it will be one of our biggest and most important regions, but more importantly, it will act as a big door for us to go into Europe as well. A lot of people come here from Europe. They will see the brand here, they will experience the concept and try the food, and the opportunities will be there for us if we work hard at it.
How do you stand out from your competition?
A lot of people and businesses lose what made them famous when they are growing. You can see that in a lot of brands – they grow, but they don't pay attention to what made them different and special in the first place. The main difference for Paramount is the natural cooking – the charcoal barbecue and wood-burning over, the healthy eating, fresh ingredients and authentic recipes that were moved over from the Middle East, using the best chefs, and we also do get involved in the sourcing of our ingredients, how the animals are fed and treated, how they are kept, that sort of thing.
How does the concept/brand stay relevant in the marketplace?
I dream big. When I made the decision to turn Paramount into a big company, I looked around and I realised that there was no one, worldwide, who had taken a Middle Eastern food brand beyond 50-60 locations. When you look at the chicken business or the burger business in America, you're looking at brands that have 5,000, 20,000 or 40,000 outlets in that country alone. If Mr McDonalds can do that, why can't I? The key is to surround yourself with great partners and a great team, people who love what you do and believe in your vision, and you could make it happen. When you're happy, when you're positive and when you love what you do, great people and great opportunities will come your way.
What are the opportunities and challenges for your business?
The world belongs to people with big dreams. The challenges for a business looking to scale up into a big business are three-fold. One is cash flow. In every business, this is a problem. The second is consistency. How can you scale-up your business and repeat it again and again to the same formula? Number three is culture. Your best assets are human beings, not money. When companies grow, sometimes they forget that the family culture – your employees, your partners, your suppliers, your franchisees and your investors – is most important. Creating a love culture, not a money culture, is the key to success. I always say that success is great, but success surrounded by your team, that you consider family, is paramount.
What's the next big thing for the casual dining sector?
The brands which are run in a lean and fiscally-responsible way, that support the community, that give great value for money and deliver a great product and experience are the ones which will be always ahead.