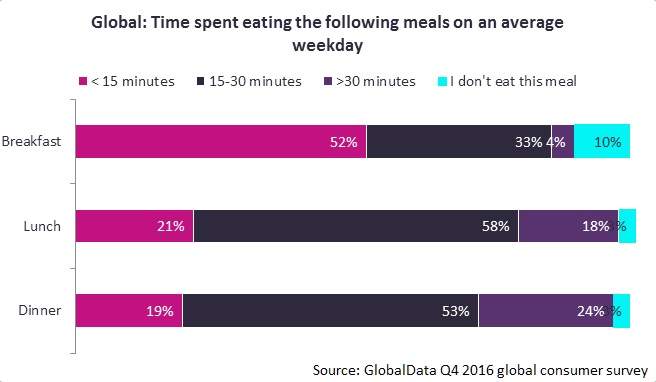 In today's time-poor society many consumers are seeking to maximize any free time they have doing what they enjoy, rather than preparing -or even in some cases eating – meals.
Indeed, according to GlobalData's Q4 2016 global consumer survey, the majority of consumers spend less than 30 minutes eating any single meal; and fewer than half spend longer than 15 minutes on breakfast – also the most skipped meal of the day.
In today's time-poor society, replacing solid food with drinkable meals that can be consumed easily on-the-go is an innovation opportunity brands are starting to tap into. While meal replacement drinks are not a new concept – particularly within the weight loss space – they are becoming more acceptable in the mainstream to fuel busy lifestyles.
This can be highlighted by the emerging popularity of fiber and protein rich breakfast drinks, such as Weetabix On The Go in the UK, that offer a quick and nutritious alternative to a  traditional bowl of cereal and milk.
The "drinkable meal" opportunity is particularly pertinent at breakfast and lunch, where consumers – particularly those of working age – spend the least amount of time eating meals.