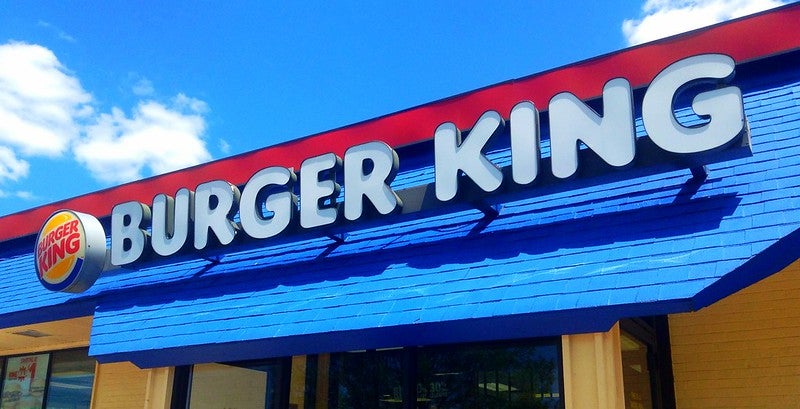 Fast food chain Burger King has partnered with Unilever's The Vegetarian Butcher to launch its plant-based burger 'Rebel Whopper'.
The 'Rebel Whopper' launched in 25 European countries including Germany, Spain, Poland and Italy and will be sold in over 2,500 Burger King restaurants.
With an increase in demand for meat-free alternatives Burger King's partnership with Unilever will expand its plant-based range making it one of the biggest restaurant chains offering plant-based patties across Europe.
The introduction of the 'Rebel Whopper' comes after the fast food chain launched the 'Impossible Whopper' to its menu in the US earlier this year.
Burger King EMEA president David Shear said: "We are confident that the Rebel Whopper is the sandwich everyone has been waiting for and provides the ultimate plant-based patty alternative with the iconic Whopper build. I'm excited to let the Rebel Whopper do the talking and see whether our guests can tell the difference."
The Vegetarian Butcher founder and ninth generation farmer Jaap Korteweg said: "When I started The Vegetarian Butcher nine years ago, my goal was to be the biggest butcher in the world. To create products for meat lovers, with the ambition of providing the same taste and experience, but plant-based. Working with Burger King on the Rebel Whopper has been amazing, and we can't wait for all Burger King guest to enjoy it."
Unilever Foods & Refreshment president Hanneke Faber said: "Less than a year after acquiring The Vegetarian Butcher in the Netherlands, we are excited to partner with the iconic Burger King brand across Europe. The new Rebel Whopper powered by The Vegetarian Butcher offers meat lovers a fabulous meat-free experience; and we can't wait to start realising founder Jaap Korteweg's dream of becoming the largest butcher in the world."
Burger UK spokesperson told Verdict Foodservice: "Burger King UK are not launching the Rebel Whopper just yet, but it will be coming soon. Some may say we're fashionably late – watch this space!"
Financial terms of the deal have not been disclosed at this time