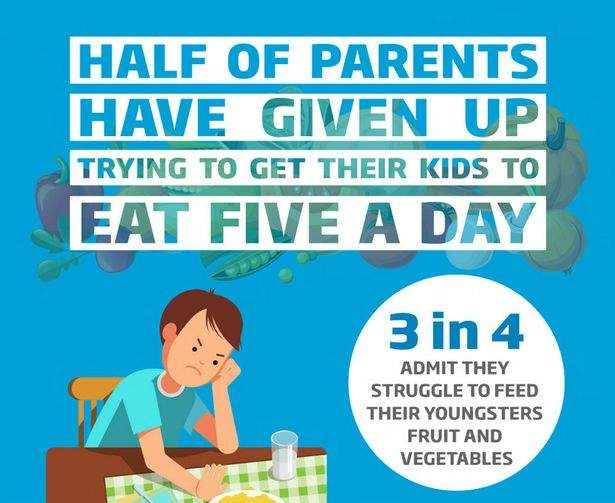 New research has found that half of British parents have 'given up' trying to feed their kids five portions of fruit and veg a day, claiming that they are "more concerned about ensuring they eat full stop."
Of the 2,000 parents of children aged up to 10 surveyed, three quarters said they "struggle" to feed their offspring fruit and vegetables – with one in 10 admitting that fresh food goes off before they have a chance to eat it.
Worryingly however, 5% "don't think it's important" that their children get five-a-day, and a further 29% have lost patience trying make them eat a healthy diet, mainly due to tiredness or being in a rush.
It's not surprising then that on average, parents surveyed only eat three portions of fruit and veg a-day themselves.
According to the survey – commissioned by home appliance manufacturer Beko, to celebrate the launch of its 'Eat Like A Pro' campaign with FC Barcelona, to help parents inspire kids to eat healthier and tackle childhood obesity:
28% of children avoid vegetables because they don't like the taste
One in five said their children's friends have the most influence on their food choices, with an equal number saying their schools do
Six in 10 have 'tricked' them into eating veg by hiding them in other foods/ bribing them
Seven in 10 battle with youngsters when they don't want to eat their fruit and veg
Beko UK marketing director, Donald Shepherd, commented: "Our research shows that the battle to achieve a balanced diet continues, and it's as challenging as ever for some mums and dads to get fruit and vegetables into their little ones.
"It's been widely reported that in the UK, 25% of 2-10-year olds and one third of 10-15-year olds are overweight or obese.
"One of the challenges that has come out of this new research is that 27% of parents say that they need more exciting recipes that include fruit and vegetables, to help them achieve getting their kids to eat five-a-day.
"With that in mind, through 'Eat Like A Pro' we're working with FC Barcelona's nutritionist to create over 100 recipes that are simple but nutritious for all the family to enjoy."
Beko also partnered with ex-footballer, Jermaine Jenas, to produce the video below: 'Do your kids know what fruit and vegetables look like?'