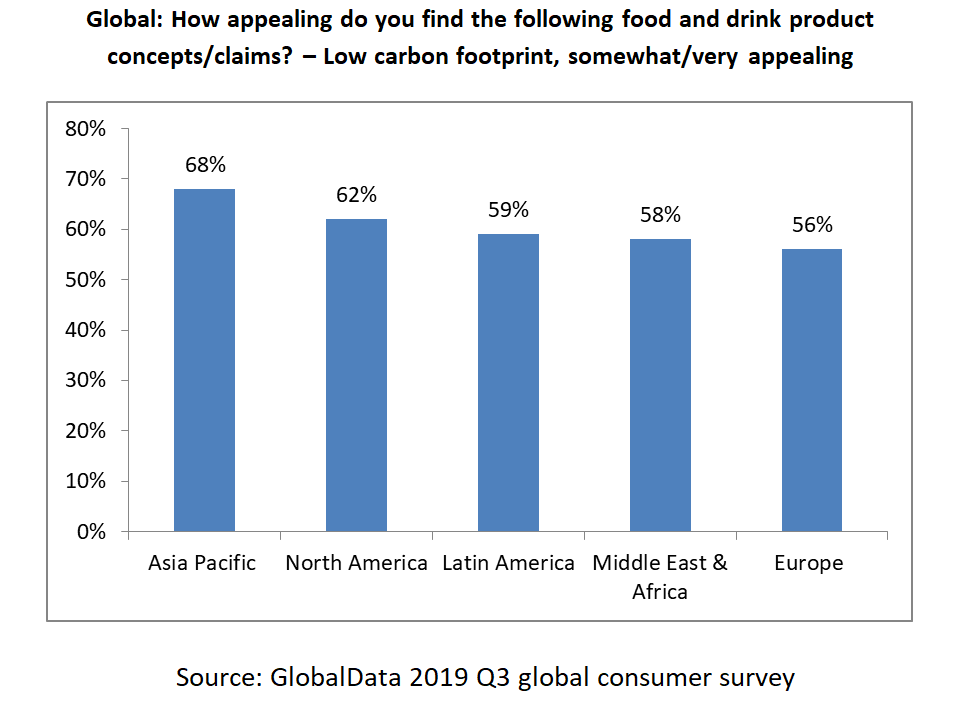 68% of Asia-Pacific consumers find food and drinks with a low carbon footprint somewhat / very appealing, according to GlobalData's 2019 Q3 global consumer survey. In fact, the majority of consumers in all continents are attracted to goods that actively seek to minimise carbon emissions, reflecting how mainstream environmental concern has become.
It is not surprising to see Asia-Pacific demonstrate the highest appeal for low carbon footprint food and beverages, since Asian diets tend to be low in red-meat and dairy. The popular consumption of alternative staples, like fish and soy, has led the way for flexitarian and plant-based diets to go mainstream globally. The uptake of meat-alternatives has now become a straightforward way to reduce individual carbon footprints, with brands now beginning to link low and no meat consumption to better environmental wellbeing.
In light of rising green-consciousness, manufacturers face increasing scrutiny to provide visibility on the environmental impact of their products. In January 2020, the world's largest meat-alternatives brand, Quorn, will become the first major brand to introduce carbon labelling on its food products. The publication of ingredients' sustainability will help further widespread recognition of Quorn foods; particularly as environmental concerns are an increasingly significant factor behind meat-alternative consumption.