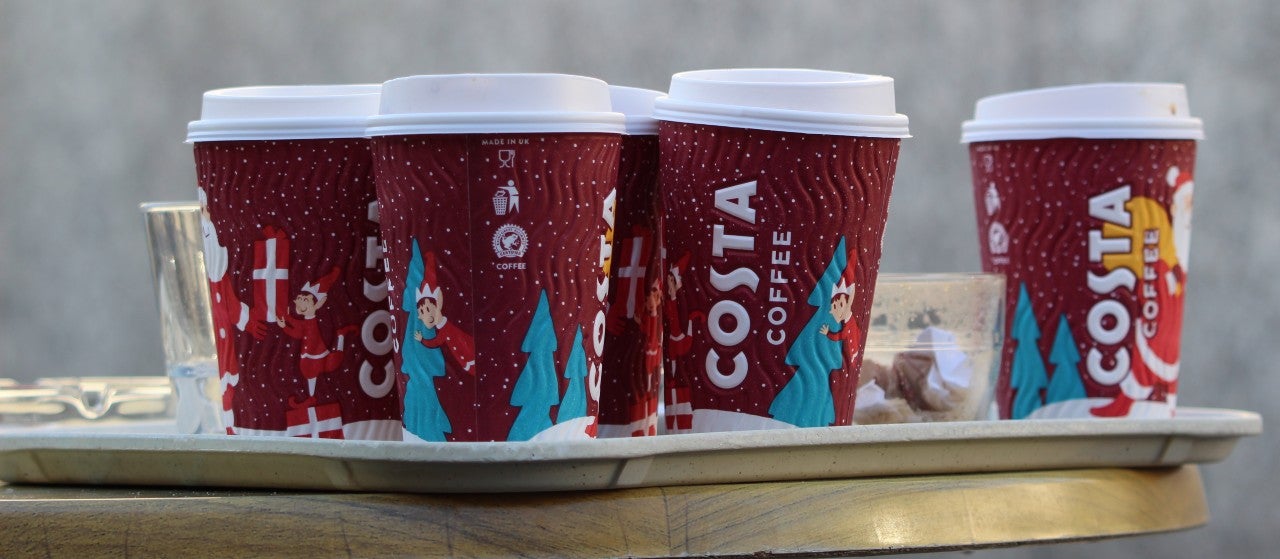 Costa Coffee has unveiled its 2020 Christmas food menu, available in stores across the UK from Tuesday 3 November 2020. In the wake of Covid-19, quick service restaurants continue to suffer as workers remain at home away from offices. According to GlobalData's 2020 Coronavirus (COVID-19) Week 9 Recovery UK Consumer Survey, 20% of consumers will continue (or start) working from home in the 'new normal' after the coronavirus (Covid-19) pandemic period. Such drastic changes in consumer behaviour have forced Costa to plan a restructure that may lead to the loss of 1,650 jobs, especially as the UK furlough scheme winds up at the end of October. In an effort to gain greater consumer awareness over the winter, Costa has devised a Christmas menu with premium classics in a hope to provide some festive cheer.
One example is the new British Turkey & The Trimmings Toastie – a sandwich of British turkey breast, British maple-cured smoked bacon, sage & onion stuffing and cranberry sauce packed between slices of cheese topped bread. The Brie, Maple Bacon & Cranberry Stone baked Panini is another innovation that aims to resonate with consumers looking for Christmas classics during a period of dark uncertainty.
Perhaps the most premium of all its offerings is the lobster toastie. This snack features responsibly sourced Lobster, a rich béchamel sauce and topped with a selection of delicious cheeses, enclosed in a parsley crumb topped seeded malted bloomer bread. With many of its core offerings such as teas, coffees, and sandwiches now replicated by loyal customers working at home, Costa hopes this new festive snack will seduce customers into trying a new offering that is harder to create at home. Highly prized as expensive seafood usually reserved for certain consumption occasions, the appearance of the lobster toastie in the Christmas menu will surely strike a chord with those looking for a pick-me-up treat.
For sweet snacks, Costa will reintroduce its popular Terry's Chocolate Orange Muffin that was first introduced last year. Another innovation is the After Eight muffin, a chocolate muffin filled with peppermint flavoured sauce, topped with white icing and an After Eight chocolate. Costa's efforts to introduce cosy feel-good foods over the winter will surely prompt an uptake in revenues and resonate with consumers looking for creative ways of breaking the monotony of the new normal.