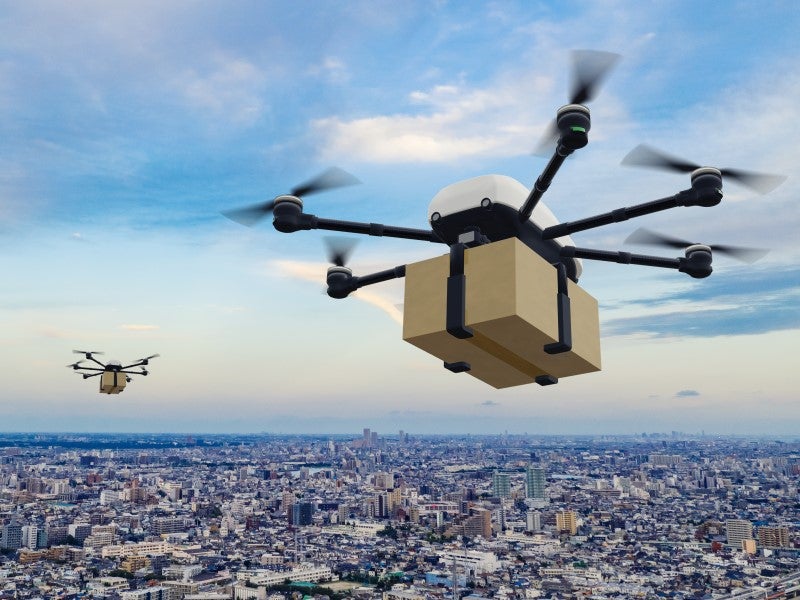 Meituan, an internet company backed by the Chinese tech giant Tencent, announced a milestone in its food delivery takeout business, completing 100,000 drone-flown food orders in December 2022. The company claims to have served 20,000 customers in the commercial district of Shenzhen city in China's Guangdong province alone – and is set to revolutionise China's food delivery services.
Meituan commenced the trials of its aerial drone delivery service in Shenzhen in 2021. When consumers place a food order from a particular restaurant on Meituan's app, a delivery runner is dispatched to the said eatery. The runner picks up the food parcel and straps it onto an aerial drone at a nearby drone-loading site. The drones are designed to carry a payload of under three kilograms and fly at a height of about 70 metres.
The drone flies the meal to a designated collection point and automatically drops it off at a specialised streetside kiosk that resembles a vending machine, stocking up to 28 food parcels at a time. Consumers receive a notification that their meal has arrived, and can collect their food parcel by scanning the QR code of the designated kiosk on their smartphone. Using its drone fleet, Meituan claims to deliver food to consumers in a three-kilometre radius of the restaurant in 15 minutes, a feat that would take a typical on-road delivery runner about 30 minutes. Automation is an important trend in foodservice and is gaining traction worldwide. This also ties into the fast-growing q-commerce (or quick-commerce) delivery trend, wherein consumers are increasingly expecting services to be delivered within a short and efficient timeframe.
Although dine-in orders have declined, demand for food takeaways has skyrocketed in China since the Covid-19 outbreak. GlobalData predicts that the value of food takeaways in China will rise by more than 7% CAGR over 2022-26+. This will compound the pressure on food delivery companies that are already struggling with labour shortages and rising wages. Drone deliveries can ease the workload on delivery fleets, and improve the cost-efficiency of the service. Additionally, it can help food delivery services in cutting delivery times and labour and fuel costs. Aerial drones can also reach areas that are difficult for delivery runners to reach due to the lack of road connectivity or heavy traffic, expanding the restaurant operators' potential audience and availability.
To realise its true benefits, drone deliveries need to evolve to a point where no human support is required. Currently, specialised packaging is required to ensure food travels safely from the restaurant to the dining table. Perhaps one of the largest barriers to commercial use is the requirement of pickup points; with aerial delivery drones, consumers face the inconvenience of collecting their meals from collection points, unlike the case with delivery runners who take food to the consumer's doorstep. Although this may seem small, consumers may opt for doorstep deliveries over the drone options if it better suits their hectic schedules or the weather is bad, among other circumstances. Despite these barriers, the success of the pilot programmes demonstrates promise in the long-term viability of drone technology and is helping to identify areas of improvement before widescale rollout.
Shenzhen, Taiyuan and Shijiazhuang are among a handful of Chinese cities that have established an unmanned civil aerial drone test area for a host of companies, including JD.com, Alibaba, SF, and Ele.me. Besides food, delivery drones are also being tested for delivering courier parcels for logistics services and medical goods for hospitals. In late 2022, Meituan commenced its drone delivery service in the Jinshan district in the Shanghai province. With this, the company will advance its pilot programme from a suburban area to a central area. As companies like Meituan extend their service to more areas, aerial drones will revolutionise the foodservice sector in China.
---
+GlobalData Foodservice Intelligence Center – Market Analysers, accessed in December 2022