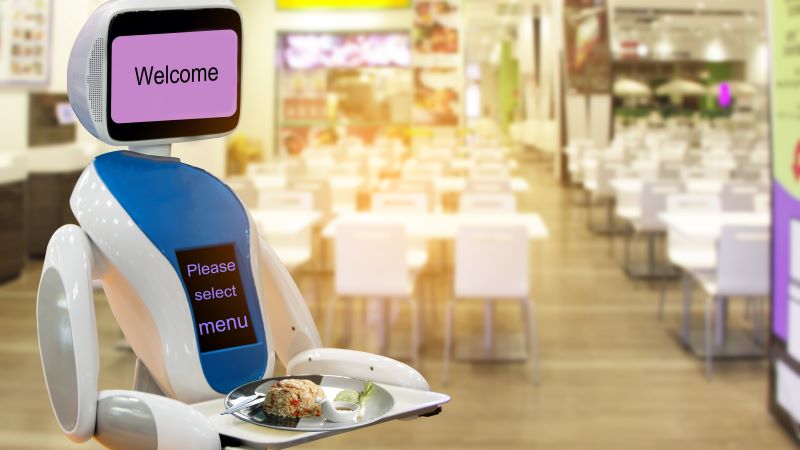 Slim Chickens, a rapidly growing quick-service restaurant (QSR) chain in Guilford, UK, and subsidiary of Boparan Restaurant Group, has recently introduced a new addition to its family of servers: the KettyBot. The KettyBot, which is a service robot designed by Pudu Robotics, is able to perform simple front of house tasks such as delivering customer meals, thereby affording the staff more time to focus on customer engagement and satisfaction.
As explained by Pudu Robotics, the KettyBot is a "marketing expert on wheels". It features automatic navigation planning and artificial intelligence (AI) voice interaction so the robot can easily locate customers and communicate with them. On top of this, the 'cute' family friendly design offers a novel touch to the Slim Chickens' dining experience. If the pilot proves to be successful, trademark owner Boparan Restaurant Group plans to roll out the service robots to 100 of its outlets across the UK.
Service robots in restaurants are able to provide both ambiance and convenience to consumers. This reflects a foodservice business model that is well established in East Asia, especially Japan and China, where the use of robotics in hospitality management has been present for some time. The majority of Pudu Robotics clients are in the Asia-Pacific (APAC) region, with Japan and Australia being two of its key markets. The partnership with Boparan Restaurant Group marks the company's expansion into new regions. Furthermore, this technology is emerging in the UK, namely in food delivery, however it is yet to make a large impact in foodservice. The robotics concept aligns closely with consumer purchase drivers as, according to GlobalData's latest Q1 2022 consumer survey, more than half (53%) of UK consumers are influenced to some extent by how digitally advanced or "smart" a product or service is*.
Service robots such as the KerryBot also have the added benefit of 'zero-contact' service when dining in, a concept that has gained traction during the pandemic as 40% of Brits still feel extremely or quite uncomfortable with the idea of dining out*. Despite most Covid-19 restrictions being alleviated in the UK, there are still many consumers who remain concerned about eating out due to the risk of Covid-19. It is therefore important for QSRs to have alternative solutions to limit the spread of Covid-19 in the UK, such as service robots, as risk of human contact with staff would be minimised.
This is part a much larger movement from UK foodservice providers to digitise storefronts to improve consumer experiences. Digitisation has proven to be a successful QSR model, especially in providing an alternative solution for staff shortages. QSR leaders in the UK, such as Leon, are preparing to expand this digital approach to more locations. Despite the costly adjustments to digitise its dining format, operators have witnessed its potential and are keen to invest, and service robots are the next step to the digital revolution.  
In pre-pandemic conditions, robots would be regarded as a less personal solution for hospitality in the UK. However, as consumer behaviour changes dramatically due to the pandemic, robotics are gradually being recognised as an opportunity in Western markets. For operators that have conceded considerable losses over the pandemic, and who are looking to reduce delivery and service costs in the long-term, service robots such as KettyBot would be a viable solution.
*GlobalData Consumer Survey 2022 Q1 – UK