The future of the foodservice industry will be shaped by a range of disruptive themes, with the internet of things (IoT) being one of the themes that will significantly impact the potential growth of leading companies in the industry. A detailed analysis of the theme, insights into the leading companies, and their thematic and valuation scorecards are included in GlobalData's thematic research report,Internet of Things (IoT) in Foodservice – Thematic Research. Buy the report here.
IoT refers to the interconnection of computing devices embedded in everyday objects, via the internet, enabling them to send and receive data. This has a wide range of applications that will affect consumer goods in many ways. IoT technology is most valuable to foodservice companies in its capacity to collect data. Companies that use data effectively will enhance operational efficiency, reduce costs, improve decision-making, and provide a better customer experience. Since the pandemic, driven by an increase in online orders and at-home deliveries, the already-strong opportunity to gain a competitive advantage by using data is now even stronger. There is far more potential data to be collected, and IoT is the best tool for the job.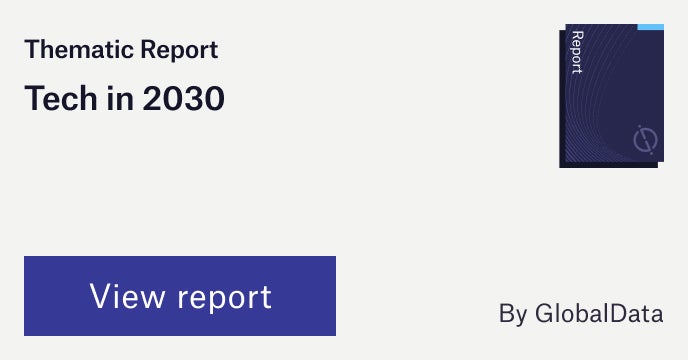 Whether foodservice companies will benefit from the emergence of IoT depends on their IoT strategies. A strong IoT strategy with effective implementation will bring efficiency gains and competitive advantage and align product offerings with modern, post-Covid consumption habits. Companies without a strong strategy will be caught out or overtaken by competitors.
However, not all companies are equal when it comes to their capabilities and investments in the key themes that matter most to their industry. Understanding how companies are positioned and ranked in the most important themes can be a key leading indicator of their future earnings potential and relative competitive position.
According to GlobalData's thematic research report, IoT in Foodservice, leading adopters of IoT include: Deliveroo, Domino's, Just Eat Takeaway, McDonald's, Sodexo and Yum! Brands.
Insights from top ranked companies
Yum! Brands
Yum! Brands has updated its KFC, Pizza Hut, and Taco Bell brands with digital technology. In-store IoT sensors collect data on customer interactions. KFC has deployed robotic servers in some restaurants. In 2017, Pizza Hut introduced an option for customers to order through their sneakers, Pie Tops. Customers needed to only press the button on the tongue of the right shoe to order. In 2018, Pizza Hut partnered with Toyota to develop both an autonomous vehicle to deliver pizza and a robotic pizza-making factory.
Starbucks
Starbucks has partnered with Microsoft and uses its Azure Sphere technology to connect a range of equipment, from coffee machines to blenders, in its stores. The technology collects data points like the quantity of coffee made, the type of beans, temperature, water quality, and machine performance. This data enables proactive analysis of machine failures, reduces downtime and repair costs, and supports fast menu updates. Starbucks has also installed sensors on devices including coffee machines and grinders to gather telemetry data, on which predictive analytics are performed to reduce downtime. In 2020, Starbucks partnered with McDonald's and start-up Muuse to develop reusables embedded with RFID chips to pilot smart reusable cups at two coffee shops in San Francisco and Palo Alto. The cups are integrated with RFID chips and QR codes which helps with digital tracking, collection, cleaning, and redistribution.
Domino's
Domino's DOM pizza tracker monitors the quality of pizzas and lets customers know at what stage of the preparation and delivery process their orders are. Domino's partnered with Zenput to improve its food safety standards. Zenput's Connected Store product lets companies stream IoT sensor data to their core restaurant management platforms. Zenput's capabilities include temperature monitoring for cooking lines, coolers, and the food itself. The technology notifies staff when the specified conditions are violated and keeps records of the temperatures. Domino's largest US franchisee, RPM Pizza, deployed Zenput sensors at all stores and reported significantly improved food safety practices and record keeping. More recently, Domino's has also partnered with IFTTT to enable customers to set their home IoT devices to accommodate delivery drivers – i.e., turning off their smart sprinklers when the delivery driver is near.
To further understand the key themes and technologies disrupting the foodservice industry, access GlobalData's latest thematic research report on IoT in Foodservice.
Premium Insights
From
The gold standard of business intelligence.
Blending expert knowledge with cutting-edge technology, GlobalData's unrivalled proprietary data will enable you to decode what's happening in your market. You can make better informed decisions and gain a future-proof advantage over your competitors.
Frequently asked questions
1. How are Foodservice companies using Internet of Things (IoT) technologies?

Foodservice companies are using IoT technologies to collect data, optimize operations, reduce costs, and engage directly with consumers. IoT sensors are installed in coolers to continuously monitor food temperature, and companies are using autonomous robot delivery services.

2. How do internet of things (IoT) technologies impact the Foodservice industry?

IoT technologies impact the Foodservice industry by allowing companies to understand the problems they face and decide how to solve them. IoT collects data, allowing companies to enhance operational efficiency, reduce costs, improve decision-making, and provide a better customer experience.

3. Who are the top adopters of internet of things (IoT) technologies in Foodservice?

The top adopters of IoT technologies in Foodservice include Deliveroo, Dominos, Just Eat Takeaway, McDonalds, Sodexo, and Starbucks.

4. Who are the leading vendors of internet of things (IoT) technologies to the Foodservice industry?

The leading vendors of IoT technologies to the Foodservice industry include Alteryx, Armis, Broadcom, Check Point Software, Cisco, CrowdStrike, Dataiku, Fortinet, IBM, Informatica, McAfee, Microsoft, Oracle, Palo Alto Networks, Qualcomm, SAP, Securonix, Splunk, and Trend Micro.

5. How do internet of things (IoT) technologies benefit Foodservice companies?

IoT technologies benefit Foodservice companies by optimizing operations, reducing costs, and engaging directly with consumers. Companies can use data to understand the problems they face and decide how to solve them.

6. What is the projected market size of internet of things (IoT) in Foodservice?

According to GlobalData forecasts, the global IoT in foodservice market size will grow at a CAGR of 6.7% between 2020 and 2025. The CAGR for IoT markets across all industries in the same period will be 10.7%, indicating IoT represents a lesser opportunity for foodservice than for other industries.

7. Who are the leading specialist internet of things (IoT) vendors in Foodservice?

The leading specialist IoT vendors in Foodservice include AVEVA, ENEVO, MISO Robotics, and Sodexo.

8. What are the components of the internet of things (IoT) value chain?

The components of the IoT value chain include the device layer, connectivity layer, data layer, app layer, and services layer.