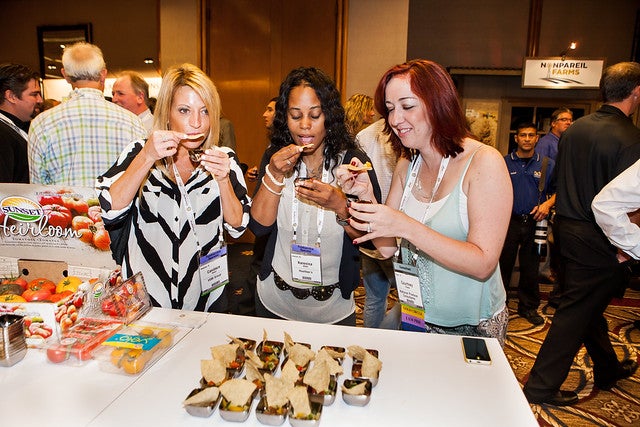 Podcasts continue their soaring popularity. With more people broadcasting their opinions about different issues in the world, nearly every industry has a podcast service to listen to. Verdict Foodservice identifies some of the best food podcasts in 2019.
Dennis Knows Food
This podcast focuses on foodservice professionals, restaurant operators and anyone that loves the world of food. With the motto "put the foodie back in foodservice", Dennis Knows Food talks about the latest trends in the food service industry as well as products and marketing tactics that are being used in the sector.
Dennis Knows Food currently has 52 episodes, with many of them featuring interviews with key people from the foodservice industry. One of the episodes has author and salesman Michael Mirarchi talking about trending industry topics including paper straws, eco-friendly packaging and social media.
Allinfoodz
Allinfoodz does what it says on the tin, covering topics around food in general as well as the foodservice industry.
Allinfoodz is hosted by Dr Amit Sharma, associate professor and director of the Food Decision Research Lab at Penn State University. It started two years ago and currently has 26 episodes, many of which include insight from university researchers on that episode's topic.
This podcast has a more serious tone, talking about what is happening in the foodservice industry and the effects it has on consumers. For example, one episode discusses how technology will impact the food service and hospitality industry.
Industry Night with Foodie & The Beast
This podcast started with brief seven to ten-minute broadcasts about the food and drink industry sector, but now the podcast features more in-depth conversations about trends and issues in the industry.
Having started a year ago, Foodie & The Beast is hosted by Nycci and David Nellis in Washington, US, and currently has 51 episodes many of which focus on a different issue or growing trend in the industry that week.
Like Allinfoodz, the episodes have more of a serious attitude to them, with one of the discussions being about sexual harassment in the restaurant industry while the co-hosts talk about how far the restaurant industry has come concerning this issue.
The Takeout, Delivery & Catering Show
This podcast gives an insight into how restaurants can enhance the food industry sector as takeaway and delivery services are becoming more popular for consumers.
Hosted by foodservice takeout, delivery and catering expert, CEO and founder of MonkeyGroup Erle Dardick, and Catering Insights editor Valerie Killifer, the podcast currently has 19 episodes focusing on the foodservice industry.
Both experts in their own right, the hosts talk about how to make restaurants more profitable in terms of new initiatives restaurateurs can use for their businesses. The episodes have more of a relaxed tone to them, despite with some of them interviewing foodservice business CEOs of.
FOH with Kelly Sullivan and Lillian DeVane
This weekly podcast talks about the front of house experience in the restaurant industry through a different conversation topic every week.
Hosted by Kelly Sullivan and Lillian DeVane, two service industry veterans, there are currently 50 episodes talking about situations that happen in the restaurant industry from the waiting personnel's viewpoint.
FOH episodes are more of an informal conversation between two friends sharing experiences in the restaurant sector, with one of the episodes talking about the celebrities the two women have served and their opinions of them.