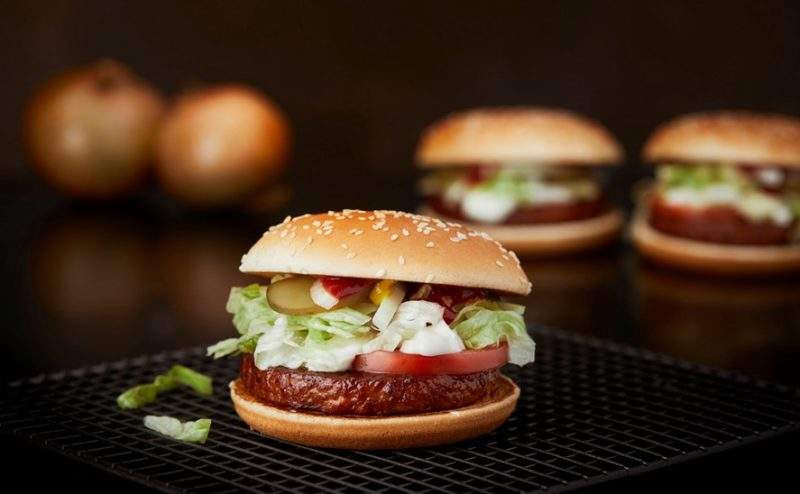 The demand for vegan fast food is on the rise as more and more people shift to a diet free from meat, dairy, egg and animal products. However, maintaining this diet isn't easy when dining out, especially with on-the-go diners after a quick fast food meal. Here are some fast-casual restaurants that have vegans in mind.
LEON – meatless meatballs and rose doughnuts
The naturally fast food chain aims to alter the perception of fast food by making it 'good food' too. Leon offers several vegan items, some of which were recently added, including its plant burger consisting of edamame, lemongrass and chilli, its meatless meatballs, sweet potato hotbox and Brazilian black bean box. Leon has also catered for vegans with a sweet tooth with the addition of a rose and pistachio baked doughnut, dark chocolate chai baked doughnut and peanut butter and raspberry jam brownie.
Credit: LEON.
McDonald's – the McVegan
The US and UK locations haven't quite caught on to the vegan trend yet, with the latter recently admitting that there are "no certified vegan products on our menu". However, if you live in Finland or Sweden you would be able to sample McDonalds' first ever vegan menu item, the McVegan burger. After a successful trial period earlier this year, the soy-based burger, developed by Swedish vegan food company Anamma, became a permanent addition. It is uncertain whether this burger will be added to additional menus worldwide though.
Credit: McDonald's.
byCHLOE – cashew mac 'n' cheese, and in London too
Offering a 100% vegan dedicated experience, byCHLOE aims to help vegans maintain a sustainable lifestyle. Launched in the US, the vegan spot opened its first London location last year after thousands of online requests.
Comfort food served includes burgers, fries and mac 'n' cheese. The burgers are made from sweet potatoes, quinoa and black beans and the mac 'n' cheese is made from cashews.
byCHLOE president Samantha Wasser told the Metro: "The vegan stuff that was out there before was a little hippy, a little granola and it just wasn't mainstream or approachable to people that were not vegan. When we started, people weren't as open-minded as they are now and vegan was looked at as intimidating and scary and "if I'm not vegan, I'm not going to like anything so why bother going?" This was more about making vegan food affordable, approachable and accessible – that's why we serve comfort food."
Credit: @danielsdiary_, eatbychloe.
Subway – Vegan Delite
The Vegan Delite sub launched earlier this year in several Finnish locations and it has 'steak' in it. The 'steak' is made up of 44% of vegetables consisting of onions, red, white and green peppers, spinach, corn, carrots, peas, green chilli and garlic. While this is yet to be added to other locations around the world, Subway still provides other custom-made vegan choices with its Veggie Delite sandwich. This sub can be served on a few types of vegan suitable bread.
Credit: Subway.
Pizza Hut – Violife and vegan bacon bits
Another chain attempting the vegan lifestyle is Pizza Hut with its dairy-free cheese alternative on Pan, All American Thin, Gluten Free and Flatbread crusts. The Violife Vegan pizza is packed with a multitude of toppings including black olives, mixed peppers, mushrooms, red onion, sweetcorn, jalapenos, pineapple and rocket. Even its bacon bits in the salad bar are vegan.
Umami Burger – the Impossible Burger
This California-based chain has added a meaty-looking burger that's made entirely from plant-based ingredients called the Impossible Burger. There are two versions of this burger, one for vegans and the other for everyone else. The Impossible Burger includes heme, potato protein, coconut fat, white American cheese (or vegan cheese), iceberg lettuce, dill pickles and roasted garlic mayo, or vegan mayo. The burger is also currently available as a menu option in over 2,500 restaurants in the US and Hong Kong including in fast casual chain Houlihan's Restaurant & Bar and FatBurger.
Credit: sbe.
Chipotle – Sofritas and Quinoa medleys
Chipotle is using test kitchens to try out new foods and one of the latest trial foods is quinoa. Named the quinoa medley, the menu item is made from red and gold quinoa, cumin, cilantro and citrus juice and is an alternative to the lime-cilantro quinoa. One of the chain's popular vegan fast food items is its sofritas, a wrap made of shredded tofu, poblanos and peppers.
Credit: Chipotle.