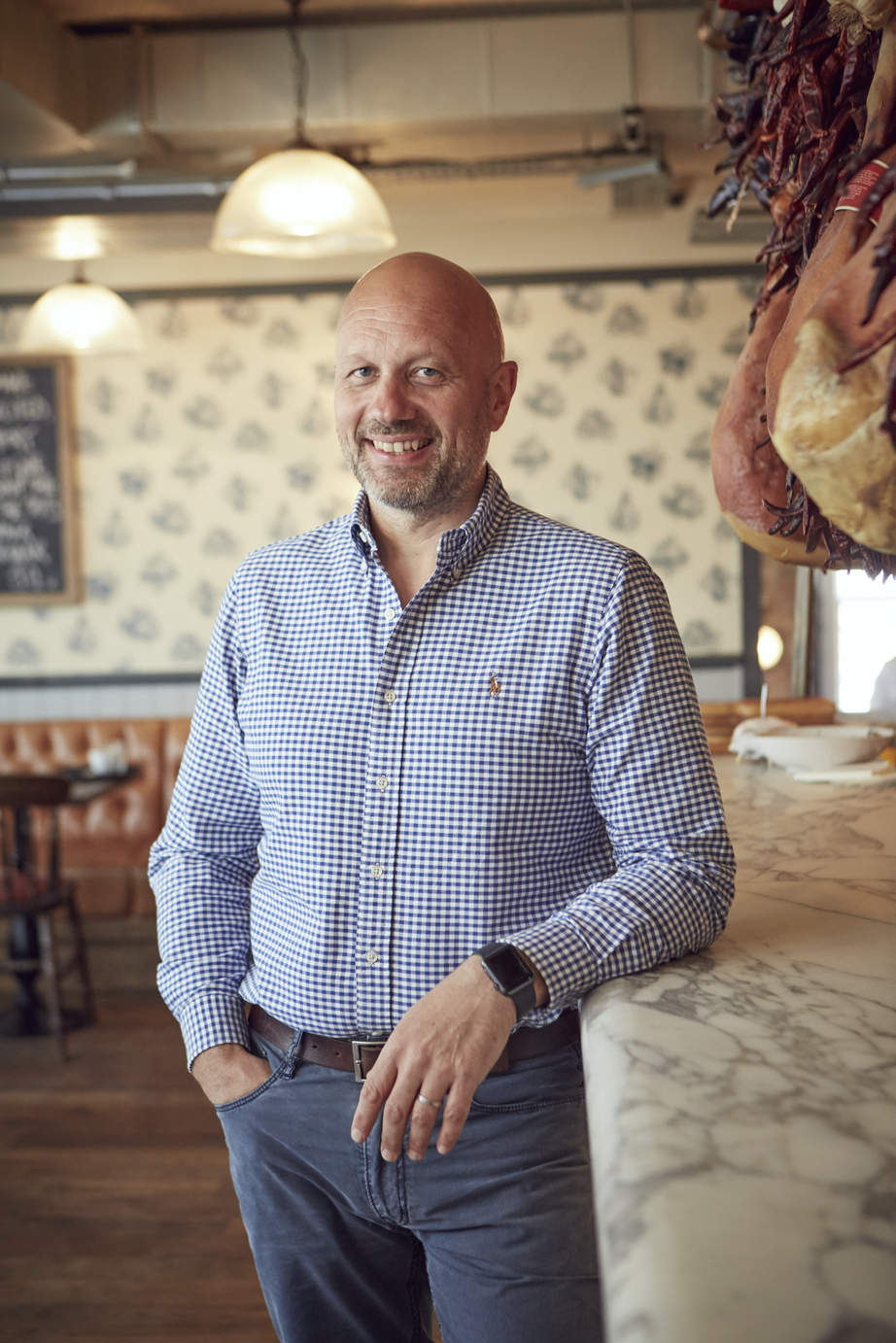 Chef, restaurateur and cookbook author Jamie Oliver has faced much scrutiny this year – not least for the highly publicised failing of his Jamie Oliver Restaurant Group.With a string of closures, including 12 Jamie's Italians and his flagship Barbecoa (Piccadilly), it is safe to say that 2018 didn't get off to the best start for the famous '30-Minute Meals' chef. But with chief executive Jon Knight at the helm, the group is in for a drastic turnaround… or at least if he has his way. As told by Katie Imms, reporter on Verdict Foodservice.
Three months after finalising a company voluntary arrangement (CVA) – which Knight solemnly describes as 'incredibly tough' – he sat down with Verdict Foodservice to discuss the future of the company and how he plans to re-establish Oliver's reputation on the British high street.
And boy does he have a plan. Refusing to look too far ahead, Knight is well aware that "[he] doesn't have a crystal ball so can only see what is happening today" – both in terms of the Jamie Oliver business and industry as a whole.
Instead, he has set himself a four-year goal during which time he hopes to bring Jamie's Italian back to the UK high street (with even more sites than before); build up staff morale and trust; and remind customers why they know and love the brand.
In his short three years at Jamie's, Knight has already led a CVA; personally communicated the closures to staff, customers, landlords and press; and tried to figure out why exactly the brand suffered in the first place. 
Despite that, he was still promoted from international managing director to chief executive last year (2017), which is further testament to Knight's tenacity and self-proclaimed 'positivity.'
For all the positivity that he has though, Knight is reluctant to confirm that there won't be more closures as he "simply doesn't know." He does, however, believe that everything happens for a reason and admits that "if [he] has to make more difficult decisions, [he] will."
Crediting his time at high street giant Marks & Spencer (M&S) for 'most' of his learning, Knight joined the Jamie Oliver Restaurant Group in 2015 after six years living and working in Dubai.
Speaking exclusively to VF, he said: "I joined Jamie's as international MD nearly three years ago when there were only 16 Jamie's restaurants worldwide – now there are 54.
"Prior, I lived in Dubai for six years where I ran 14 franchise businesses spanning the fashion, lifestyle, health and beauty sector.
"And before that it was M&S, where I learnt most of my what I know now."
And stood you in great stead for a role at Jamie's then, I imagine. You've no doubt been asked this numerous times, but what went wrong with the Jamie Oliver Restaurant Group earlier this year that you had to close so many sites?
The reality is the market is going through a period of difficulty. At Jamie's, we suffered from a self-imposed difficulty – we got a bit complacent about six or seven years ago and didn't see what was happening around us on the high street.
When the business launched, it really disrupted the market as there were no other UK restaurant brands like us. But we got too comfortable and didn't see competitors arrive, like Prezzo and PizzaExpress.
The group started to expand out of its original format and by the time I arrived, the sector was already ultra competitive. So I was hired in 2015 to help the business and my ultimate goal was – and still is – to remind people what Jamie's Italian stands for: accessible, healthy food for all.
What kind of impact did the closures have on the group as a whole?
 I'm not going to lie, it's been a tough seven months. I had to personally communicate the closures to everyone involved, including staff, customers, landlords and the press. We had to come out of the CVA and build morale, as it had obviously been dented and confidence lost.
We also had to instil trust back into the business, our ethos and employees who, by the way, have done an amazing job and I'm very proud of what the guys have achieved in our restaurants.
So what's changed?
For starters, we've been running listening groups in Jamie's Italian restaurants twice a week and they've proven to be really valuable. We started eight weeks ago with the idea of going to a select few restaurants in cities that the brand really targets (like York, Nottingham, Cardiff and Oxford.) But they've worked so well that we're now going to each and every restaurant and are really listening to the feedback to see how we can learn and improve.
For example, we always thought people knew our food is made fresh on site each day, using fresh, organic and MSC-certified ingredients. But when we told customers, we realised that they didn't know and are asking why not!
It seems that the business is heading in the right direction then – are you planning any more closures?
I can't say there won't be any more closures as I don't know. But I am a very positive person and strongly believe that everything happens for a reason.
The industry, and business, is still going through a period of uncertainty and if I have to make more difficult decisions then I will.
If there's still uncertainty, why has Jamie's just announced the opening of its third Italian in Brazil and first Netherlands Pizzeria? Is international expansion the way forward?
Jamie Oliver is a very well recognised global brand that sells all over the world in its own right. International is a very good opportunity for the business – yes the restaurants are slightly smaller than in the UK but the format is still very much the same world over.
To-date, we have 54 international restaurants as well as 6 restaurants on-board Royal Caribbean Cruise ships and are also present in airports and travel hubs with our partner SSP.
We're also working with our team in India on Jamie's Pizzeria, and have partnered with Aramark to establish the company in the workplace dining and ultimately reduce our dependence on the high street.
Is workplace dining the right direction for the brand, do you think?
Like I said, ideally I want to get Jamie's Italian back onto the UK high street with even more restaurants open than before. But our offering needs to be 100% correct and successful in order to work.
We need to build the brand back up – in terms of staff morale, trust and our offering – and then, when we're ready, we'll think about expanding again.
Part of the preparation means diversifying the Jamie's Italian brand but in essence, we need to place less reliance on the high street.
How have, and are, your decisions being influenced by wider trends shaping the industry?
Provenance continues to play huge importance for consumers and so operators need to listen and open up to the trend. Jamie's Italian has always used the best, seasonal, British ingredients, which is really very important to us.
As such, we launched a veggie and vegan menu five weeks ago, including pastas, pizzas and salads, as well as gluten-free pizza. Gluten-free is a lifestyle choice though, not a trend.
The other big thing on my radar is technology. Technology in every shape and form – be it at tables, payment, communication etc. It really is going to take off.
What else is next for the casual dining sector?
The industry has been through a very challenging 18-24 months and is only just starting to correct itself. It needs to go back to basics to gain initial sales and then as an industry, we can grow and move forward.
And if you had one piece of advice to offer entrepreneurs just starting out, what would it be?
Have a plan. Make sure that it has an upside and a downside; that you have sufficient funds for both and that you stick to your plan! You need to look at the present and future and not go into anything blindly. Going through the CVA process was an incredibly tough commercial decision that I had to make – it was a step back for the business but made me take a look at it realistically.
Although it sounds naïve, since closing the restaurants on 11 March, I've honestly learnt so much and coming out of it on the other side will be the true marker of success.
My aim now is to re-establish the brand and make customers want to return once again.
With a rocky few months still on the horizon, it remains to be seen what will become of Jamie's Italian and indeed, the Jamie Italian Restaurant Group under the lead of chief executive Jon Knight. But with his refreshingly positive outlook and clear-cut plan, it's sure to be one hell of a ride that will, we hope, see him fulfil his goal and bring the brand back to the UK high street.