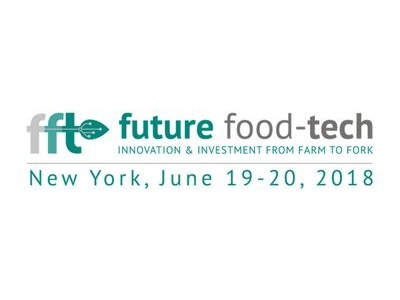 The future food-tech event is returning to New York for a third year on the 19th June, focusing on the most exciting innovations and pressing challenges in the vibrant food-tech market. The Summit will feature 250 global brands, venture capitalists (VC) and start-ups.
This year's event will take place at The New Lab in Brooklyn, New York.
Managing director of Rethink Events and conference producer for future food-tech Jennie Moss said: "Over the past decade, we have seen the growing appetite for change that is fuelling the food revolution, empowering food-tech innovators and investors to pursue breakthrough solutions. It's an exciting time to be part of this community."
Since the launch of the event, it has become a recognised platform for start-ups to forge partnerships with the leading food brands and secure the capital they need to fast-track their product market.  This year's show features eight start-ups from around the world, including Higher Steaks, 3F BIO, Edamam and Future Meat Technologies, each with seven minutes to pitch their solutions and outline their business model, followed by questions from the audience and the panel of 'sharks': Victoria Beasley of Prelude Ventures, Caesar Layton of Cultivate Ventures and Nadav Berger of Peak Bridge Partners.
Moss said:  "The future food-tech Showcase and TechHub give food brands and venture capital investors the opportunity to meet entrepreneurs from around the world, and each year we see exciting new R&D partnerships and investments take place as a result of those meetings.
"This year we're delighted to be working in partnership with the Israel Export & International Cooperation Institute (IEICI) to bring eight Israeli start-ups to the event and we are excited to see what success stories will emerge."
While only eight start-ups will have a chance to pitch their solutions to a panel of judges, other start-ups will be able to showcase their businesses in TechHub which is a focused meeting area designed for companies to showcase their businesses to investors and potential partners.
The international summit features over 60 speakers, including Mars Incorporated global head of technical food safety development Robert Baker, Nestle USA head of open innovations Ashlee Adams, Unilever North America VP of food Matthew McCarthy, Campbell Soup Company senior VP of global research and development Carlos Barroso; Bits x Bites managing director Matilda Ho, and HelloFresh CEO Uwe Voss.
Last year's attendee of the San Fancisco's Future Food-Tech summit, CEO of eating technology company INNIT, Kevin Brown said: "Future food-tech brought together an amazing cross-section of senior execs to discuss the accelerating disruption of the food industry. In addition to strategy and investor insights, there was a deep interest in solutions to help people live and eat better."
The New York event will challenge market leaders and innovators to address the major developments in the food-tech landscape with the following topics: impact investment, distribution, permissible indulgence, the role of technology, transparency and traceability, personalisation, genetically engineered and alternative proteins.
The first panel of the event will discuss the role of food tech VCs in shaping the future of food as well as the key drivers that influence how VCs invest their capital and track the return.  The discussion, chaired by Renske Lynde of Food Systems & Accelerator, will also discuss how VCs approach impact investments and how their approach differs from traditional tech investments.
In a distribution panel, speakers including Uwe Woss will discuss the supply chain and the increasing demand on high quality, safe and sustainably produced food as well as how technology is enabling the production, manufacture and distribution of food to be more efficient. Global quality director at Mars Wrigley Confectionery Alan Littlechild will speak about key challenges to achieving a more collaborative and transformative approach to food safety and how companies can learn from their mistakes.
As the demand for healthy and sustainable food grows, Kellogg Company VP of global innovation R&D and nutrition D'Anne Hayman and Tate & Lyle CEO Michael Harrison, among others, will be discussing how food producers can deliver on the promise of nutritious, sustainable and trusted foods, barriers to achieving clean, better-for-you food and what ingredients need to be regulated more closely.
In a separate discussion, a panel of speakers including TGI Fridays senior director culinary innovation David Spirito will discuss growth opportunities in plant-based alternatives and how a plant-based diet can address nutritional deficiencies as initiatives such as Meatless Mondays are driving demand for meat-free products.
Sustainability will be another big subject at the future food-tech event.  A number of panels will discuss the role of technology in reducing food loss and food waste during production and distribution, and transparency and traceability.
According to a recent USDA per-capita measurement, Americans are set to eat more meat and poultry in 2018 than ever before despite the growing demand for plant-based and lab-grown alternatives. Speakers including Memphis Meats VP of product and regulation Eric Schulze will discuss the potential for lab-grown alternatives to meet the demand for meat products.
Meanwhile, another panel will see Dupont Industrial Biosciences senior director PS&R Vincent Sewalt, Sidley Austin associate Deepti A Kulkarni, and Precision Biosciences president of Precision PlantSciences Fayaz Khazi discuss how we can feed the growing population in more sustainable way, methods for genetic engineering helping to address the challenge, and how technology can help meet the demand for natural food products.
For further information about the event visit www.futurefoodtechnyc.com