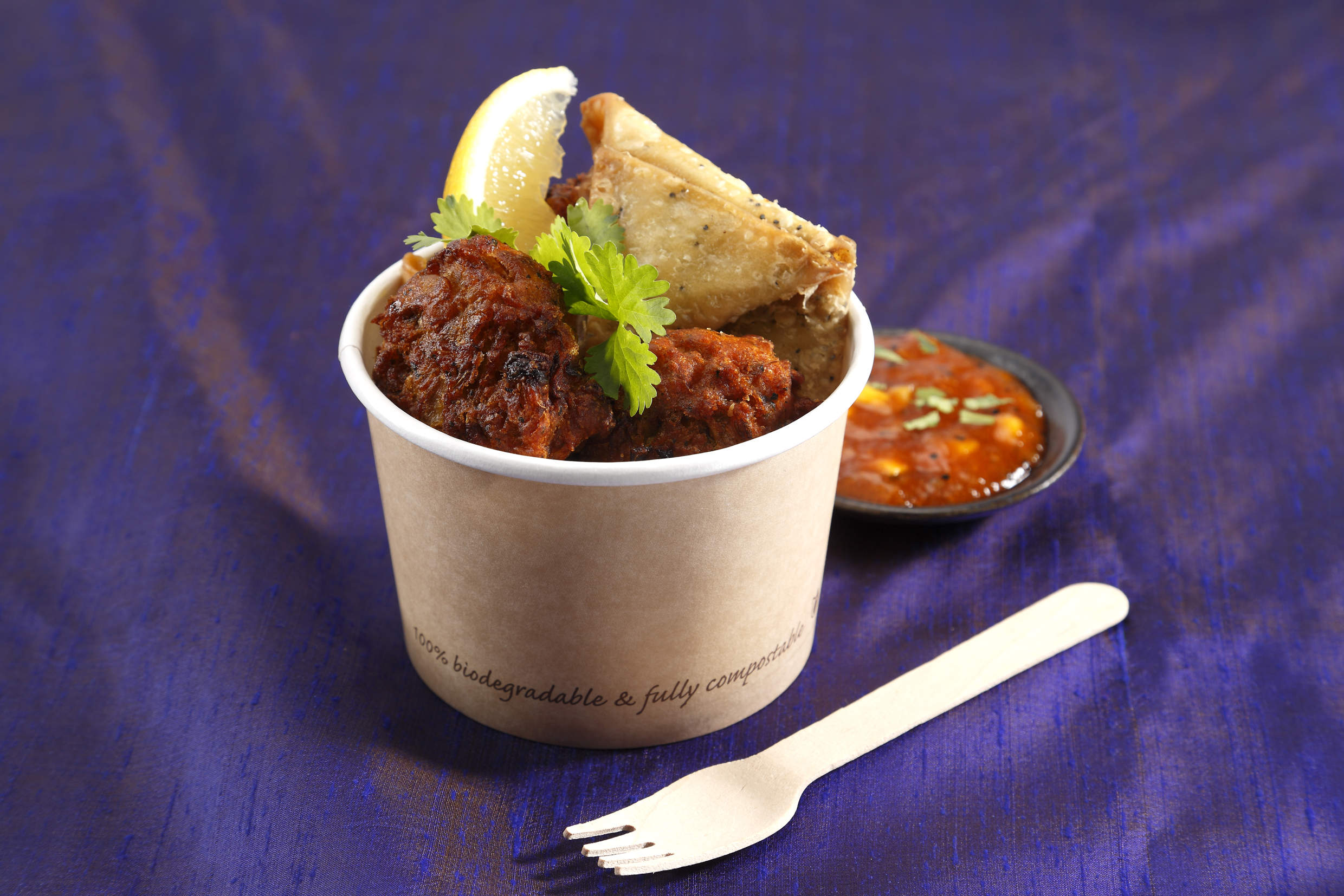 Indian food is still a favourite with Brits despite some hefty competition from other cuisines. Emma Page explains
Olivia Shuttleworth, brand manager at Prep Premium says: "Indian food is an integral part of contemporary British cuisine and its familiar flavours are a welcome addition to menus.
"Curries are an obvious starting point, but it doesn't need to stop there – Indian starter dishes, like Tikka chicken skewers, spiced lamb skewers or shami kebabs are safe, familiar and easy to prepare options.
"Flavoured oils provide a quick and effective way of bringing authentic Indian flavours to all kinds of meat, vegetable and potato dishes. Prep Premium's CurryHouse, a combination of sunflower oil, garlic, chilli, coriander, fenugreek, paprika and rosemary, works as a marinade or brushed directly on meat to inject authentic Indian flavour to dishes.
"For an easy sharing platter, brush CurryHouse over grilled king prawns, chicken skewers, lamb kebabs and paneer cubes, and team with traditional Indian starters like pakoras, samosas and bhagis. Serve with classic Indian dips like mint raita, mango chutney and onion salad as a sharing starter."
Layered bowl concepts look set to remain on trend. Indian rice-based biryanis work especially well in this format and may be finished with a variety of vibrant curries, sides and salads. The Indian street food market has seen a rise in wrap options too, using naans, rotis and other Indian breads stuffed with spiced meats, paneer, koftas and bhajis. Meanwhile dosas (rice and lentil pancakes) and parathas (stuffed flat bread) are taking hot sandwiches and wraps in a new direction. Pani puris (fried bread balls stuffed with goodies) are known as the pies of India while aloo tiki (potato cakes with peas, chili and tamarind) work well as a handheld snack.
Planglow's  street food packaging range now includes two sizes of sealable carton box, a tray, a new smaller pani puri-sized Street Box,  plus a napkin with dispenser. The tray, Street Box and cartons are made from a sturdy home compostable material which has been designed to handle grease and sauce laden foods.
"A simple way to add an authentic Indian flair to your menu is by creating impressive sharing platters. Fabien Levet, national account manager at Pidy UK says: "These provide a great opportunity for customers to broaden their pallets by trying new flavours in a bitesized format. Our ready-to-fill Spicy Cup range consists of four delicious flavours; just perfect for conjuring up a tasty Indian feast full of bite-sized delights.
Asian Curry Spicy Cup has been to hold a variety of ingredients including fish, meat and vegetables. The cups are slightly spiced with chilli, aromatics and a mixture of ground spices which give a lovely subtle flavour. Tried them filled with curried chickpeas, spinach and lentil dahl or a spiced potato and pea mix for a vegetarian offer. Their sturdy design means that they can be filled up to two hours before required and retain their crispness.
An interesting trend at the moment is incorporating ethnic flavours into desserts. The depths of flavours in certain spices complement sweet dishes too. Pidy has various products to cater for this trend like pairing our Spicy Cup which has an element of sweetness to it, with chocolate or fruity fillings.
Mark Veale, Dynamic Brand Manager for Nisbets says that creating sauces for curries and marinades from scratch and highlighting this on menus is a great way to create a buzz around Indian dishes. It's also far more cost-effective than buying ready prepared options.
With versatile variable speed control, The Dynamic Dynamix Stick Blender (CF001) is a powerful and reliable hand-held stick blender that is perfect for blending and aerating up to 4l of sauce.
The detachable shaft allows for easy cleaning and accessory change. The Dynamix Turbo Blend Attachment (GL450) allows for quick and easy mixing, crushing or grinding to produce perfectly smooth sauces and purees.
Creating unique sauces from scratch is something Romy Gill from restaurant, 'Romy's Kitchen' in Thornbury near Bristol sees as a great way of creating that real point of difference.
"Within Indian cooking there are four key ingredients; onion, ginger, garlic and tomatoes. Once you have created this base, the distinct flavours and sauces can be built around this. The onions are often the most crucial part. For this we use the Dynamix Senior Stick Blender which blends them finely and to the right consistency."
Matt Cutts, –product director for Mars Food Europe: "According to Britain's Food Standards Agency, the Indian food industry in the UK is worth £3.2 billion, accounting for two-thirds of all eating out and serving around 2.5 million customers every week.
"Traditional Indian dishes have found their way onto menus across the sector and although many have been anglicised, they do in general reflect classic Indian cuisine. In many ways, the UK has created its own regional variations in the last 50 years."
Uncle Ben's range of ready-to-use ambient sauces allows operators to serve Indian flavours quickly and easily. Comprising five of the most popular flavours in Britain – Korma, Balti, Rogan Josh, Tikka Masala and Madras, the range is available in 2.3kg-2.54kg jars, which deliver a yield of 25-35 adult portions.
The sauces need no further cooking, so can also be used as dips to serve with poppadoms or naan.
With its distinctive aroma and soft texture, Basmati rice is the perfect accompaniment to most Indian dishes. When cooked, the grains should remain separate and not sticky. Uncle Ben's Basmati has undergone a 215 point quality check to ensure complete consistency and is free from hard grains. It can be cooked perfectly in just 10-14 minutes (up to half of the time of other rice) while a patented parboiled process makes the rice particularly tolerant to overcooking (it does not become wet) and serves as soft, separate grains.
Able to hold for up to 2 hours, and with 50g of uncooked rice yielding a 150g serving, it is particularly suitable for buffet nights and banqueting.