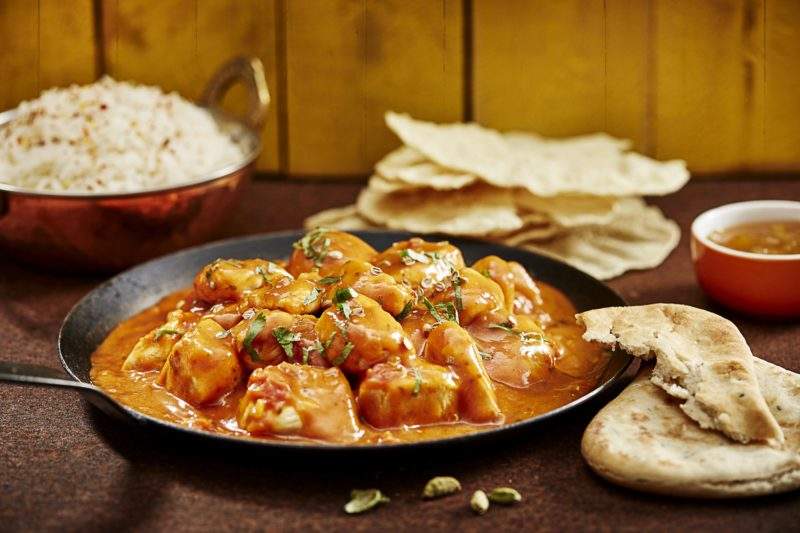 Innovative stocks and cooking sauces answer pubs and restaurants' needs to cater for today's dietary requirements. Sheila Eggleston reports
Thanks to the groundwork by stocks and sauces suppliers, it's easier for operators to comply with the special needs of diners.
Mark Rigby, executive chef at Premier Foods, claims that as demand for free from food continues to grow, 40% of chefs have now introduced more gluten-free options. "Our gluten-free gravy helps them serve traditional dishes associated with Bisto while adhering to allergen regulations," he comments.
"Healthier eating has become more popular with consumers, with 43% naming healthy eating as the most important trend. Bisto reduced salt gravy granules appeals to a range of ages and tastes and can be used to meet this demand."
As stocks and sauces complement virtually every dish on the menu, with branded segments across the pub and restaurant sector leading growth according to the 2017 MCA Eating Out Market Data Report, there's an opportunity to capitalise on the consumers choosing to eat in these establishments, adds Rigby.
This year Bisto sauce granules were added to Premier's line-up. These include curry, parsley, béchamel and cheese variants, which are ready to serve after mixing with boiling water.
Essential Cuisine, The Stock People, says that in a cost-conscious environment, products such as its gluten-free béchamel sauce mix work in busy kitchens. "It tastes and performs like kitchen-made béchamel, and can create a velouté for pie fillings, lasagne and moussaka by combining it with our stock powders," comments managing director, Nigel Crane.
The company offers many lines free of declarable allergens, and has reworked its online product pages to make it easier for chefs to find what they need and understand how best to use each product.
This year it made its debut in the sweet sauce sector with crème Anglaise, and has recently said its new innovation kitchen in Cheshire will open this autumn to enable its chefs to develop more groundbreaking products.
The company has also just revealed new research that shows its No.1 gravy range has outshone rival products in consumer and chef blind tasting tests conducted by independent market researcher, Good Sense Research.
The gravy range was the overall favourite of 100 consumers in three categories – beef, poultry and vegetarian, while 50 chefs across the hospitality sector rated beef their favourite compared to the three leading competitor products, and more than half cited chicken and vegetarian as their gravy of choice.
To celebrate, the company launched the 'Gravy Amnesty' to encourage caterers to swap their existing gravy for a No.1 variant. It will offer a 1.5kg tub, on a first come, first serve basis, throughout September and October via www.gravyamnesty.co.uk.
Mark Irish, head of food development at Brakes, believes scratch sauces may be deemed cheaper if the only criteria is the cost of the raw ingredients, but when labour, energy and wastage costs are taken into account they are often more expensive. "In addition, the shelf life of scratch sauces will be shorter, so chefs will need to make fresh sauces several times a week," he says.
"Good sauces transform dishes by enhancing the main ingredients, plus they benefit from appearing to enlarge the portion size of the centreplate item, which increases the perception of value for money."
Duncan Parsonage, head of food development at Fresh Direct, claims many pre-prepared stocks are hard to distinguish from chef-made ones, however, to enjoy the best of both worlds, he recommends taking readymade products and finishing them off with butter, cream or fresh herbs to give a twist.
Country Range Group trading director, Martin Ward, says he isn't sure the majority of consumers could tell the difference between a stock made in-house and one made with its flavoursome bouillons.
"Our beef, chicken and vegetable lines are now allergen-free and contain no artificial additives, colours or preservatives and feedback has been positive," comments Ward. "The new recipe mixes come in 2kg tubs and the pastes in 1kg tubs.
"We've also revamped our ready-to-use world sauces, which includes Mexican/American, Indian, Italian and oriental options. The flavours have been improved by adding freshly frozen herbs and we've reduced the amount of salt, sugar and fat to appeal to health conscious consumers."
Growing trends in the UK includes 'dude food' based on authentic American dishes according to chef Ben Bartlett, brand ambassador for AAK Foodservice's Lion sauces. He recommends Lion Americana barbecue sauces to meet demand. "Maple and Bourbon BBQ and Cajun spiced Louisiana BBQ provide flavour profiles that work with slow cooked pork and chicken dishes; South Carolina mustard BBQ sauce brings a 'southern twang' to pastrami bagels and slow cooked ham hocks," says Bartlett.
Uncle Ben's and Dolmio sauces can create pub favourites such as spaghetti Bolognese, chilli con carne or chicken korma without having to create each dish's sauce from scratch, says Matt Cutts, product director for Mars Food Europe. "Chefs won't have to source individual ingredients therefore the costing can be done per jar of sauce," he adds.
Both ranges cater for dietary requirements, he says, and can be refrigerated once opened which means leftover sauce can be used in other dishes. "If Bolognese sauce is made one day and there's still some left, for example, chefs can use it for lasagne the next day," he explains.