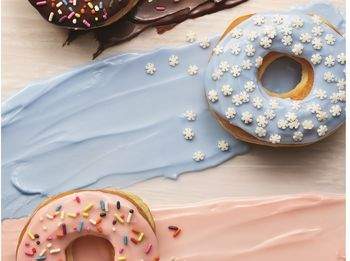 American coffee shop chain Dunkin' Donuts has added a new doughnut variety, Snow Flurries, to its offerings.
The doughnut, which will be available for a limited period at its restaurants throughout the nation, features artificial colour-free frosted doughnut with wintry blue icing and special snowflake sprinkles.
The new variety follows its pledge to remove artificial dyes from all of its food and beverages by the end of this year.
Dunkin' Donuts US chief marketing officer Tony Weisman said: "We are pleased to start the New Year with exciting and important doughnut news for our guests.
"Eliminating artificial dyes from our doughnuts is an incredible milestone moment for a fun brand whose products are synonymous with bright, colourful confections.
"After years of research and development, we are thrilled to be taking such a big step in providing guests with simpler ingredients while still delivering the delicious taste and vivid colours expected with our doughnuts."
The doughnut brand has planned to eliminate artificial dyes across its menu, including doughnut icings, fillings and toppings, as well as frozen beverages such as Coolatta,  baked goods, breakfast sandwiches and coffee flavourings.
Its sister concern Baskin-Robbins will also eliminate artificial colours from its menu, including ice creams sold at its restaurants and other retail locations, as well as its syrups, sauces, sprinkles and beverages, including Cappuccino Blast.
Both the brands will have exceptions on supplier-branded ingredients used as toppings, ice cream inclusions or decorative elements.
Founded in 1950, Dunkin' Donuts has more than 12,400 restaurants in 46 countries globally.