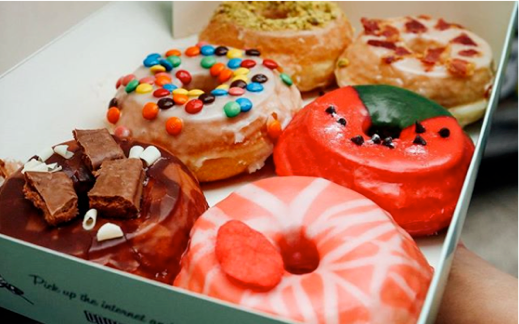 Australian donut brand, Doughnut Time, is opening its first overseas store on London's Shaftesbury Avenue 27 October – offering customers two hours of free donuts between 12:30 and 14:30.
Describing itself as "pop culture-inspired," each donut is hand-made, glazed and decorated, and includes the brand's signature Nutella-filled 'Love at first bite', Slim Shady' (vanilla glaze with mini M&M's) and the 'Legally Blonde' (caramel glaze with macadamia blondie pieces.)
The London launch will also introduce two bespoke British creations – the film-inspired 'Love Actually' (Earl Grey tea glaze with freeze-dried raspberries and jammie dodgers) and 'Shawty It's Sherbert Day – as well as a weekly rotating menu including gluten-free and vegan options.
With plans to open stores in Old Street, Notting Hill and Shepherd's Bush later this year, the company also hopes to launch a 'Doughnut Time Academy' above its Shaftesbury Avenue flagship, allowing customers to create, decorate and customise their own donut.
Founder Damian Griffiths said: "We are so thrilled that Doughnut Time is hitting the UK! We believe that the unique and personal touches that we add to each and every one of our doughnuts is what makes Doughnut Time run circles around the rest. So we hope that our new and exclusive British creations that are tributes to the timeless classics, go down a treat with Londoners!"
Opening on Shaftesbury Avenue Friday 27th October, Doughnut Time will be giving away two hours of free doughnuts from 12:30-14:30.