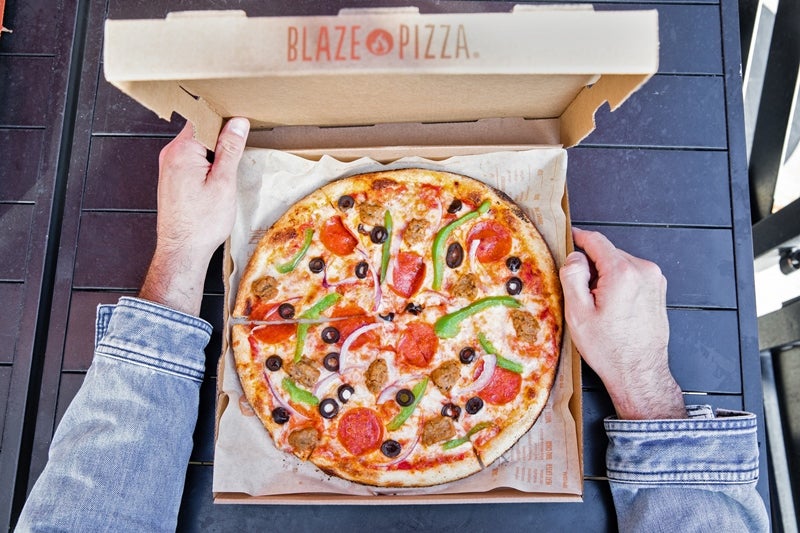 US pizza restaurant Blaze Fast Fire'd Pizza is set to expand its presence in Maryland by opening a new kitchen restaurant at 409 York Road in Towson.
Scheduled to open on 25 July, the new restaurant is expected to create 50 jobs locally.
From its commitment to 'Intelligent Choices for Our Pizzas, People and Planet' the restaurant will use eco-friendly packaging and feature energy-efficient LED lighting.
The restaurant chain will offer menu items featuring gluten-free dough, vegan cheese, animal rennet free dairy, and tree-nut free pesto to customers with dietary needs.
According to the company, each of its restaurants features an interactive open kitchen, thereby enabling customers to create personal signature pizzas by customising the restaurant menu. Each pizza contains all-natural meats and vegetables as ingredients.
Blaze Pizza president and CEO Jim Mizes said: "Our mission at Blaze is really simple – we're taking pizza back to its roots.
"By making dough in-house, using carefully sourced ingredients, and cooking by fire, we're giving guests a great way to enjoy artisanal pizza without the wait.  It's changing the way people think about and eat pizza."
Furthermore, Blaze Pizza also announced plans to open a new kitchen restaurant at 42508 Winston Park Drive, Unit C70 in Oakville, Ontario.
The new restaurant is also scheduled to open on 25 July and expected to create 50 jobs locally.
Canadian franchisee company Cypress Five Star has developed the new location, which has been constructed using recycled and sustainable materials.
Cypress Five Star has been developing the pizza chain's restaurants as part of a franchise agreement signed through its wholly owned subsidiary Five Star Blaze Holdings in January 2015.