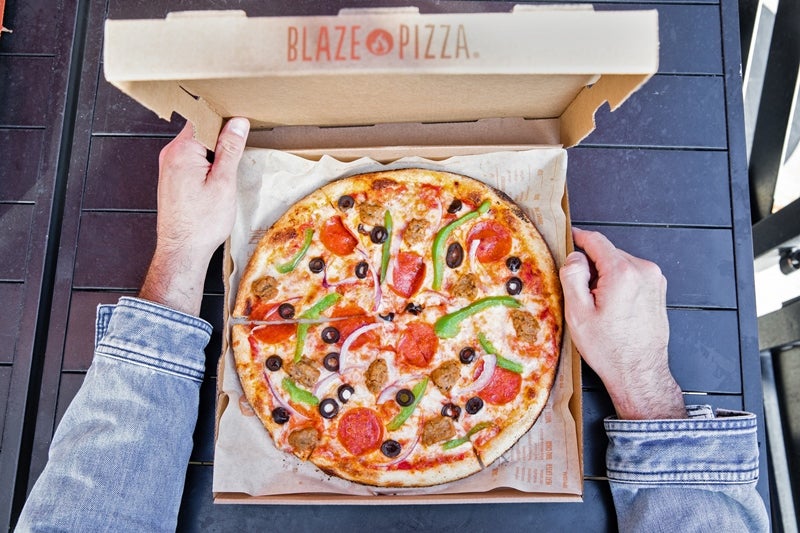 US pizza restaurant Blaze Fast Fire'd Pizza is set to expand its presence with the opening of a new kitchen restaurant at Vaughan Mills in Toronto, Canada.
The new restaurant is scheduled to open on 11 July and is expected to create 50 jobs locally.
Canadian franchisee company Cypress Five Star has developed the new location, which has been constructed using recycled and sustainable materials.
From its commitment to 'Intelligent Choices for Our Pizzas, People and Planet' the restaurant will use eco-friendly packaging and feature energy-efficient LED lighting, as well offering dietary needs for customers, including gluten-free dough, vegan cheese, animal rennet free dairy, and tree-nut free pesto.
Cypress Five Star develops the pizza chain's restaurants as part of a franchise agreement signed in January 2015 through its wholly owned subsidiary Five Star Blaze Holdings.
The franchise company selected various Canadian provinces including Ontario, Alberta, British Columbia, Manitoba and Saskatchewan to develop Blaze Pizza restaurants. The deal includes plans to open a minimum of 60 franchise units.
Cypress Five Star Blaze Pizza operations vice-president Jared Taylor said: "We are excited to open our 19th Blaze Pizza restaurant in Canada at Vaughn Mills, and we look forward to opening in Oakville, Ontario in the coming weeks."
According to the company, each of its restaurants features an interactive open kitchen, thereby enabling customers to create personal signature pizzas by customising the restaurant menu. Each pizza features all-natural meats and vegetables as ingredients.
Blaze Pizza president and CEO Jim Mizes said: "Our mission at Blaze is really simple. We're taking pizza back to its roots. By making dough in-house, using carefully sourced ingredients, and cooking by fire, we're giving guests a great way to enjoy artisanal pizza without the wait. It's changing the way people think about and eat pizza."
Earlier this month, the US pizza chain opened a new kitchen restaurant on 107 Ferrari Ranch Road in Lincoln Crossing, Northern California.