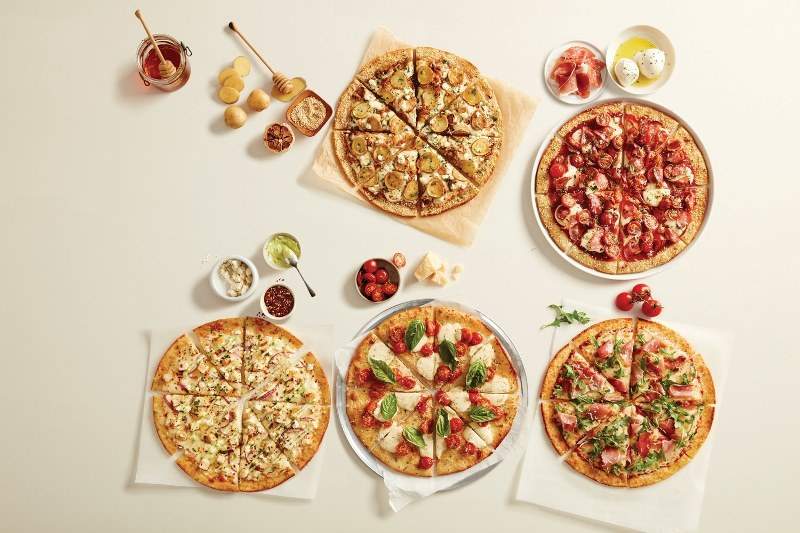 Canadian casual dining chain Boston Pizza International has added new pizza range, Thin Crust Creations, to its menu.
Thin Crust Creations range includes five recipes such as Potato Bianca, Cherry Bomb Margherita, Skinny Carnivore, Fiesta Chicken and Pizza Bella.
The five pizzas are available in small and medium sizes and will be included as permanent menu items.
Potato Bianca is made using sliced mini potatoes, goat cheese, honey, caramelised onions, mozzarella, garlic puree, sesame seeds, Alfredo sauce and pizza spices.
Skinny Carnivore features Genoa salami, barrel-aged Sriracha, bocconcini cheese, smoked prosciutto, balsamic-roasted cherry tomatoes, lime zest, sesame seeds and parmesan.
Fiesta Chicken contains honey citrus chicken, gouda, feta, mozzarella, provolone, chili flakes, avocado citrus ranch, red onion and parmesan as ingredients.
Cherry Bomb Margherita includes balsamic-roasted cherry tomatoes, basil, garlic, bocconcini cheese, pizza spices and parmesan.
Pizza Bella is prepared using smoked prosciutto, provolone, mozzarella, gouda, arugula and parmesan.
Boston Pizza International president Jordan Holm said: "The new pizza line-up is thin on crust but thick on taste. Our new recipes are specially crafted to be enjoyed on thin crust with many new premium toppings not previously available at Boston Pizza.
"And with these new creations containing much less calories, fat and carbs than our regular pizzas, our signature new recipes are lighter and will provide people with the perfect excuse to treat themselves to pizza on their cheat day."
As a giveaway initiative, Boston Pizza will also offer 10,000 free Thin Crust Creations pizzas to its MyBP loyalty members from this week.
Boston Pizza currently operates more than 390 restaurants in Canada with more than $1bn sales.