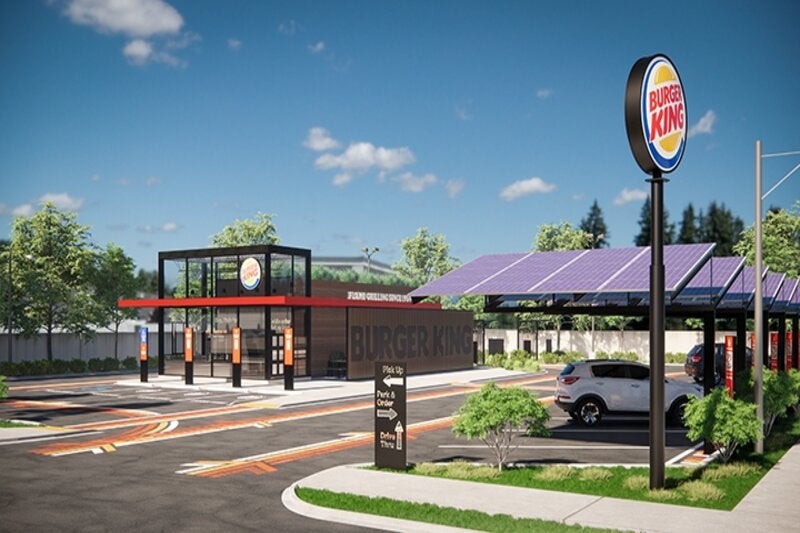 Burger King (BK) is set to introduce new restaurant designs to provide an improved experience to the guests amid the Covid-19 pandemic.
The new designs will offer flexibility and convenient options for guests to order and receive food deliveries.
They will feature dedicated mobile order and curbside pick-up areas and drive-in and walk-up order areas, along with enhanced drive-thru experience, exterior dining spaces and sustainable design elements.
Restaurant Brands International in-house design group has created the designs with input from tech, operations and food innovation teams to improve customer experience.
Burger King noted that the first newly designed restaurants will be built next year in Miami, US, Latin America and the Caribbean.
The new designs will provide multiple ordering and delivery modes while highlighting a 60% lower physical footprint.
The drive-in will enable guests to park their cars in the area under solar-powered canopies.
Using the BK App, guests can scan a dedicated QR code available at each parking spot for fast curbside delivery. They will be able to notify the restaurant team member upon arrival through the app.
Mobile and delivery orders can be collected from coded food lockers, facing the exterior of the restaurant.
On-premise dining replaces the traditional indoor dining room with a shaded patio, while drive thru will feature multi-lane ordering and pick-up, using digital menu boards and merchandising.
Suspended kitchen and dining rooms are configured above the drive-thru lanes to reduce the building footprint, where food will be delivered, using a conveyor belt system.
Restaurant Brands International chief operating officer Josh Kobza said: "In March, our in-house design and tech team accelerated new restaurant design plans and pushed the limits of what a BK restaurant could be.
"We took into consideration how consumer behaviours are changing and our guests will want to interact with our restaurants. The result is a new design concept that is attractive to guests and will allow our franchisees to maximise their return."