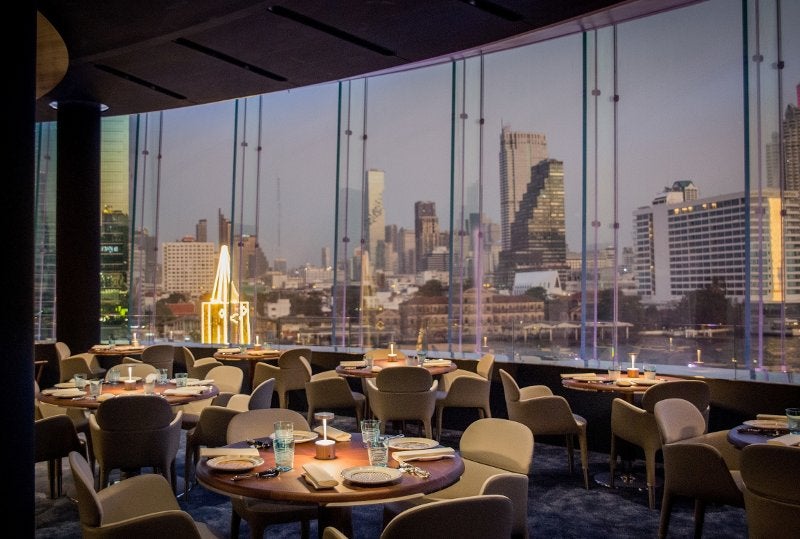 French celebrity chef Alain Ducasse has opened his first restaurant 'Blue', in ICONLUXE at ICONSIAM Bangkok, Thailand.
Blue by Alain Ducasse has two private dining rooms, as well as a lounge that can accommodate a total of 24 individuals.
The restaurant has been designed by French designer Patrick Jouin and Canadian architect Sanjit Manku led Paris-based spatial design studio Jouin Manku.
Ducasse said: "Blue by Alain Ducasse' is unique to this city and with its own particular identity. It has a contemporary French menu that I personally conceived, using carefully selected ingredients, and to be enjoyed in a truly magnificent setting with inspiring views over the Chao Phraya River that, together, deliver an unforgettable experience.
"Blue is not a stiff restaurant. While it is extraordinary and very special, it is also very welcoming. It's a place where you can really feel comfortable and allow yourself to fully focus on a marvellous experience, enjoying the ambience, the view, the service, the wines, and of course, the food."
ICONSIAM is a mixed-use development located on the banks of the Chao Phraya River in Bangkok that opened last year.
Blue by Alain Ducasse has been built with an investment of nearly $8m. The menu consists of starters that include Sea Scallops from Hokkaido, Herbs and Salad, Truffled Vinaigrette Blue Crab, Tomato Water Gelée, and Gold Caviar, and the main course includes Grilled Lobster, Savoy Cabbage, and Gala Apple.
ICONSIAM director Chadatip Chutrakul said: "ICONSIAM is a place where the best of Thailand meets the best of the world. There is no greater culinary master in the world than Chef Ducasse, who has earned more Michelin stars than any other living chef.
"The opening of Blue helps elevate Bangkok to the level of the world's top-ranked cities as a dining destination, such as Monte Carlo, Paris, and London, where Chef Ducasse has other Michelin starred establishments, as well as promotes the Chao Phraya River as one of the world's great new destinations."