Online ordering and marketing platform for restaurants ChowNow has raised $21m through a Series C funding round from growth-equity firms 3L Capital and Catalyst Investors.
With this funding, the company has raised a total of $60m that includes previous rounds from various investors, namely Steadfast Capital, Upfront Ventures, and Bonfire Ventures.
As part of the deal, 3L Capital co-founder and managing director Shawn Colo has joined ChowNow's board of directors.
The food delivery service has also introduced a new website, OrderBetter.com, in a bid to make consumers aware about the predatory tactics of delivery-app businesses.
According to the company, major third-party delivery apps take about 40% of every order placed from restaurants and also own the customer data. This makes it hard for local restaurants to lose profits of around 6%.
"We're interested in giving these small businesses the tools they need at a fair price so they can focus on doing what they do best."
The company's 'OrderBetter' platform will assist local restaurants by offering a flat monthly fee with 0% commission on all orders. It also offers local restaurant exclusive access to their customer data, branded mobile app and customised ordering for website, and allows customers to place orders through Instagram, Facebook, and Google.
ChowNow co-founder and CEO Chris Webb said: "Local restaurants are often the heart of neighbourhoods and there should be a way for them to stay competitive and profitable.
"We're interested in giving these small businesses the tools they need at a fair price so they can focus on doing what they do best."
The American Grilled Cheese Kitchen owner Nate Pollak said: "A billion dollars in orders directly benefiting local restaurants is huge especially to independently-owned operations like ours. That's our lifeblood, and now ChowNow is a true partner in helping restaurants like ours thrive."
ChowNow provides online ordering systems to more than 11,000 independent restaurants across the US and Canada through their restaurants' own websites, as well as on Facebook and Google, through apps created by ChowNow, and its online platform.
Free Report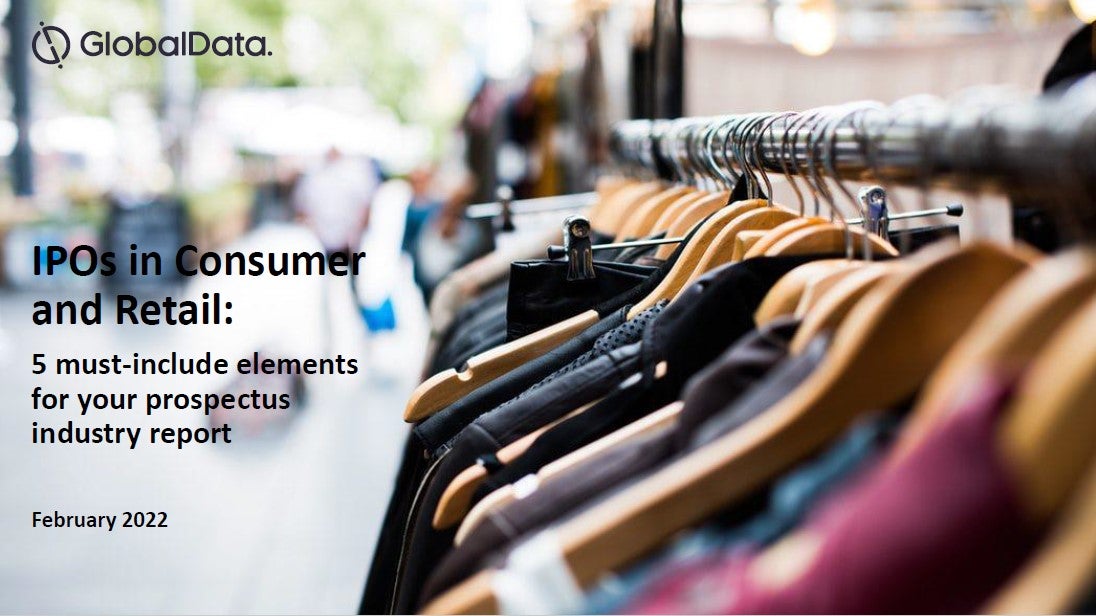 What's missing from your IPO industry assessment?
IPO activity all but stopped in 2020, as the investment community grew wary of the effects of COVID-19 on economies. No matter how deserving a business was of flotation, momentum was halted by concerns of when a 'new normal' of working patterns and trade would set in. Recently, sentiment has changed. Flotations picked up again during the second half of 2021, and now in 2022 the mood is decidedly optimistic. Business leaders have their eyes on fast rebounding economies, buoyant market indices and the opportunity once again to take their businesses public. As a result, global IPOs are expected to hit back this year. With GlobalData's new whitepaper, 'IPOs in Consumer and Retail: 5 must-include elements for your prospectus industry report', you can explore exactly what is needed in the essential literature. GlobalData's focus lies in the critical areas to get right:
Macroeconomic and demographic environment
Consumer context
Industry environment
Competitive environment
Route to market
Interested to learn more about what to include in your IPO Industry Assessment report? Download our free whitepaper.
by GlobalData