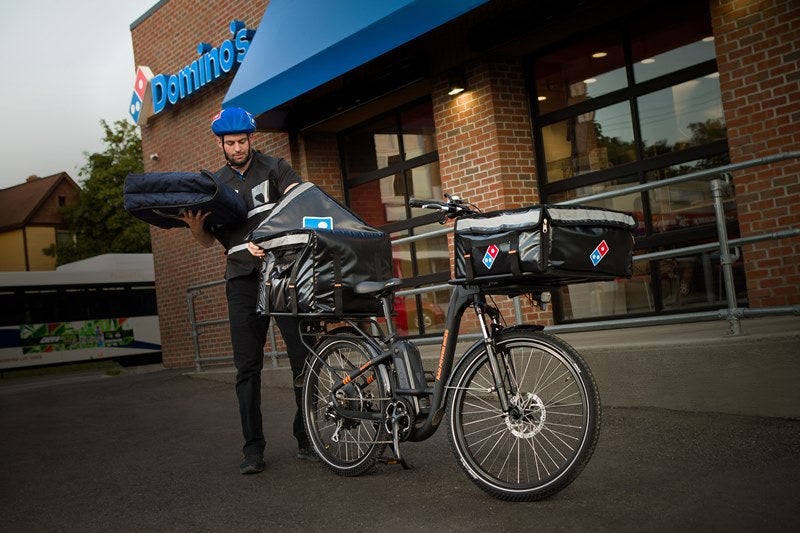 Pizza delivery platform Domino's has partnered with North American e-bike brand Rad Power Bikes to introduce custom e-bikes to deliver its pizzas.
The pizza chain will start using hundreds of e-bikes for delivery from its corporate-owned stores in Miami, Salt Lake City, Baltimore and Houston, later this year.
Domino's corporate operations executive vice-president Tom Curtis said: "Domino's tested e-bikes in a number of corporate-owned stores across Houston, Miami and New York earlier this year, and those stores saw improvements in overall delivery and service.
"They also experienced labour benefits, as the stores were able to hire from a wider pool of candidates, including those who might not have a car or driver's licence. Plus, stores that were already delivering with traditional bikes saw improved team member satisfaction with e-bikes."
The e-bikes have small integrated motors to help delivery drivers with pedalling, and can run for 25 to 40 miles with a top speed of 20mph. It is equipped with lights in the front and back, and reflective materials for driver safety.
They also feature front and rear insulated soft-sided cargo areas to Domino's Heatwave bags, drinks, sides, and dipping cups.
The pizza chain is currently offering delivery service using bikes across various cities in the US including New York and Seattle.
Domino's Seattle franchisee Greg Keller said: "E-bikes make a huge difference in my stores. While delivery on a traditional bike solved many of our traffic and parking issues, the hills in Seattle were tough on even our best cyclists.
"E-bikes were a game-changer for us, and we've been delivering with them for three years now. We have been able to save money, provide better service, increase hiring and maintain a happy workforce."
In June this year, the American pizza restaurant chain partnered with robotics company Nuro to offer autonomous pizza delivery using the custom unmanned vehicle, R2, later this year.
During April this year, Domino's started testing GPS driver tracking service across 27 corporate-owned stores in Phoenix, Arizona, US.