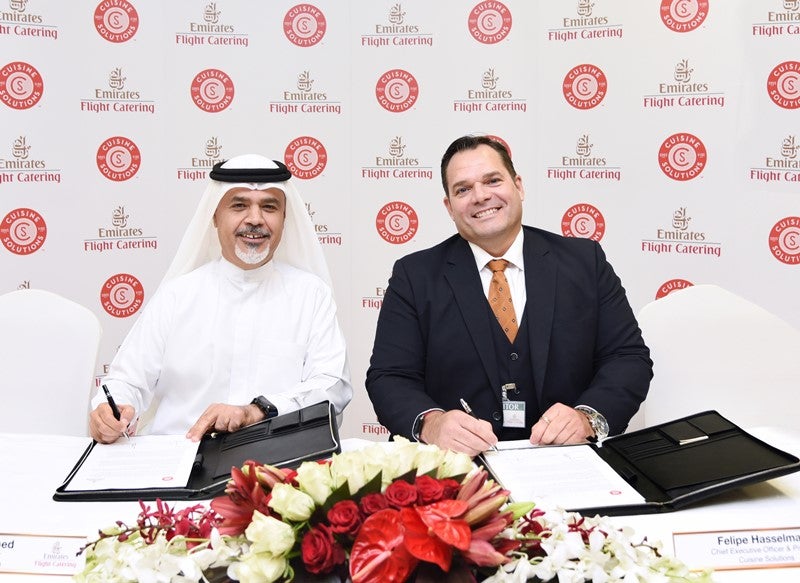 UAE-based operator Emirates Flight Catering (EKFC) and US firm Cuisine Solutions (CSI) have signed a joint venture (JV) agreement for Sous Vide products distribution.
As part of the agreement, EKFC will co-invest in the JV. Called as Emirates Cuisine Solutions, the joint venture expects to become the only distributor of sous vide products in the UAE.
Emirates Flight Catering chief executive officer Saeed Mohammed said: "Today's announcement is an important milestone for Emirates Flight Catering. Our appetite for perfection means we are 100% committed to providing the best possible quality products and services to our customers.
"Our partnership with Cuisine Solutions, a well-recognised and trustworthy brand in the culinary world, allows us to grow as a business and provide top quality products to the hospitality industry."
Starting this month, Emirates Cuisine Solutions will assume the responsibility of delivering sous vide products to airlines, restaurateurs and hospitality providers in the country.
In addition, the second phase of the joint venture will involve building a halal sous vide manufacturing facility in Dubai. It is expected to enter operational service in 2022.
Cuisine Solutions president and chief executive officer Felipe Hasselmann said: "Cuisine Solutions is proud to partner with Emirates Flight Catering as the first truly global sous vide manufacturer.
"Our joint venture will encompass the entire GCC / Africa region. Emirates Flight Catering's ongoing pursuit to create memorable, exceptional food, coupled with its impressive mantra for outstanding service is echoed within Cuisine Solutions' culture of quality and innovation."
Earlier this year, Cuisine Solutions invested $120m to establish a new manufacturing plant in San Antonio, US.