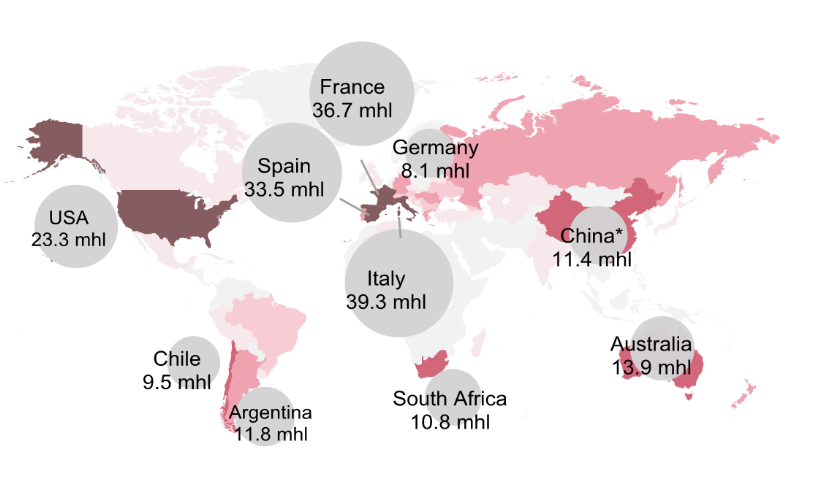 The world's production of wine has been predicted to fall to its lowest levels for several decades by the International Organisation of Vine and Wine (OIV).
The industry body expects production to fall to 247 hectolitres (mhl), an 8% decrease from 2016.
The forecast comes following the experiencing of record low production levels in Italy (39.3 mhl), France (36.7 mhl) and Spain (33.5 mhl). Production was also low in Germany (8.1mhl).
Italy, the world's leading producers of wine, are on track for a fall in production of 32% from 2016, French production by 19% and Spain by 15%.
Portugal, Romania, Hungary and Austria were the only European countries to see a rise on last year.
The information was presented by OIV director general, Jean-Marie Aurand, at the company headquarters earlier this week.
"World wine production, excluding juice and musts, is likely to reach 246.7 mhl–an 8% drop compared with 2016 and one of the lowest levels for several  decades," said Aurand.
"This drop is consecutive to climate hazards, which affected the main producing  countries, particularly in Europe.
"Extreme weather events from frost to drought significantly impacted 2017 wine production, which was historically low."
The picture is slightly brighter for producers outside of Europe, as Argentina (11.8 mhl), Brazil (3.4 mhl) and Chile (9.5 mhl) all increased production but the IOV says these figures remain low.
Australian production grew to 13.9 hectolitres, while New Zealand (2.9mhl) and South Africa (10.8mhl) maintained last year's levels.
US production is high at 23.3 hectolitres but this was still 1% down on last year.
A hectolitre is the equivalent to 133 standard wine bottles- meaning the IOV's predicted fall in production equates to about 2.9 billion fewer bottles in 2017.