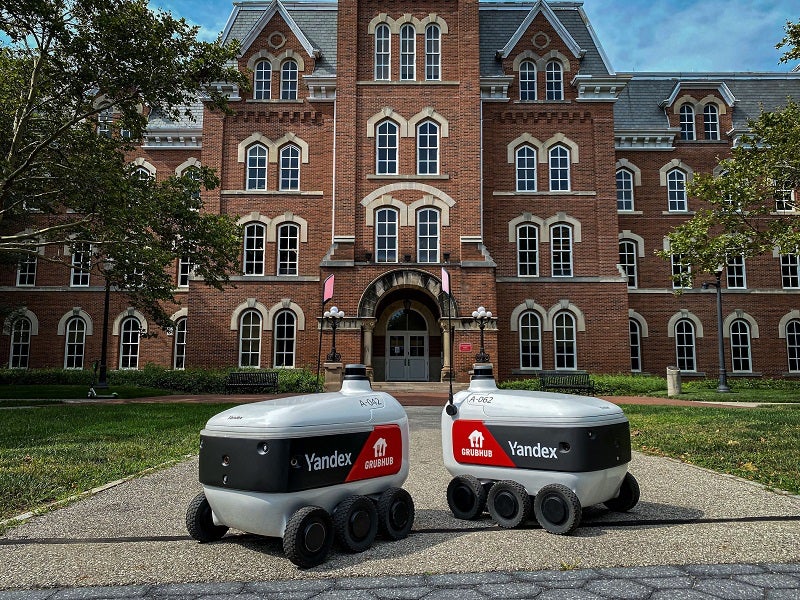 Online food-ordering and delivery platform GrubHub has partnered with autonomous vehicles developer Yandex Self-Driving Group (SDG) for the launch of 50 delivery bots to supply food to students at the Ohio State University (OSU) campus.
Through the Grubhub app, food ordered by OSU students from on-campus dining locations will be delivered by one of 50 Yandex robots operating on the campus.
Grubhub corporate and campus partners vice-president Brian Madigan said: "We're excited to bring this cutting-edge and efficient delivery experience to students at OSU.
"OSU and Grubhub have worked together for years to offer students a variety of ways to enjoy the food they love on campus. Now we're building on our efforts to enhance the dining experience through Yandex's rover technology for quicker and easier deliveries."
Yandex noted that its robots have been designed to autonomously navigate pavements, campus crosswalks and pedestrian areas. These rovers can move at speeds ranging between three and five miles per hour in various weather conditions.
Yandex said that the robots can carry a wide range of food and beverage items and deliver them to students at the right temperature.
The rovers will operate from 9am to 9pm, seven days a week.
Yandex SDG business development executive Peter Szelei said: "By partnering with Grubhub, we can bring robotic delivery to some of the people who need it most – students, researchers and professors who are short on time.
"Not only do the rovers enhance the current food delivery options, but open new possibilities for smarter, better and faster dining.
"Imagine ordering morning coffee and grabbing it from a robot waiting at your doorstep as you head out to class, or studying in a park with friends and requesting a rover to roll up and deliver snacks."