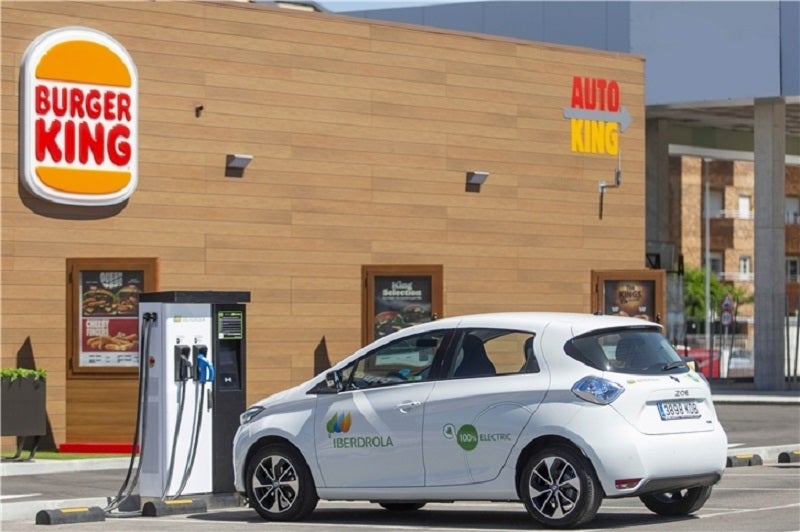 Iberdrola and Restaurant Brands Iberia (RB Iberia) have reached an agreement for the installation of electric vehicle (EV) charging points at Burger King and Popeyes restaurants.
RB Iberia holds master franchise operating rights for the Burger King, Tim Hortons and Popeyes brands in Spain and Portugal.
Initially, the EV charging points will be installed in the car parks of nearly 200 Burger King and Popeyes restaurants in Spain, with a possible extension to Portugal in a second stage.
The agreement will see the installation and maintenance of super-fast (150kW), fast (50kW) and semi-fast (22kW) charging points.
RB Iberia president Gregorio Jiménez said: "This agreement represents another important step forward in RB Iberia's commitment to sustainability, aimed at reducing the carbon footprint of our restaurants, which are at the heart of our business.
"We are particularly pleased to be able to use our extensive network of restaurants with parking to contribute to sustainable mobility in Spain together with Iberdrola."
RB Iberia also plans to install roughly 100 new vehicle charging points in newly built free-standing restaurants each year.
Additionally, the group will install photovoltaic panels in around 300 restaurants in Spain.
Iberdrola said that the chargers at RB Iberia restaurants will be geolocated and users will be able to manage charging from the company's Public Charging app.
Through this partnership, Iberdrola further advances its plan to roll out sustainable mobility infrastructure across the country.
Iberdrola Spain commercial director Alfonso Calderón said: "This agreement confirms the need to continue collaborating with all the agents involved in sustainable mobility.
"Burger King and Popeyes are an excellent ally with which to advance in implementing solutions for the electrification of transport, which respond to the challenges of decarbonisation and to improving air quality in our cities and municipalities."