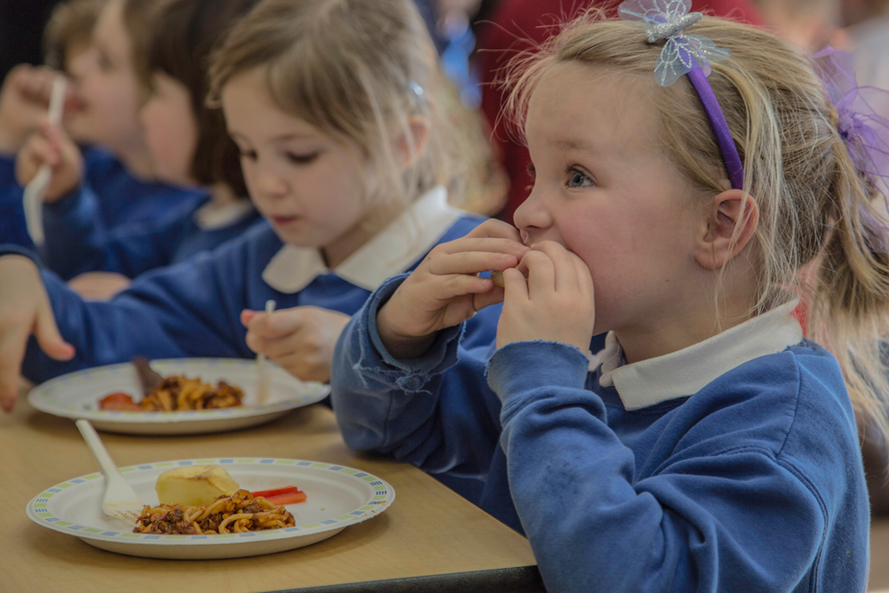 A new charity encouraging top restaurant chefs to hang up their whites and join school kitchens has launched in the UK, in a bid to improve school lunches nationwide.
Hoping to "put 100 restaurant chefs in 100 schools by 2023," 'Chefs in Schools' was founded by Henry Dimbleby, co-founder of healthy food chain Leon; Nicole Pisani, former head chef at Yotam Ottolenghi's Nopi; and Gayhurst Community School (London Fields) head teacher, Louise Nichols.
The trio first came together in 2004 when Dimbleby's son's school – Gayhurst – was looking for a new head chef and Pisani took up the role.
Drawing on her success producing "healthy, balanced and exciting" school lunches on a budget of 75p per child per day – lower than the £1.20 budget when Pisani took on the role – they are now on a mission to launch the scheme in schools across the country.
Pisani said: "Why do people turn a blind eye to schools, hospitals and prisons? Powdered egg and powdered mash contain no sustenance. Some kids have never even cracked an egg open before."
Instead, along with the help of Gayhurst's kitchen staff (who she trained up having become accustomed to pre-sliced, packaged food), Pisani tries to make food "as fun as possible." Serving dishes such as chicken jolloff, vegetable 'troughs' with edible soil and crudités, fresh spelt soda bread and 'healthy' cakes, she also implemented two vegetarian days a week to help manage the budget.
Not only this, but 'Chefs in Schools' – backed by industry figures including chefs Ottolenghi and Prue Leith, and Wahaca co-founder, Thomasina Miers, who has invested £10,000 in the charity – wants to tackle childhood obesity through food education.
Dimbleby explained: "You've got a massive problem with food-related illness in this country (the UK). Part of the solution for that is improving the culture and cooking, which is not [just] a middle class concern.
"I think we're at the pit of a really problematic societal problem. But we can, by re-skilling people by getting back in touch with food, school by school, turn this around."
As such, Gayhurst now has a school vegetable garden, teaches children to butcher chickens from scratch and has a fire-pit from which they cook food.
The charity is now opening a Cookery School at Mandeville (London) this year to "train chefs looking to escape the hard-core, 80-hour treadmill."
Dimbleby wants to "raise the status of the 'school cook' on a national level," explaining that "the status of the 'school cook' is often very low and they're often the only members of staff who come in by the back door."
Pisani agrees. At Gayhurst, she implemented restaurant-style sections and uses the titles 'head chef' and 'sous chef'- warning that the term 'dinner lady is "actually quite offensive."
Since founded, three other London-based schools have recruited restaurant chefs, including Oliver Pagani (former junior sous chef of London-based restaurant Poco); Cheryl-Lynn Booth (formerly of the Riding House Café) and Masterchef: The Professionals contestant, Angela Church.
Calling on others to get involved, Pagani listed some of the benefits of his new title to the Evening Standard: "Professional kitchens get bogged down with hierarchy and the pursuit to the top.
"Ambition is the only thing. But I think there are a lot of chefs who are in the job because they love food. They're not necessarily in it for the glory of owning a restaurant.
"At the worst time (of his career as a restaurant chef) I was working at a Michelin-starred place doing an 80-hour week for (£24,000). Now it's about half that time for the same money. So I have hobbies! I have a life! I get to see my girlfriend! It's wonderful.'
Church added: "I work less than 100 days a year. I get more per hour from this job, and significantly more per hour emotionally."
For more information or to get involved visit https://www.chefsinschools.org.uk/​​.