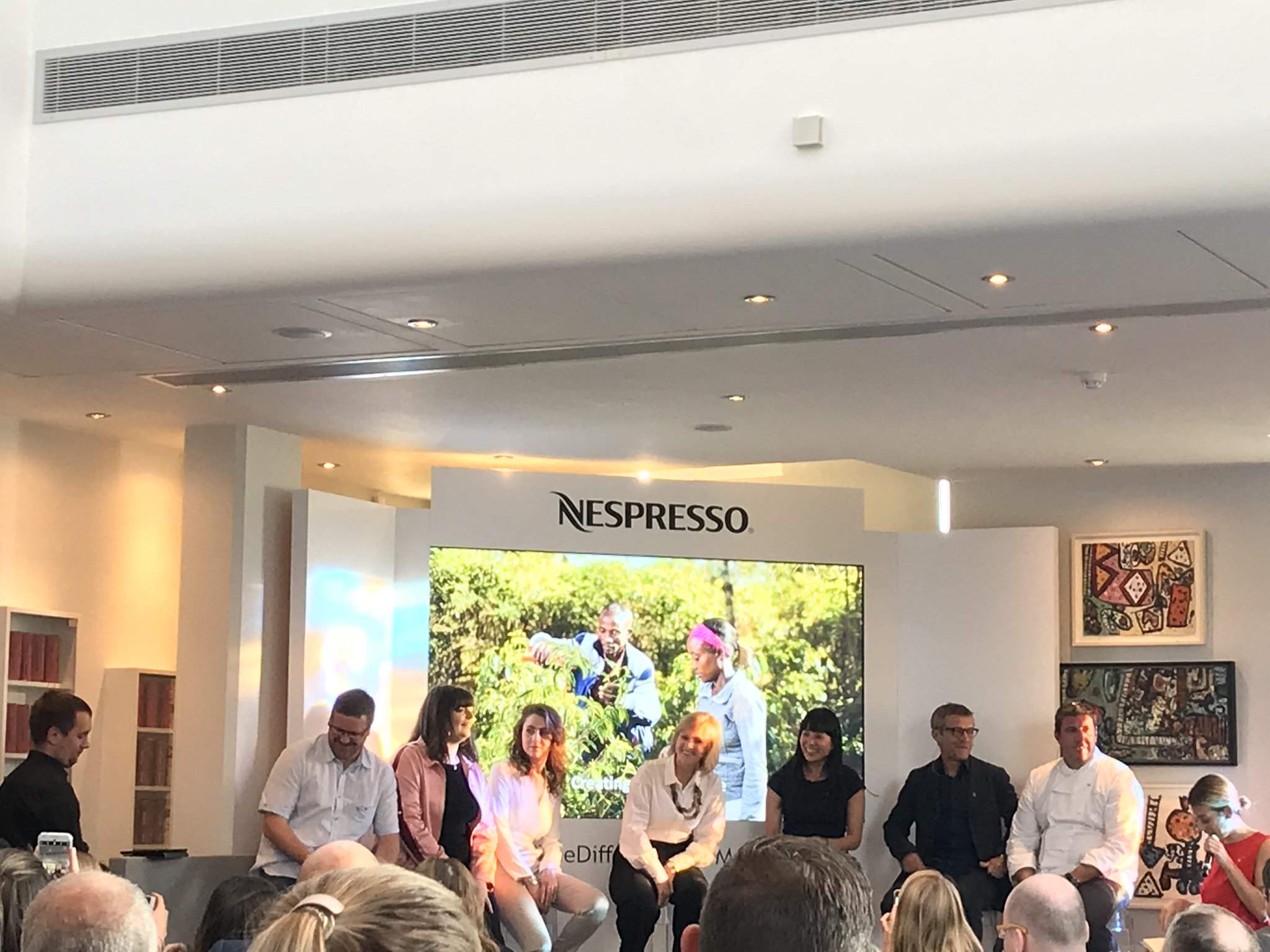 It is no secret that the number of men working in hospitality massively outweighs the number of women – with less than one in four female chefs in the UK. Hence why global coffee brand, Nespresso, hosted a panel discussion this week (8 May) addressing the difference that women make both in the kitchen and to the sector as a whole.
With chef Claude Bosi's fine dining establishment, Bibendum (South Kensington) setting the scene, host Natalia Ribbe – co-founder of Ladies of Restaurants, which offers support for female hospitality workers – took to the stage to welcome guests and introduce the panel.
Sitting alongside host chef Claude Bosi were fellow Michelin-starred chefs, Daniel Clifford and Michael Wignall; the first ever female National Young Chef of the Year (2017), Ruth Hansom; female butcher Jessica Wragg (Ginger Pig) and Bubbledogs co-founder and sommelier, Sandia Chang.
We then took our seats for a brief introduction to Nespresso's latest campaign, #TheDifferenceSheMakes, which it hopes will strengthen and increase the involvement of women in coffee farming across the 12 countries in its AAA Sustainable Programme.
As well as improving economic growth, Nespresso believes strengthening the role of women farmers would ensure sustainable development, better social wellbeing and reduce poverty for millions of people worldwide.
Julie Gallacher, who leads Nespresso's sustainability and strategic projects, explained: "Through our #TheDifferenceSheMakes campaign, Nespresso is making it easier for women to play an active role in coffee farming.
"From our studies, we know that in Ethiopia, 75% of the work in the whole coffee value chain is carried out by women, whereas only 43% of the income is earned by those same women.
"Nespresso is therefore providing women opportunities to encourage them into the industry and to be equally rewarded for their work as their male counterparts.
Through its training course TechnoServe, Nespresso engages with both men and women – claiming that women often feel more comfortable attending with their husbands – to teach women how to become agronomists and take leadership roles in coffee co-operatives.
To date, it said it has increased participation by women farmers in Ethiopia from a shocking 1% to more than 30%.
To celebrate Nespresso's work and encourage the sector to follow by example, the company called on well-known industry experts to share their views and how they feel women play a part kitchens today.
Kicking off, Bois exclaimed: "For the first time this year I have five female chefs in the kitchen. But I don't like to say men and women, I simply think of them all as chefs" – to which the entire panel nodded ferociously in agreement.
As the first female to have ever won the highly prestigious National Chef of the Year in 2017, Hansom feels even stronger about this. She questioned: "Why do we need to talk about rise of women? Why are we even having these conversations? Why can't we just be there – why is there still a difference?"
She does however agree that there is still a lot of stigma surrounding the industry and that these conversations, in part, help to combat that. But work needs to be done, she said.
A former medical student, Hansom admitted that her parents found it somewhat difficult to learn she wanted to become a chef: "Parents need to feel comfortable about their kids going into industry – perception needs to change."
With five young daughters, Clifford knows this only too well and argues that schools need to better educate children on what it means to be a chef – not a cook or, as he believes, "how to be a mum."
Acknowledging the fact that "you can't advertise 'female chefs wanted,'" he added: "Schools need to push kids and properly teach them about the art of cooking and becoming a chef, and incentivize them to enter the business."
In an effort to do so, Clifford has even offered to teach classes at his childrens's school – which they are yet to take him up on.
Jessica Wrag, butcher and online operations manager for London butcher, Ginger Pig, would also like to see more done to encourage people – particularly women – into the industry.
"It's not an attractive career" she acknowledged: "It's often messy, dirty and grotesque and hardly anyone wants to get into the industry" – point proven when Bois loudly points out that she is the only female butcher he has ever met during his entire career – in both France and the UK.
Chang meanwhile simply "wants to attract good talent – regardless of sex." Having started her career as a chef, Chang worked her way up the ladder before switching to wine and becoming a sommelier for Berkeley Hotel (Mayfair) in 2010.
She then opened her Champagne and hot dog restaurant, Bubbledogs, in 2012 in partnership with her husband, Michelin-starred chef James Knappett.
Fiercely strong, Chang emphasised that she doesn't favour men or women, but employs people who give her exceptional results: "This industry is all about results – bring me what I want, when I want. If not, you're out – men and women."
Interestingly, she admitted to looking up to her male colleagues when starting out as a chef, as they "didn't treat her any differently.
"Women need to stop thinking 'I'm different, I'm a woman.' The moment you think that you're different, you wont succeed."
Something which all three male chefs agreed to avoiding. Clifford explained: "We chefs work out of passion – not what sex we are. I don't have seven male and fivefemale chefs – they are 12 cooks and that's the way we look at them all."
Ending on a positive, all agreed with Wignall when he said: "This industry is changing and it can only be good for both sexes."
Bois then headed back to the kitchen to check on his staff, before serving a sumptuous meal of chicken liver parfait and grilled duck. The perfect end to the evening, guests left feeling suitably full and with a lot of food for thought.
While Nespresso is playing its part in encouraging women to enter the industry and celebrate #TheDifferenceSheMakes, it is evident from the night's discussion that there is still a lot of work to be done to ensure fairer, and more equal conditions for all women working in hospitality.