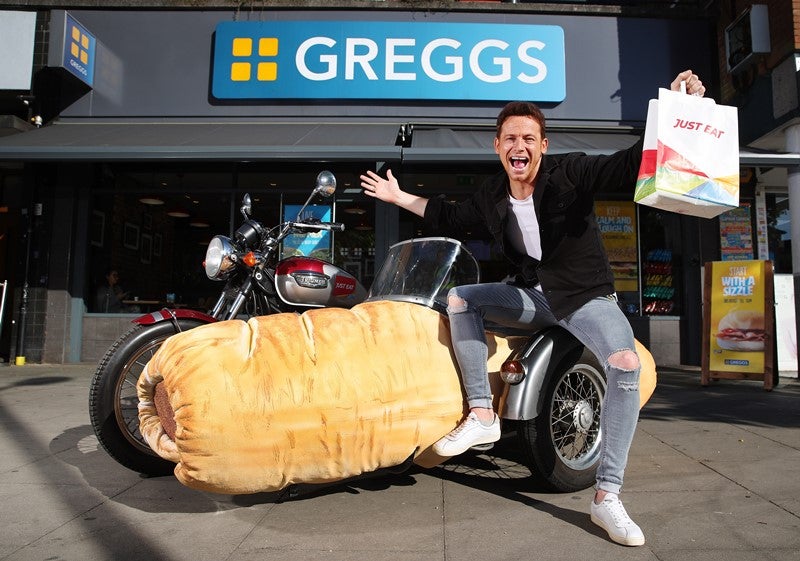 Online delivery platform Just Eat and British bakery chain Greggs have partnered to introduce food delivery services in London, Newcastle and Glasgow.
As part of the partnership, the bakery chain will offer Greggs delivery  to one million households through nine stores across the three cities.
To celebrate the partnership actor Joe Swash unveiled the world's first sausage roll sidecar.
Swash said: "With Greggs now on Just Eat, breakfast and lunch just got infinitely better. Their bacon rolls are my favourite, I reckon I'll be putting a few cheeky orders in myself."
Greggs customer director Hannah Squirrell said: "We're thrilled to be working with Just Eat to make it even easier for our customers to enjoy their breakfast and lunch menu favourites.
"From bacon rolls and coffees to our range of bakes, sandwiches and wraps, we'll be able to go direct to the doorsteps of more than a million hungry households."
Customers in London, Newcastle and Glasgow can now place orders for a select range of Greggs' savoury and sweet menu items including sausage rolls, vegan sausage rolls, steak bakes, doughnuts, bacon rolls and coffees via Just Eat.
In addition, Just Eat is offering free delivery to customers on all orders for a limited time to celebrate the partnership.
Just Eat UK managing director Graham Corfield said: "We're delighted to welcome Greggs to our delivery platform bringing customers even more of their favourite food brands at the tap of the app.
"Britain's love affair with Greggs isn't slowing down so what better way to celebrate than with a speedy Sausage Roll-inspired delivery bike!"
In January this year, Just Eat purchased the remaining outstanding share capital of restaurant software platform Flyt for £22m ($29.81m) from existing investors, including Time Out and Entree Capital.