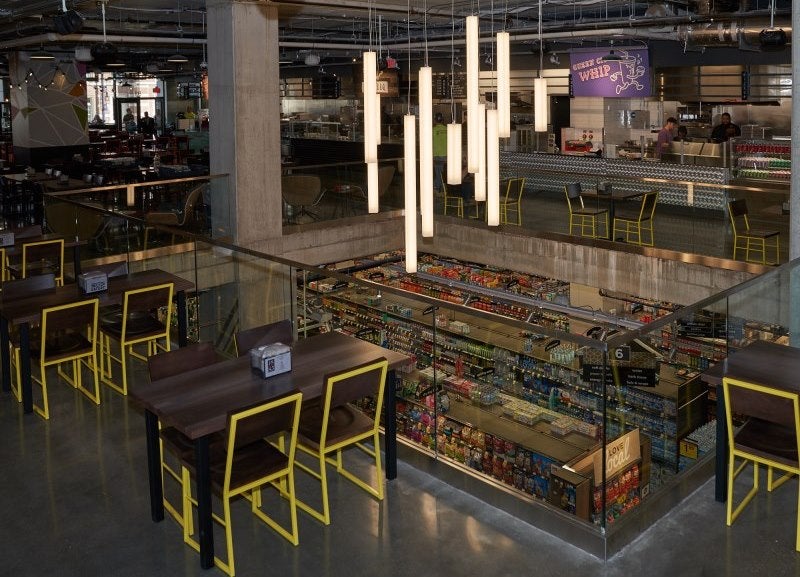 US retailer Kroger has opened a new urban format store in downtown Cincinnati, Ohio, featuring the company's first food hall, On The Rhine Eatery.
Located on a 52,000ft2 space, the food hall features five local eateries including Django Western Taco, DOPE! Asian Street Fare, Eli's BBQ, Queen City Whip, and Kitchen 1883 Café and Bar.
On The Rhine Eatery features indoor and outdoor seating, and a full-service bar offering cocktails, local beers, wines, and Kentucky bourbons. It is capable of accommodating around 200 customers at one go.
The new two-level store will offer grab-and-go and ready-to-heat meals for lunch and dinner, along with fruits and vegetables and a traditional grocery shopping experience to customers.
Kroger chairman and CEO Rodney McMullen said: "Kroger is thrilled to introduce our first food hall and offer a one-of-its-kind shopping experience in our hometown of Cincinnati, providing a convenient location to experience delicious, quality meals and foods. This innovative destination highlights Kroger's food-first culture.
"Kroger's new store offers something for everyone. We invite all to visit the store to meet our wonderful associates, shop for fresh groceries and discover their new favourite restaurant."
DOPE! Asian Street Fare offers various street food options such as ramen, dumplings, and bao buns, along with Vietnamese iced coffee and global libations.
Django Western Taco offers Mexican food varieties including homemade tortillas, jackfruit carnitas, and jerk chicken quesadillas. It also offers handcrafted margaritas, breakfast and weekend brunch.
Eli's BBQ offers hickory-smoked pork sandwiches, smoked turkey along with sides such as jalapeno cheddar grits and macaroni and cheese.
Queen City Whip, a local food truck, marks its first brick-and-mortar location at the food hall. It offers made-to-order burgers, chili dogs and milkshakes to customers.
In addition, the food hall features an exclusive Starbucks coffee blend, and a walk-up window for beverage orders.
The retailer is currently offering grocery delivery services from the new store, and is planning to introduce restaurant delivery services later.