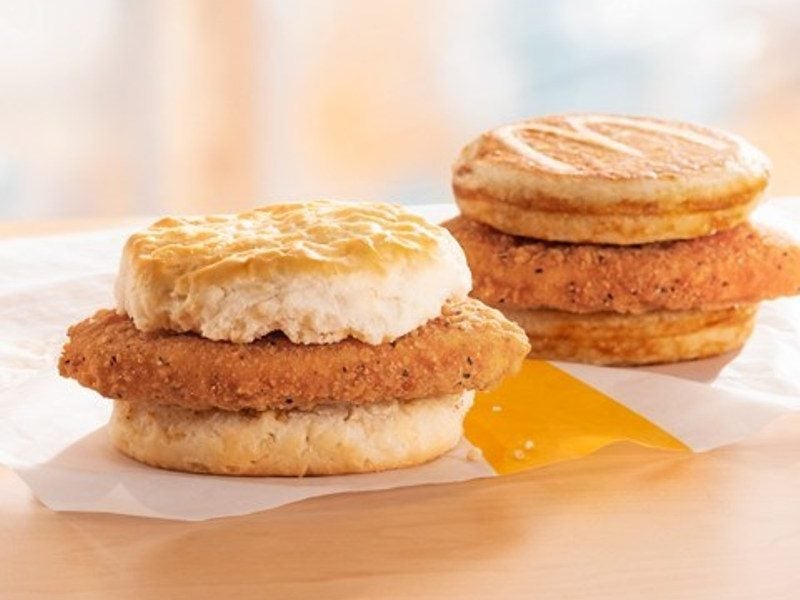 McDonald's has added two new chicken options to its breakfast menu across its locations in the US.
The Chicago-based company has unveiled the Chicken McGriddles and McChicken Biscuit sandwiches, which will be available as early as 6am seven days a week for a limited time while supplies last.
The Chicken McGriddles sandwich features a McChicken with warm maple griddle cakes. The McChicken Biscuit pairs the McChicken patty with a buttery biscuit.
McDonald's menu innovation vice-president Linda VanGosen said: "With the nationwide launch of the Chicken McGriddles and McChicken Biscuit sandwiches, we're giving our customers more of what they crave: mouthwatering chicken and breakfast options.
"McDonald's is committed to remaining a leader in the quick-service breakfast category through our delicious offerings, consistent menu innovation, and a faster drive-thru experience."
This move is expected to fend off competition from rivals such as Chick-fil-A and Popeyes, which have started offering chicken sandwiches in their breakfast menu.
Furthermore, competitor Wendy's is also expected to launch a new breakfast menu in early 2020.
McDonald's has been providing breakfast since 1971, starting with the classic Egg McMuffin, followed by breakfast burritos in 1991, and McGriddles in 2003.
In 2015, McDonald's began serving all-day breakfast to its customers. The company is committed to using only cage-free eggs.