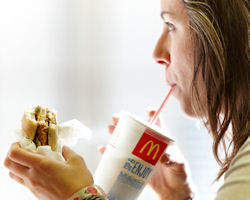 Fast food chain McDonald's is to replace all plastic straws with a recyclable paper version in its 1,300 UK stores this May.
The announcement comes in response to increasing customer demand, with the chain claiming it is "really close" to all of its packaging being recyclable, news reports.
As well as trialling paper straws, McDonald's also said it will keep them behind the counter and only give them out to customers upon request, in a bid to further cut down the use of straws.
Chief executive Paul Pomroy told Sky News: "Customers have told us that they don't want to be given a straw and that they want to have to ask for one, so we're acting on that.
"Straws are one of those things that people feel passionately about, and rightly so, and we're moving those straws behind the front counter.
"If you come into McDonald's going forward, you'll be asked if you want a straw.
"The other thing we're looking to do is to move to recycled paper on the straws and biodegradable paper straws and that test, I'm really proud to say, will start next month."
Although the plastic straws McDonald's currently uses are recyclable, Pomroy added: "The reduction in use of plastics is a hugely important issue for business, the sector, and for society.
"We've been on a journey over the past 10 years with recycling, from taking out foam and polystyrene to where we are now – with Big Mac 'clam' boxes that are made with recycled board.
"The only thing left for us to move forward on are the lids that go on to our cups. Those are complicated, but we're working with our suppliers to find a solution to that.
"We're really close, so we hope within the next year to be able to have a lid that's recyclable and serves the same purpose – for hot and cold drinks."