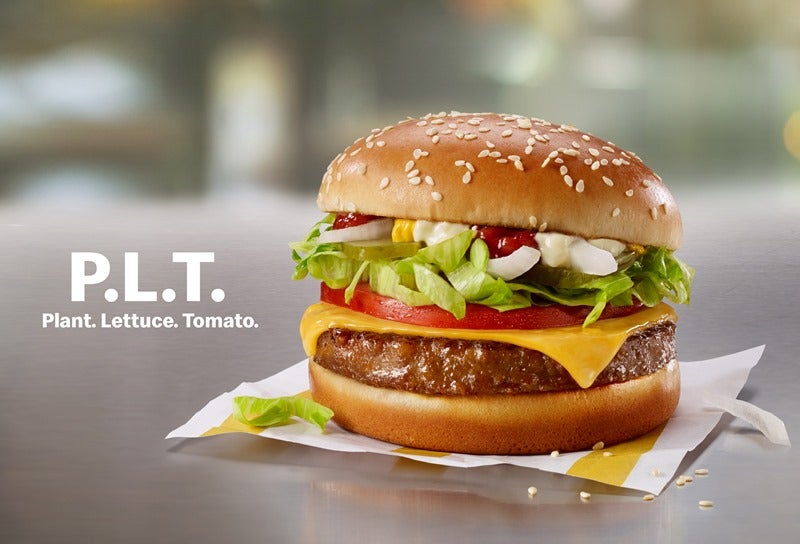 McDonald's has announced its plans to expand trials of a plant-based burger made by Beyond Meat in more outlets across Canada.
This is part of its plans to test the viability of a wider launch of the vegan burger.
The American fast-food chain will now serve PLT burger, a sandwich with lettuce, tomato and a Beyond Meat plant-based patty, at 52 restaurants in south-western Ontario from 14 January for 12 weeks.
The company initially rolled out PLT in 28 south-western Ontario restaurants in September last year.
In a statement, McDonald's Canada consumer insights head Michaela Charette said: "As we expand the test, we're continuing to listen to our guests across south-western Ontario and assess the appetite for a plant-based alternative within the McDonald's menu."
Various fast-food chains, including Burger King, White Castle and Dunkin' Brands, are selling plant-based meat alternatives. This latest move by McDonald's is expected to spur the plant-based meat trend further.
This week, Reuters reported that Beyond Meat's competitor Impossible Foods is no longer vying to win a contract with McDonald's as it presently does not have the capacity to meet the supply requirement of the fast-food chain.
McDonald's Canada chef Jeff Anderson said: "The initial test of the PLT allowed us to learn more about guest demand and how to integrate this new menu item into restaurant kitchen operations while delivering the PLT to our guests with the level of quality and craveability they know and love from McDonald's.
"As a test and learn company, the McDonald's expansion of the PLT into more restaurants in the south-western Ontario region will help us learn more about our guests' tastes while continuing to provide variety within our menu."
McDonald's opened its first Canadian restaurant in 1967 at Richmond, British Columbia.
Currently, it serves around three million guests daily and over 90% of its 1,400 restaurants in the country are owned and operated by independent local franchisees.