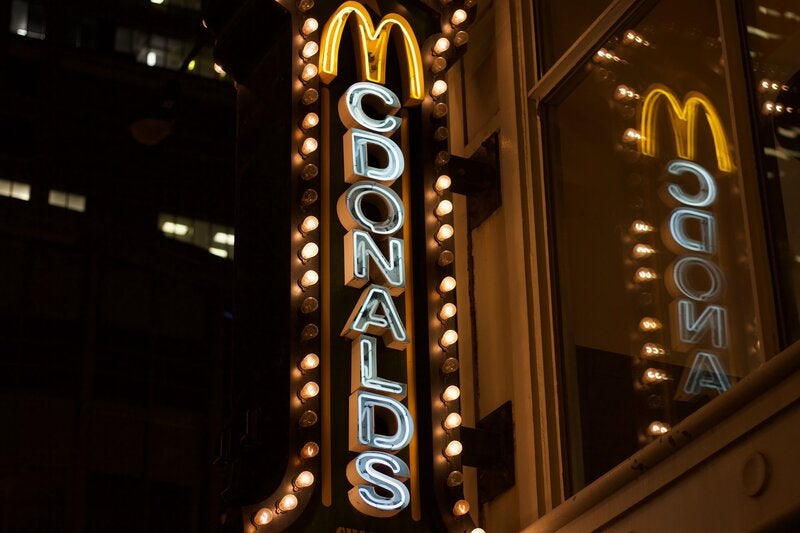 McDonald's has been accused of racial discrimination in a lawsuit filed by 52 former black franchise owners.
The plaintiffs accused the restaurant of racial discrimination by pushing them to open restaurants in crime-ridden neighbourhoods and denying them financial support provided to their white counterparts.
In the lawsuit that sought up to $1bn in damages, the former franchisees accused the restaurant chain of not offering profitable locations and growth opportunities to black franchisees but providing them to white franchisees.
The plaintiffs were steered to open stores in inner-city areas that require high security and insurance costs and offer low-volume sales.
Such practices contradict the restaurant company's public commitment to diversity and black entrepreneurship, said the plaintiffs in the lawsuit.
Restricted with the standard 20-year franchise agreements, the franchisees experienced average annual sales of $2m, which was less than McDonald's national average revenue of $2.7m from 2011 to 2016 and $2.9m in 2019, according to the Miami-based Ferraro Law Firm. This, in turn, resulted in bankruptcies.
The lawsuit was filed in the federal court in Chicago, where McDonald's is based.
However, McDonald's denied treating its black franchisees differently.
The restaurant chain said that although it may recommend store locations, it is the franchisees who make the decisions.
In a video to employees, McDonald's chief executive Chris Kempczinski said: "McDonald's stands for diversity, equity and inclusion. Our franchisee ranks should and must more closely reflect the increasingly diverse composition of this country and the world."
The plaintiffs filed the lawsuit five weeks after the restaurant chain updated its corporate values, in which it committed to putting greater focus on diversity.
Over 90% of its 14,400 restaurants in the US were recently operated by approximately 1,600 franchisees.
The law firm said the number of black franchisees had dropped from 377 to 186 since 1998.
In January, McDonald's refused allegations in a different discrimination lawsuit filed by two black executives.