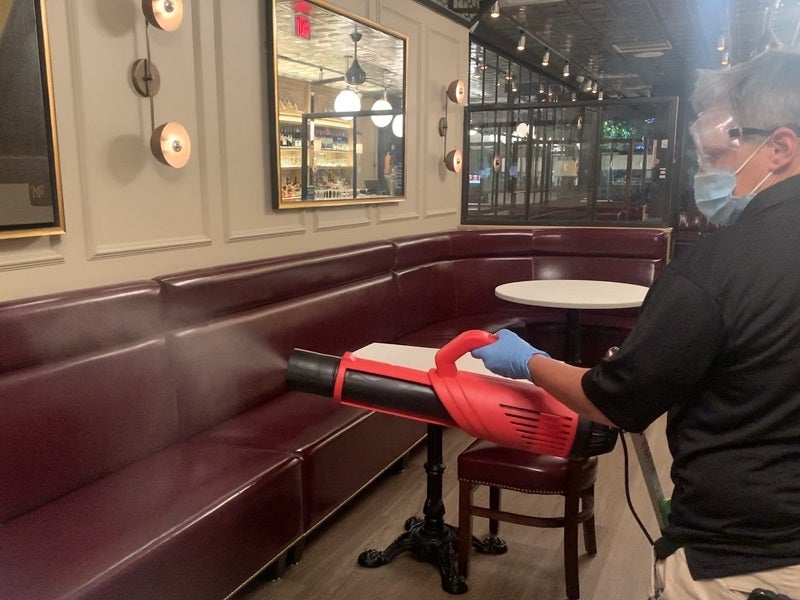 National Interior Solutions (NIS) has treated the Aquitaine Restaurant Group (TAG) with ViaClean Technologies' BIOPROTECTUs System.
NIS is an authorised distributor and application service partner that offers the Environmental Protection Agency (EPA)-registered technology that disinfects all surfaces to local Boston, US, patrons.
TAG partner Matt Burns said: "The Aquitaine Group cares about the health and safety of our guests and team members, which is why we are setting a new level for cleanliness in the Boston restaurant scene being the first restaurant group to partner up with NIS to apply antimicrobial surface technology throughout the restaurants.
"The coating was applied to all touchable surfaces, including door handles, countertops, kiosks, chairs, tables, doors, outside seating furniture and many more high-contact touchpoints."
The BIOPROTECTUs System also provides long-term antimicrobial protection from problematic germs, including bacteria, moulds and viruses.
National Interior Solutions managing director Naz Senaldi said: "We are pleased that The Aquitaine Group of Boston has chosen to disinfect and protect their restaurants with NIS to ensure the safety and wellbeing of its patrons, staff and their facilities."
The BIOPROTECTUs System covers an array of EPA-registered and the Food and Drug Administration (FDA)-compliant technologies that disinfect surfaces and spaces and provide long-term antimicrobial protection.
When applied to both porous and non-porous surfaces, it creates a durable protective shield that provides long-term antimicrobial protection.
TAG partner Seth Woods said: "Every restaurant is looking for the right way to keep guests and team members safe while giving patrons the confidence to dine out again. We believe that this antimicrobial protection is an important aspect of our multi-step cleaning process to prevent the spread of harmful germs and bacteria."