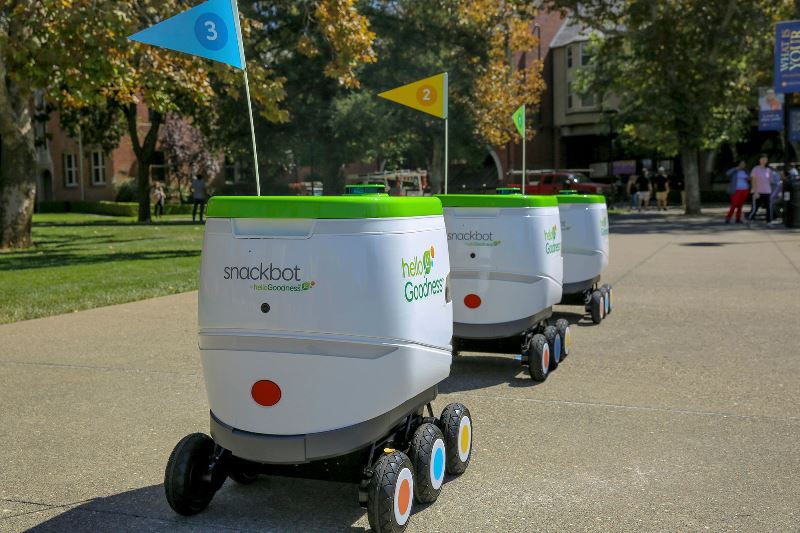 PepsiCo has released a fleet of Hello Goodness snackbots to deliver food and beverages to students at the University of the Pacific in Stockton, California.
Customers make orders using the snackbot app, which will instruct the robots to deliver the snacks to more than 50 designated areas across the campus. The app is currently available for iOS with a University of the Pacific email address.
The company partnered with US-based Robby Technologies to introduce the robots, which will deliver a range of brands from PepsiCo, including Smartfood Delight, Baked Lay's, SunChips, Pure Leaf Tea, bubly, LIFEWTR and Starbucks Cold Brew.
PepsiCo Foodservice innovation and insights vice-president Scott Finlow said: "We're thrilled to launch our Hello Goodness autonomous delivery snackbots and reimagine college snacking for the future.
"This innovative technology from PepsiCo is enhancing campus life for our students, staff and faculty alike.
"PepsiCo has a unique opportunity to better serve today's ambitious college students by joining together the power of the Hello Goodness portfolio with our expertise in design and equipment innovation."
The delivery snackbots are said to be able to cover more than 20 miles on a single charge and feature cameras and headlights for navigation.
The University of the Pacific Stockton e-commerce director Matt Camino said: "We're thrilled to welcome snackbot to our campus, along with its convenient and nourishing options.
"This innovative technology from PepsiCo is enhancing campus life for our students, staff and faculty alike, who have embraced this new way of snacking from PepsiCo."